Lot Content
COVID-19 Important notice
Read more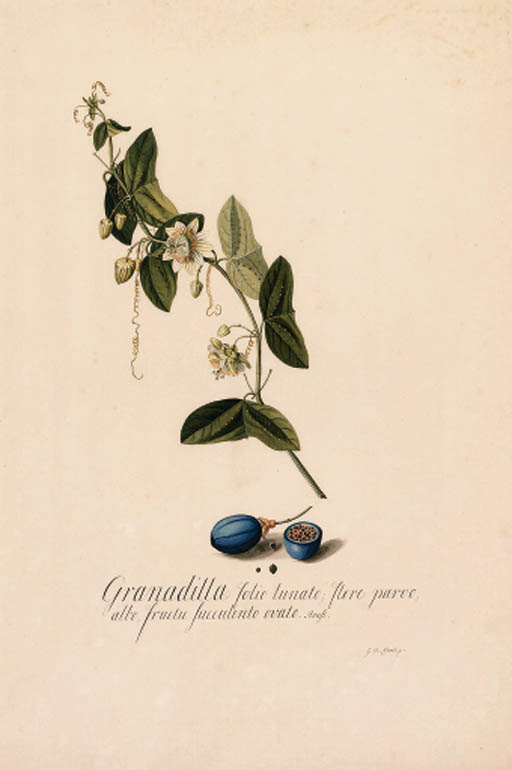 VAT rate of 17.5% is payable on buyer's premium.
Georg Dionysius Ehret (1708-1770)
Details
Georg Dionysius Ehret (1708-1770)

Passiflora vespertilio (Passion Flower)

signed 'G.D.Ehret.p.' (lower right), inscribed 'Granadilla folio lunato; flore parvo, albo, fructu succulento ovato. Houst.' (lower centre)

pencil and watercolour, heightened with white and gum arabic, watermark of the figure '4' surmounted by a crowned-shield containing a fleur-de-lys
20½ x 14¼ in. (520 x 362mm)

ONE OF ONLY FOUR KNOWN ORIGINAL DRAWINGS BY EHRET FOR TREW'S HORTUS NITIDISSIMIS, and a fine example of the great artist's work. His "greatest merit is that he succeded as few other botanical artists have succeded; in being at once both botanist and artist" (Blunt). Ehret, the greatest botanical artist of the mid 18th century, was one of the main artists for the Hortus, contributing nearly one quarter of the illustrations and making the Hortus the masterpiece it is (see lot 87); the present drawing is for plate 117. The other three surviving original drawings by Ehret for the Hortus are in the Mellon collection in Upperville, Virginia, and in 2 other private collections; none of the drawings in the Trew collection at Erlangen University has been identified as work for the Hortus.

The taxonomic description quotes William Houstoun (1695-1733) a British surgeon who served in Central America and the West Indies. "Linnaeus frequently refers to Houstoun in the Hortus cliffortianus and in various editions of the Genera plantarum. These names occur in unpublished Houstoun notes and engravings, given by P. Miller to Linnaeus in 1736 and entitled Houstounia genera plantarum americanarum nova communicata per Phil. Millerum, Lond. 1736, now at the Linnean Society" (Stafleu & Cowan II, p.343).

Special Notice

VAT rate of 17.5% is payable on buyer's premium.
;