Overview
Global notice
COVID-19 Important notice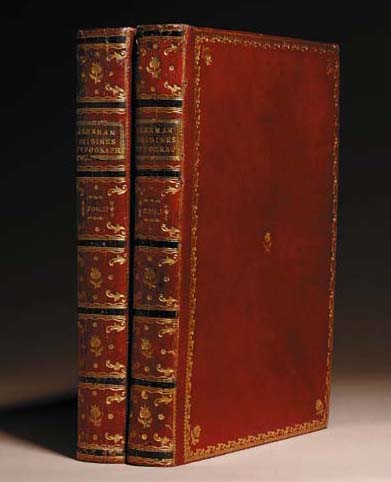 No VAT will be charged on the hammer price, but VA… Read more
MEERMAN, Gerard (1722-1771). Origines typographicae. The Hague, Paris and London: Nicolaus van Daalen, G.F. De Bure, and Thomas Wilcox, 1765.
Details
MEERMAN, Gerard (1722-1771). Origines typographicae. The Hague, Paris and London: Nicolaus van Daalen, G.F. De Bure, and Thomas Wilcox, 1765.

2 volumes, 4° (300 x 235mm). Ruled in red, engraved portrait of the author and another of Coster, 10 engraved plates of facsimiles, 2 folding, folding printed genealogical table. Contemporary red morocco, flat spines gilt with a fleuron in each compartment, narrow decorative border round sides with the same fleuron at corners and as a cornerpiece (a few small wormholes in spine and hinges of vol.I), gilt edges. Provenance: Princes of Liechtenstein (bookplate).

A FINE, LARGE-PAPER COPY OF THE FIRST EDITION of Meerman's effort to prove that printing originated at Haarlem with Laurens Coster, a theory that was disproved by Heinecken three years before Meerman's death. Bigmore and Wyman II, pp.32-33.

[SUNDERLAND LIBRARY -- Catalogue of Incunabula in the library of the Duke of Marlborough. Manuscript on paper, c. 1770]. 2° (375 x 22mm). 117 leaves. Written in a neat 18th-century hand in brown ink. Paper watermarked Curteis and Son (fl. 1763). Early 19th-century half brown morocco, endpapers by Bludgen (fl.1818), spine lettered 'Catalogues librorum ante 1500 Duc. Marlboro'. One-leaf desiderata bound in at front, headed 'Wanted', listing 22 incunables, some of which are marked in later pencil 'got'.

The Sunderland library was founded by Charles Spencer, 3rd Earl Sunderland (1674-1722), and was kept at Sunderland House in London until its removal to Blenheim by his son, Charles Spencer, fifth Earl of Sunderland and third Duke of Marlborough (1706-1758). The present catalogue was written under the 3rd Duke, almost certainly by Jacob Bryant, who served as secretary to the Duke from 1756. Bryant had compiled another manuscript catalouge of early editions at Blenheim 'doubtless prepared with the express purpose of assisting in the collection of the Royal Library' (Edwards, Libraries and Founders of Libraries, 1864, p.384); it survives in the British Library. The entries primarily detail author, title, place, printer, date of printing, and format. A longer note signed with the initials 'J.B.' follows two editions: the 1467 Cicero printed by Zel at Cologne, and the Eltville Vocabularius ex quo. In the latter instance the author refers to providing details to Meerman; this information was subsequently incorporated into Meerman's Origines typographicae (p.96), where he credits Bryant with information communicated in a letter dated 25 October 1762. (3)

Special Notice

No VAT will be charged on the hammer price, but VAT at 17.5% will be added to the buyer's premium which is invoiced on a VAT inclusive basis.
;
More from

THE LIBRARY OF WILLIAM FOYLE