Lot Content
COVID-19 Important notice
Read more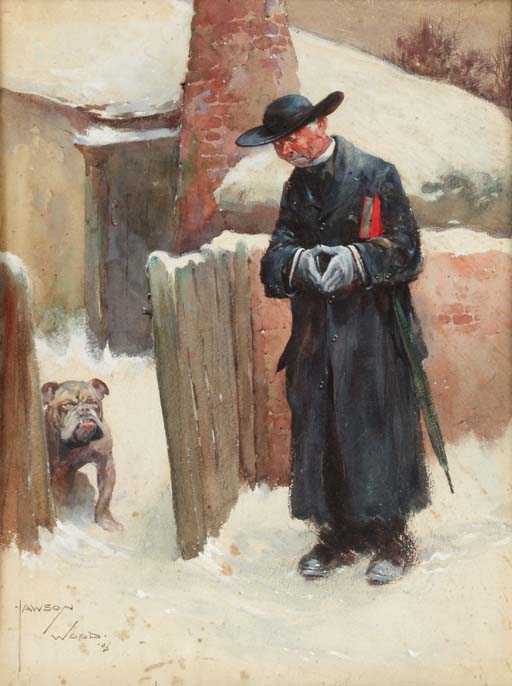 No VAT will be charged on the hammer price, but VA… Read more
Clarence Lawson Wood (1878-1957)
"The Spirit is willing but the flesh is weak"
Details
Clarence Lawson Wood (1878-1957)
"The Spirit is willing but the flesh is weak"
signed and dated 'LAWSON/WOOD./06' (lower left) and inscribed '-Deliver us from evil-/"The spirit is willing but the flesh is weak" (on the reverse)
pencil, watercolour and bodycolour
12¾ x 10in. (32.4 x 25.5cm.)

Special Notice

No VAT will be charged on the hammer price, but VAT at 17.5% will be added to the buyer's premium which is invoiced on a VAT inclusive basis.
REMOVALS All sold lots not cleared by 2.00 p.m. on Monday 18 December 2000 will be removed to the warehouse of:- Cadogan Tate Ltd.,Fine Art Services Cadogan House, 2 Relay Road, London W12 7JS. Telephone: 44 (0)20 8735 3700. Facsimile: 44 (0)20 8735 3701 Lots will be available for collection following transfer to Cadogan Tate, every week-day from 9.00 a.m. to 5.00 p.m. An initial transfer and administration charge of £3.20 and a storage charge of £1.60 per lot per day will be payable to Cadogan Tate. These charges are subject to VAT and an insurance surcharge. (Exceptionally large pictures will be subject to a surcharge). Please note: All charges due to Cadogan Tate must be paid at the time of collection from their warehouse. Only payment by cash, credit card or bankers draft will be accepted.
;
More From

ORIGINAL ILLUSTRATIONS AND PRINTED BOOKS