Browse Lots
Global notice
COVID-19 Important notice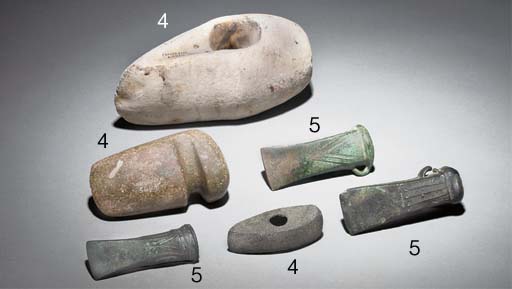 No VAT will be charged on the hammer price, but VA… Read more
A LARGE LATE NEOLITHIC CREAM STONE AXE-HEAD
LATE 3RD-2ND MILLENNIUM B.C.
Details
A LARGE LATE NEOLITHIC CREAM STONE AXE-HEAD
LATE 3RD-2ND MILLENNIUM B.C.
With rounded butt, and large central shaft hole with groove at either end tapered towards the curved cutting edge, 9½ in. (24.1 cm.) long; a red and green fine speckled stone axe-head, with deep encircling vertical groove towards the butt, the body tapered towards the cutting edge with three horizontal grooves on one face, 5 7/8 in. (15 cm.) long; a black stone boat-shaped axe-head, 4 1/8 in. (10.5 cm.) long; and a dark brown stone axe-head with damaged butt, 5½ in. (14 cm.) long, all late 3rd-2nd millennium B.C. (4)

Provenance
From the collection of the late Gavin Todhunter, acquired mainly during the late 1940s-1970s.

Item one: inscribed on base "Pimperne Down, 1901.1".
Item two: Fawcett collection; inscribed with the monogram of Dr Hugh Alderson Fawcett (1891-1982) and "Aberdeen S 4.1."

Special Notice

No VAT will be charged on the hammer price, but VAT at 17.5% will be added to the buyer's premium which is invoiced on a VAT inclusive basis
;
More from

Antiquities, Including an English Private Collection of