Lot Content
Global notice
COVID-19 Important notice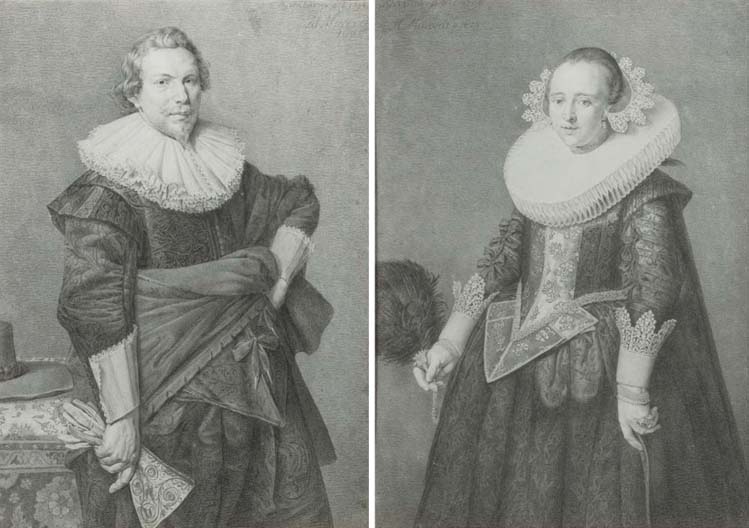 Christie's charges a Buyer's premium calculated at… Read more
(a pair) Jan Gerard Waldorp (Dutch, 1740-1808), after Michiel van Miereveldt
A portrait of a gentleman, standing, three-quarter-length; and A portrait of an elegant lady, standing, three-quarter-length
Details
(a pair) Jan Gerard Waldorp (Dutch, 1740-1808), after Michiel van Miereveldt
A portrait of a gentleman, standing, three-quarter-length; and A portrait of an elegant lady, standing, three-quarter-length
both signed, dated and inscribed 'J.G. Waldorp del 1798 M. Mierevelt p. 1628'
black chalk, pen and black ink (1) on paper
36.2 x 26.1 cm.
a pair (2)

Provenance
Bought 31 March by Ernest van Aelst and sold at A.J. van Huffels Antiquariaat, Utrecht (according to a label on the reverse).

Special Notice

Christie's charges a Buyer's premium calculated at 23.205% of the hammer price for each lot with a value up to €110,000. If the hammer price of a lot exceeds €110,000 then the premium for the lot is calculated at 23.205% of the first €110,000 plus 11.9% of any amount in excess of €110,000. Buyer's Premium is calculated on this basis for each lot individually.
Lot Essay
After the prototype of 1628 by Miereveldt.

;
More from

Pictures, Watercolours and Drawings