Lot Content
COVID-19 Important notice
Read more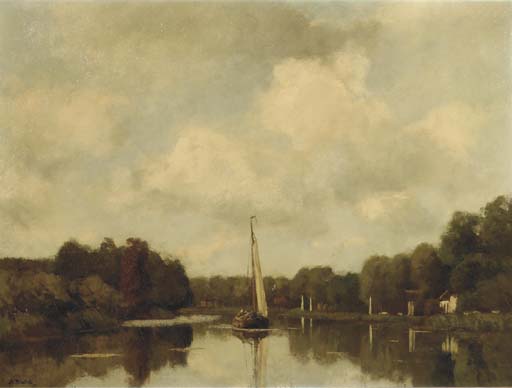 Christie's charges a Buyer's premium calculated at… Read more
Nicolaas Bastert (Dutch, 1854-1939)
Sailing on the Vecht
Details
Nicolaas Bastert (Dutch, 1854-1939)
Sailing on the Vecht
signed 'N.Bastert' (lower left)
oil on canvas
60.5 x 80 cm.

Provenance
Kunsthandel Leslie Smith, Wassenaar, year unknown.

Special Notice

Christie's charges a Buyer's premium calculated at 23.205% of the hammer price for each lot with a value up to €110,000. If the hammer price of a lot exceeds €110,000 then the premium for the lot is calculated at 23.205% of the first €110,000 plus 11.9% of any amount in excess of €110,000. Buyer's Premium is calculated on this basis for each lot individually.
Sale Room Notice
It has been suggested that the present lot depicts the estate Weeresteyn along the river Vecht from the south. The trees on the left riverbank may belong to the estate Vijverhof. The white house is the Vliegende Kraai at Weersluis.

;
More From

Pictures, Watercolours and Drawings