Upcoming Auctions and Events
COVID-19 Important notice
Read more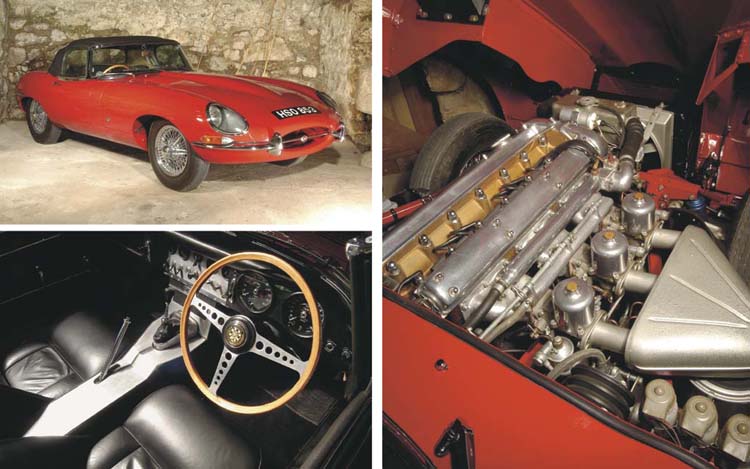 No VAT will be charged on the hammer price, but VA… Read more
1961 JAGUAR E-TYPE SERIES 1 3.8 'FLAT FLOOR' ROADSTER
Details
1961 JAGUAR E-TYPE SERIES 1 3.8 'FLAT FLOOR' ROADSTER
Registration No. HSO 853
Chassis No. 850071
Engine No. R1245/9
Carmen red with black leather interior and black soft top

Engine: six cylinder, in-line, twin overhead camshafts, triple SU HD8 carburetors, 3,781cc, 265bhp at 5,500rpm; Gearbox: four-speed manual with synchromesh on upper three gears; Suspension: independent, double wishbones with torsion bars to front, independent rear with twin coil spring/damper units on each side; Brakes: servo-assisted discs all round. Right hand drive.

Electrifying performance, drop-dead good looks and unbelievable value for money made the Jaguar E-Type the sensation of the 1961 Geneva Motor Show. The car was just about the fastest roadgoing machine that money could buy and Sir William Lyons' instinct for line, proportion and decoration ensured it was an immediate success. The E-Type had a central monocoque with a tubular front frame and the addition of independent rear suspension. With disc brakes all round, the new roadgoing Jaguar had braking power in keeping with the performance.

The car we proudly offer is an extremely early production 'flat floor' roadster that was built in 1961. The Jaguar Daimler Heritage Trust production record trace certificate also informs us that the car was originally supplied with Sherwood green coachwork, suede green interior and a French grey soft top. Dispatched from the factory on July 14th 1961 it went to dealer S.S. Nicholson and the fortunate first owner was Ernst Scragg & Sons Ltd, Macclesfield. Despite the early build of this car, the V5 document states that it was not registered until September 1962.

The vendor purchased the car in 1988 from a gentleman in Leeds who had owned the car for a number of years and when purchased the colour had been changed to yellow. The condition was relatively poor but fortunately it appeared to be remarkably original thus making it a sound basis for restoration.

In Jaguar folklore, the name of XK Engineering is synonymous with the finest restorations of the marque. It became the subject of a ground up re-build at the hands of this renowned company in the late 1980s/early 1990s, having been entrusted in tired but driveable condition.

With the car is a comprehensive file detailing the work and expense carried out by both the vendor and the previous owner, the restoration alone equated to £30,000, this despite the lower labour charges of the period. Also included are numerous photos including those prior to and during restoration.

Since completion of the restoration this beautiful Jaguar has been much admired and well maintained, but only seldom used. When inspected by a Christie's specialist, though not driven, the car started promptly and ran sweetly. With only sympathetic use since its fabulous restoration to original specification, this rare and highly desirable 'flat floor' E-Type roadster has remained in exquisite order, and still is today, beautiful in every regard. Ideal either for the concours lawn or enjoyable motoring.


Special Notice

No VAT will be charged on the hammer price, but VAT at 17.5% will be added to the buyer's premium which is invoiced on a VAT inclusive basis
;
More From

EXCEPTIONAL MOTOR CARS AND AUTOMOBILIA