Lot Content
COVID-19 Important notice
Read more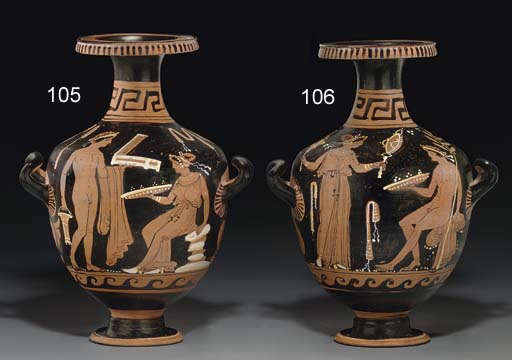 THE PROPERTY OF A SWISS COLLECTOR
AN APULIAN RED-FIGURED HYDRIA
CIRCA 340-320 B.C.
Details
AN APULIAN RED-FIGURED HYDRIA
CIRCA 340-320 B.C.
With a draped woman seated on a rock, a patera in her right hand, a standing nude youth before her, a cista in his raised left hand, a mantle over his forearm, a situla in his lowered right hand, fillets in the field; a band of wave below the scene, key on the neck, vertical lines on the rim, rays around the horizontal handles, a large palmette and tendrils below the vertical handle, details in added white
12¾ in. (32.4 cm.) high

Provenance
with Donati, Arte Classica, Lugano, circa 1980.

;