Lot Content
Global notice
COVID-19 Important notice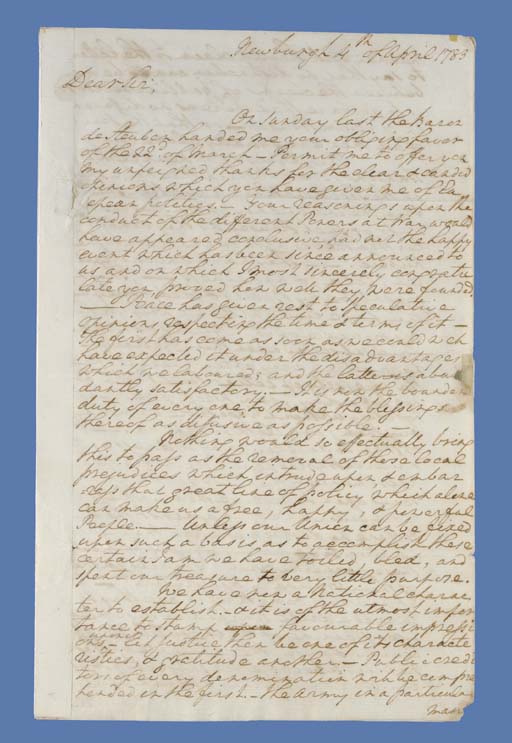 WASHINGTON, George. Autograph letter signed ("G:o Washington") to Theodorick Bland (1742-1790), Newburgh, N.Y., 4 April 1783. 4 pages, folio, folds and seal hole neatly repaired, catching portions of letters in some 13 words.
Details
WASHINGTON, George. Autograph letter signed ("G:o Washington") to Theodorick Bland (1742-1790), Newburgh, N.Y., 4 April 1783. 4 pages, folio, folds and seal hole neatly repaired, catching portions of letters in some 13 words.

"THEY HAVE ENCOUNTERED HUNGER, COLD, & NAKEDNESS. THEY HAVE FOUGHT MANY BATTLES, AND BLED FREELY": WASHINGTON'S IMPASSIONED PLEA FOR PAYMENT OF HIS VETERAN SOLDIERS, A FEW WEEKS AFTER THE DISASTROUS NEWBURGH MUTINY

A lengthy and highly sensitive political letter to a Virginia Congressman and Continental Army veteran, warning of the need to provide just compensation for the men in Washington's disbanding army. The final peace treaty between Britain and the U. S. had just been announced at the end of March; Washington finds its terms "abundantly satisfactory. It is now the bounded duty of every one, to make the blessing thereof as diffusive as possible." But the General has great qualms on exactly that point. There was a festering danger at the heart of the new country: Congress's delays in paying the officers and men of the Continental Army.

The Commander-in-Chief wanted not just pay but special recognition for the sacrifices of his men. He knew Congress could not come up at once with all the promised back pay and pensions. But he did not want his troops lumped into an indiscriminate group of public creditors, making them wait their turn for payment along with saddlers, grain merchants and other public contractors. "To say that no distinction can be made between the claims of public Creditors, is to declare that there is no difference in circumstances or, that the Services of all Men are equally alike. This Army is of near eight years standing, six of which they have spent in the field, without any other shelter from the Inclemency of the Seasons than Tents, or such Houses as they could build for themselves without expence to the public. They have encountered hunger, cold, & nakedness. They have fought many Battles, and bled freely. They have lived without pay, and in consequence of it, Officers as well as Men have subsisted upon their Rations. They have often, very often, been reduced to the necessity of eating Salt Porke or Beef not for a day, or a week only, but months together without Vegetables of any kind or money to buy them; or a cloth to wipe on." Many officers "contracted heavy Debts, or spent their patrimonies" to furnish decent supplies, only now to see the prospect of a debtor's prison looming before them."

Respect rather than accounting was the issue. Washington was shrewd enough to sense that even deeper than resentment at Congressional lethargy was the unsettling feeling among his troops that their fellow citizens did not value their sacrifice. To some it seemed that making money was all that mattered in the new nation. "Another thing Sir, (as I mean to be frank and free in my communications on this subject) I will not conceal from you, it is dissimilarities in the payments of Men in Civil and Military life. The first receive every thing, the other get nothing, but bare subsistence. They ask what this is owing to? & reasons have been assigned, which say they, amount to this: that Men in Civil life have stronger passions & better pretensions to endulge them, or less virtue & regard for their Country than us. Otherwise, as we are all contending for the same prize & equally interested in the attainment of it, why do we not bear the burthen equally. These & other comparisons, which are unnecessary to enumerate, give a keener edge to their feelings, & contribute not a little to sour their tempers."

Just three weeks prior to this letter, Washington had used his quiet powers of command to face down his mutinous officers at Newburgh, who felt that the time for polite petitioning had passed. His famous aside during that 15 March 1783 crisis as he put on his spectacles--"I have not only grown gray but almost blind in the service of my country"--momentarily melted the hardened hearts of his listeners, but he knew more Congressional lobbying was needed. Here he takes the interesting tack of suggesting how destructive the soldiers' resentments might be even after they have disbanded and no longer posed a physical danger to the Congress. Contempt of government might spread throughout the public, with the angry soldiers forming the core of a resentful, militaristic faction dedicated to establishing a dictatorship rather than a republican democracy. "Are they to be turned a drift soured and discontented, complaining of the ingratitude of their Country, & under the influence of these passions to become fit subjects for unfavourable impressions and unhappy dissentions?...It is the first wish of my Soul to see the war happily and speedily terminated, and those who are now in Arms return to Citizenship with good dispositions." Published in Fitzpatrick, 26:293-296.

Provenance: A New England Institution (sale, Sotheby's, 23 April 1986, lot 172).

;
More from

The Forbes Collection of American Historical Documents: