Lot Content
COVID-19 Important notice
Read more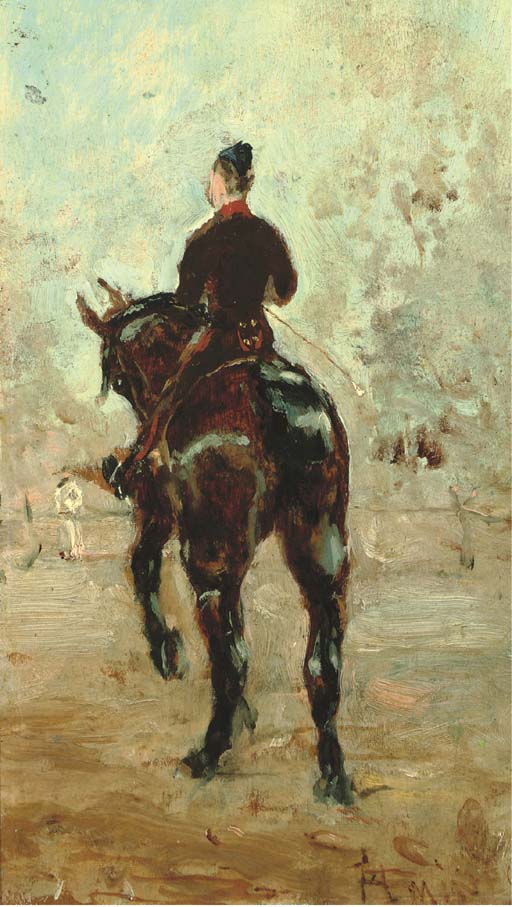 Christie's charge a premium to the buyer on the fi… Read more
Henri de Toulouse-Lautrec (French, 1864-1901)
Artilleur à cheval
Details
Henri de Toulouse-Lautrec (French, 1864-1901)
Artilleur à cheval
signed with monogram and inscribed with 'Minège' (lower right), and with inscription 'Don de H de Toulouse-Lautrec à Messieur Rajol fait au château de Céleyran 1881' (on the reverse)
oil on panel
23.5 x 14 cm.
Painted circa 1881.

Provenance
Rajol
Sale Hôtel Drouot, (Beaunié, avoue), 17 December 1930, no. 96
Kunsthandel Huynck & Scherjon, Amsterdam, no. 1095.

Literature
M.G. Dortu, Toulouse-Lautrec et son oeuvre, New York, 1971, vol II, p. 62-63, no. p. 138.
Die Weltkunst, Munich, June 1961, p.36 (ill.).

Exhibited
Paris, Musée des Arts Décoratifs, Henri de Toulouse Lautrec, 9 April- 17 May 1931, no. 16, p.4.

Special Notice

Christie's charge a premium to the buyer on the final bid price of each lot sold at the following rates: 23.8% of the final bid price of each lot sold up to and including €150,000 and 14.28% of any amount in excess of €150,000. Buyers' premium is calculated on the basis of each lot individually.
More From

20th Century Art