Lot Content
COVID-19 Important notice
Read more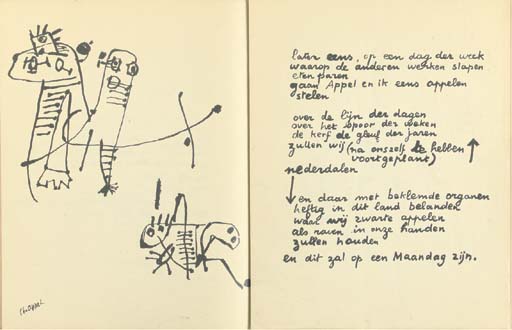 Christie's charge a premium to the buyer on the fi… Read more
Karel Appel (Dutch, 1921-2006)
De blijde en onvoorziene week
Details
Karel Appel (Dutch, 1921-2006)
De blijde en onvoorziene week
the booklet, 1950, first and only issue of the handreeks in de Cobrabibliotheek with seven reproductive images and text, the titlepage signed in pen and ink by Karel Appel and Hugo Claus, the justification numbered 72, from the edition of 200, the sheets loose in the original wove illustrated and handcoloured covers, these with few soft folds and two small stains and minor wear, otherwise generally in very good condition
S. 274 x 225 mm.

Special Notice

Christie's charge a premium to the buyer on the final bid price of each lot sold at the following rates: 23.8% of the final bid price of each lot sold up to and including €150,000 and 14.28% of any amount in excess of €150,000. Buyers' premium is calculated on the basis of each lot individually.
Artist's Resale Right ("Droit de Suite"). Artist's Resale Right Regulations 2006 apply to this lot, the buyer agrees to pay us an amount equal to the resale royalty provided for in those Regulations, and we undertake to the buyer to pay such amount to the artist's collection agent.
Sale Room Notice
Please note that this lot will not be affected by the artist's resale right.

More From

20th Century Art