Browse Lots
COVID-19 Important notice
Read more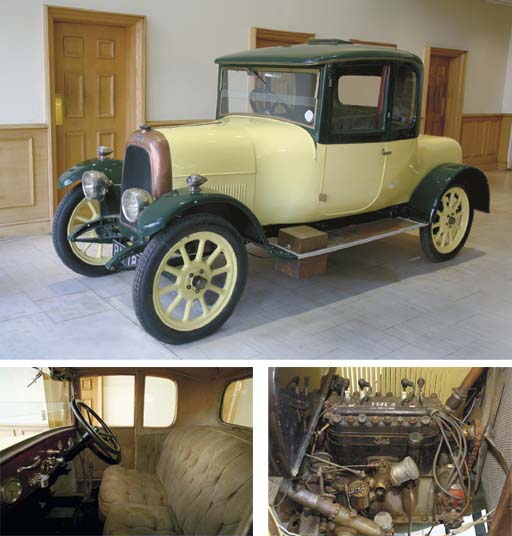 No VAT will be charged on the hammer price, but VA… Read more
OTHER PROPERTIES
1922 FIAT 501 DOCTOR'S COUPE
Details
1922 FIAT 501 DOCTOR'S COUPE

Registration No. PM 1819
Chassis No. 1225724
Engine No. 1125661
Dark green over light yellow, with green cloth interior

Engine: four cylinders in line, sidevalve, 1,460cc, 23hp at 2,600rpm; Gearbox: four-speed manual with reverse; Brakes: cable operated on rear axle, with independent shoes for foot and hand brakes. Right hand drive.

First introduced in 1919, Fiat's 501 model quickly earned popularity for its smoothness and durability. A tight turning circle and a user-friendly gearbox meant that it was very practical, and it leant itself to a large range of body styles, thus ensuring that there was a model for each purpose and occasion. The gearbox and engine were built "in unit" and featured a detachable cylinder head, while 12-volt electric starting and lighting was standard equipment.

This car was first registered on 4 January 1923 and was given its elegant Doctor's Coupe bodywork by Will Short Ltd of Winchester. It seems to have come into the current ownership towards the end of 1938, but unfortunately the duplicate logbook dates from 1945, and so we know very little of the history prior to this.

The car remains in surprisingly good general condition both inside and out having been restored some fifteen or twenty years ago. The dark green corduroy interior is largely undamaged bar a couple of small nicks in the seat back, and the bodywork is remarkably straight and free from corrosion or rot. While it has not been started recently, it is clear that the engine is not seized and should run without too much work. A photocopy of an MoT certificate from December 2000-2001 accompanies the car along with an old-style V5 and the aforementioned duplicate buff logbook. There are even a couple of tax discs dating from 1938 and 1945.

An elegant but unpretentious car exuding a wealth of quiet character.

Special Notice

No VAT will be charged on the hammer price, but VAT at 15% will be added to the buyer's premium which is invoiced on a VAT inclusive basis.
;
More From

Exceptional Motor Cars and Automobilia at The Jack Barclay Showroom, Nine Elms Lane, London SW8