Lot Content
COVID-19 Important notice
Read more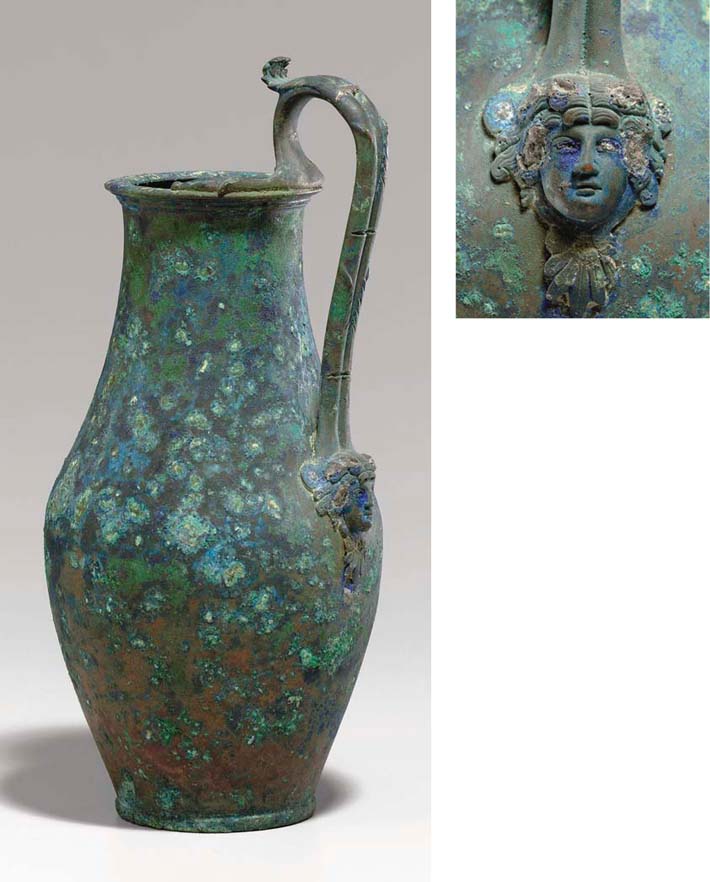 A ROMAN BRONZE OINOCHOE
CIRCA 1ST CENTURY A.D.
Details
A ROMAN BRONZE OINOCHOE
CIRCA 1ST CENTURY A.D.
The piriform vessel cast with thick walls, the disk rim with overhanging lip on the interior and exterior, the disk base with lathe-turned concentric circles on the reverse, the arching handle separately cast, double-reeded with rounded leaves budding along the shaft, a serrated leaf forming the upturned thumb-rest, buds forming at the join to the vessel mouth, the terminal in the form of a mask of Bacchus, riveted to the vessel, the god's flowing center-parted hair bound in a fillet, the eyes originally inlaid, a palmette below his chin
10 in. (25.4 cm.) high

Provenance
Dr. Ernst Begner, Basel, collected in the early 1960s-1980s.