Lot Content
COVID-19 Important notice
Read more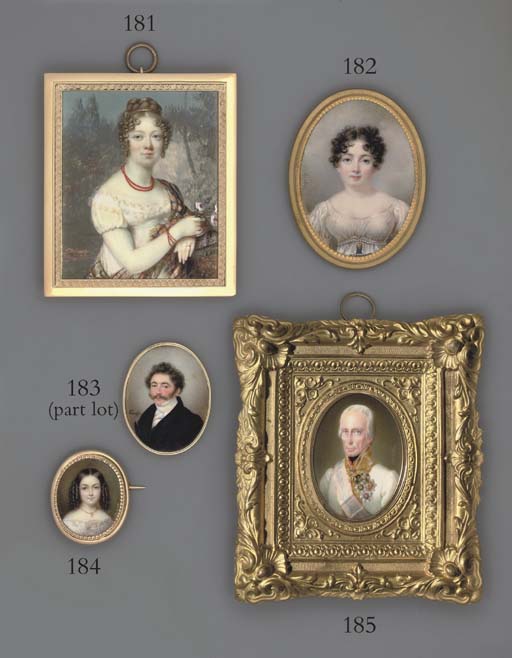 No VAT will be charged on the hammer price, but VA… Read more
JOSÉPHINE TERNIER, NÉE TOULZA (FRENCH, FL. 1824-1833)
A young gentleman, in black coat and waistcoat, knotted white cravat, curly dark hair, side-whiskers and moustache; together with a young gentleman, in dark blue coat, white waistcoat and knotted cravat, forward-combed dark hair and side-whiskers (by Louis-Ami Arlaud-Jurine, circa 1820)
Details
JOSÉPHINE TERNIER, NÉE TOULZA (FRENCH, FL. 1824-1833)
A young gentleman, in black coat and waistcoat, knotted white cravat, curly dark hair, side-whiskers and moustache; together with a young gentleman, in dark blue coat, white waistcoat and knotted cravat, forward-combed dark hair and side-whiskers (by Louis-Ami Arlaud-Jurine, circa 1820)
the former signed 'Toulza' (mid-left)
ovals, 1 11/16 in. (43 mm.) high, gold frame with glazed plaited hair reverse, and 3 in. (76 mm.) high, gilt-metal mount (2)

Provenance
The Ternier:
With Mr van Hove, Brussels, 30 August 1976.
The Arlaud-Jurine:
Madame X... Collection; Paris, Galerie Charpentier, 12 May 1939, lot 96.
Jean Rogan.
Christie's, Geneva, 25 May 1993, lot 164.

Special Notice

No VAT will be charged on the hammer price, but VAT at 15% will be added to the buyer's premium which is invoiced on a VAT inclusive basis.
;
More From

Important Portrait Miniatures and Gold Boxes