$name
COVID-19 Important notice
Read more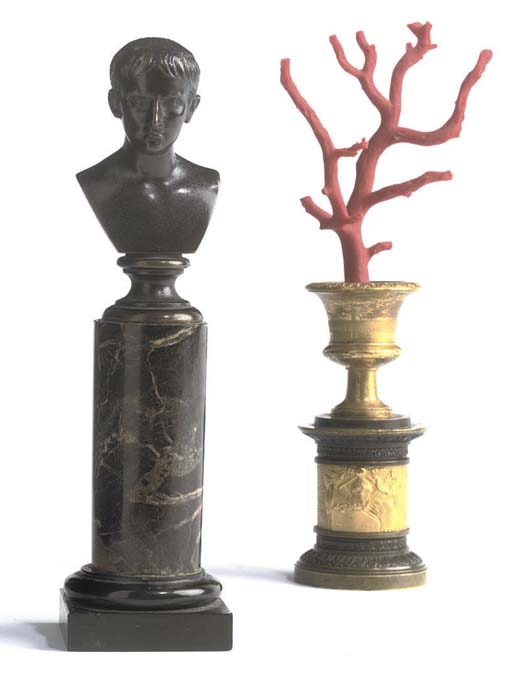 No VAT will be charged on the hammer price, but VA… Read more
THE PROPERTY OF THE LATE IVAN JOHN BOOTH, SOLD BY ORDER OF THE EXECUTORS (LOTS 78-153) Ivan Booth was a partner in the internationally renowned central London dealership of Carson Booth. Established in 1967, firstly in Camden Passage, the business swiftly grew and quickly relocated to larger premises in the Pimlico Road, firstly at 45 and then 80 -82. Carson Booth gained a reputation for their wide range of 18th century furniture and works of art, with a strong continental representation. The business closed in 1984. This collection is brought to sale from Ivan Booth's private collection, housed in an impressive Mayfair oak-panelled drawing room, eluding to an earlier elegant world of taste and style born in the early decades of the twentieth century.
A MINIATURE BRONZE BUST OF EMPEROR AUGUSTUS
EARLY 19TH CENTURY
Details
A MINIATURE BRONZE BUST OF EMPEROR AUGUSTUS
Early 19th century
Mounted on a waisted socle, on a veined marble pedestal, with impressed marks 'ROMA/G.NISINI'
7in. (17.8cm.) high
Together with a bronze and parcel gilt miniature urn ornament, early 19th century, inset with a 19th century coral fragment -- 7¾in. (19.6cm.) high (2)

Special Notice

No VAT will be charged on the hammer price, but VAT at 15% will be added to the buyer's premium which is invoiced on a VAT inclusive basis.
This lot is subject to storage and collection charges. **For Furniture and Decorative Objects, storage charges commence 7 days from sale. Please contact department for further details.**
Condition Report
If you wish to view the condition report of this lot, please sign in to your account.
Sign in
View Condition Report
More From

The Sunday Sale