Browse Lots
COVID-19 Important notice
Read more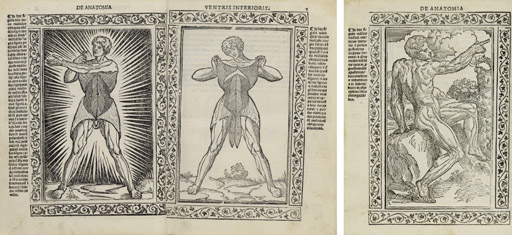 BERENGARIO DA CARPI, Giacomo. Isagogae breves perlucide ac uberrimae in Anatomiam humani corporis. Bologna: Benedictus Hectoris, 15 July 1523.
Details
BERENGARIO DA CARPI, Giacomo. Isagogae breves perlucide ac uberrimae in Anatomiam humani corporis. Bologna: Benedictus Hectoris, 15 July 1523.

4o (205 x 153 mm). Collation: A-K8. 80 leaves, foliated. Roman type, shoulder notes in gothic type. Architectural woodcut title border, 23 large woodcut anatomical illustrations, and printer's woodcut device below colophon. (Some light marginal staining.) 19th- century half sheep and sprinkled boards (head of spine and corners renewed). Provenance: Baron Horace de Landau (1824-1903, bookplate).

Second edition, expanded and revised, with more finished versions of the woodcuts. Berengario, who taught anatomy and surgery at Bologna from 1507, was the first anatomist to publish treatises on anatomy based on his own dissections. Between 1521 and 1523 he issued a series of three works illustrated with woodcuts which were the first works since Galen--over a thousand years earlier--to display any considerable amount of original anatomical information based upon personal investigation and observation. Berengario's first original anatomical work was a commentary, over 1000 pages long (528 leaves) and illustrated with a woodcut title-page and 21 full-page anatomical woodcuts, on the Anatomia of Mondino, a fourteenth-century dissection manual. He followed that work one year later with a condensation entitled Isagoge Brevis republishing the same woodcuts. This was a practical manual of dissection consisting of 72 leaves. One year later Berengario produced this revised and expanded second edition of 80 leaves with additional woodcuts--his last and definitive contribution to anatomy. The second edition of Beregario's Isagogae added three more anatomical woodcuts, as well as some revisions to the illustrations that had appeared in the first edition; these alterations and additions emphasize the anatomy of the heart and brain, and include THE FIRST PUBLISHED VIEW OF THE CEREBRAL VENTRICLES FROM AN ACTUAL DISSECTION. The architectural title-border was first used in Berengario's Commentaria (1521) Here it has been altered to read "Maria" instead of "Leo P.X.," and Berengario's surname "Carpus" appears both in the architrave and the vignette. The shield has also been altered to read "YHS."

Berengario's woodcut illustrations of muscle men posed before a landscape background, while lacking in detail in comparison to those in Vesalius's Fabrica, make a bold and aesthetically graphic statement, and represent the model on which Vesalius based his series of larger and more scientifically portrayed muscle men. "There are six dramatic woodcuts of men standing four square with their legs apart... The muscles are indicated by lines representing in a diagrammatic way the direction of the muscles fibers. In all but one the figures show us their own dissected parts by holding skin and muscle flaps away. All stand in a sketched-in landscape with a few hillocks and a few grass tufts or weeds. The second plate is the most dramatic; behind the gesturing man are bold rays of light in a dark sky--technically and aesthetically a fine woodcut." (Roberts & Tomlinson p. 71) Berengario was also the first to begin to incorporate into anatomical woodcuts some of the theatrical props that Vesalius' images would later make more famous. For example, one of Berengario's muscle men stands holding a rope, by which cadavers were typically suspended for muscle study. The rope was also a reminder that anatomists typically studied the bodies of criminals who had been executed by hanging as their bodies were better preserved than those who had been executed in a more intrusive manner.

The title-page of Berengario's Commentaria with its small illustration of a dissection scene in the lower margin, may have suggested to Vesalius the idea for the dramatic and famous frontispiece to the Fabrica. Vesalius also borrowed from Berengario the concept of having particular anatomical figures perform specific actions, and repeated Berengario's trick of showing a skeleton holding a skull in each hand as a means of illustrating three separate views of the skull in one woodcut. An art collector and patron who, according to Vasari, once accepted a Raphael painting of St. John in the Desert as a fee for medical attendance, it is probable that Berengario saw some of Leonardo da Vinci's anatomical drawings, as Leonardo's artistic techniques of depicting anatomical parts from different perspectives were incorporated in some of his woodcuts. It is also likely that Berengario would have hired a fine artist to prepare the woodcuts for his books. Some of the woodcuts have been attributed to the Italian Mannerist painter and sculptor Amico Aspertini (ca 1475-1552). For the attribution to Aspertini see Cazort, Kornell, Roberts, The Ingenious Machine of Nature: Four Centuries of Art and Anatomy (1996) 38-39. Choulant-Frank, pp. 136-142; Herrlinger, pp. 80-83; Harvard/Mortimer Italian, p. 12; Norman 189; Putti, Berengario da Carpi, pp. 150-154; Roberts & Tomlinson pp. 70-83; Sappol, Dream Anatomy, pp.90-91.

More From

Anatomy As Art: The Dean Edell Collection