Browse Lots
COVID-19 Important notice
Read more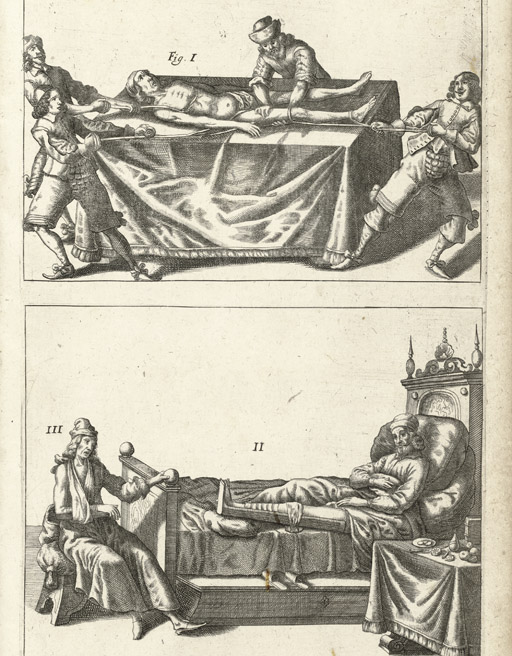 SCULTETES, Johannes (1595-1645). Cheiroplotheke, seu armamentarium chirurgicum. Ulm: Balthasar Khnen, 1655.
Details
SCULTETES, Johannes (1595-1645). Cheiroplotheke, seu armamentarium chirurgicum. Ulm: Balthasar Khnen, 1655.

2o (354 x 218 mm). Title printed in red and black with printer's woodcut vignette, text in double column, errata statement on last leaf. 43 numbered engraved plates, woodcut tail-pieces and initials. Contemporary vellum over pasteboard (some light soiling); quarter morocco folding case. Provenance: Ira M. Rutkow (pencil signature on rear flyleaf).

FIRST EDITION OF THE MOST INFLUENTIAL AND WIDELY READ ILLUSTRATED SURGICAL TREATISE OF THE 17TH CENTURY, published ten years after Schultes' death by his nephew, Schultes [Scultetus] the Younger. This beautifully illustrated first edition is the only edition in folio. All of the dozens of later editions and translations were in quarto or octavo, using different reduced versions of the famous engravings.
At his death in 1645, Schultes ranked with Fabry von Hilden as the leading German surgeon; he invented many devices and bandages, including the many-tailed "Scultetus bandage" used in abdominal wounds. His Armamentarium gives the best picture of 17th-century surgical practice, illustrating such procedures as amputation of the breast, reduction of dislocations, forceps delivery, neurosurgery, etc. The work includes a complete catalogue of all known surgical instruments, of the methods of bandaging and splinting, and of a vast number of operative procedures, all of which are illustrated in graphic detail by means of numerous plates which were never again published in their original folio size. This work is also significant in the history of dentistry and dental instruments. Schultes had been a pupil of Spigelius, successor to Fabricius ab Aquapendente, and his Armamentarium published some of the first illustrations of the dental instruments described by Fabricius in his Opera chirurgica (1619). BM/STC 17th century S1741; Garrison-Morton 5571; Gnudi & Webster, Life & Times of Tagliacozzi, pp. 303-4. Heirs of Hippocrates 466; Hoffmann-Axthelm, Hist. Dent., pp. 180-81; NLM/Krivatsy 10746; Zimmerman & Veith, Great Ideas in the History of Surgery, pp. 249-53.

[Bound after:]

SYLVIUS, Franciscus Deleboe (1614-1672). Opera medica. Geneva: Samuel de Tournes, 1681.

2o (357 x 220 mm). Title printed in red and black. Engraved portrait of the author after T.L. Durant. (Small wormtrack at beginning affecting some letters.)

Third edition. "This large and sumptuous work comprises Sylvius' major medical writings, and shows his emphasis on the use of physiological chemistry in the practice of clinical medicine. A large section is devoted to diseases of the lung, in which particular emphasis is given to tuberculosis. It was Sylvius who first demonstrated that tubercles could coalesce and form the cavitations typical of the tuberculous lung... Unlike the 1679 edition of the Opera, this edition contains a fine frontispiece portrait of Sylvius by J. L. Durant and a large woodcut printer's device on the red and black title-page" (Heirs of Hippocrates 503). NLM/Krivatsy 6726.

More From

Anatomy As Art: The Dean Edell Collection