Lot Content
COVID-19 Important notice
Read more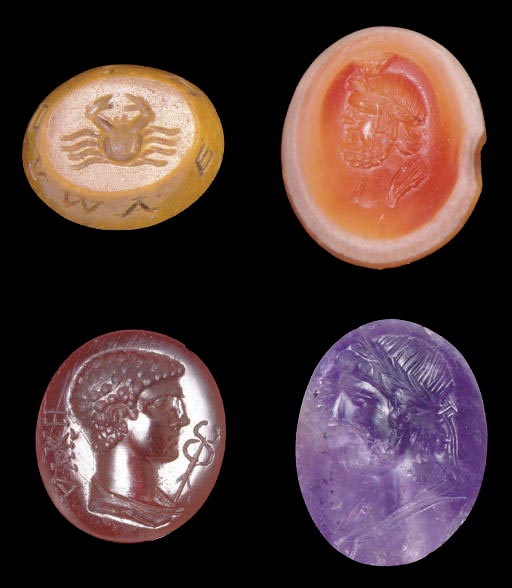 FOUR ROMAN RING STONES
CIRCA 1ST-4TH CENTURY A.D.
Details
FOUR ROMAN RING STONES
CIRCA 1ST-4TH CENTURY A.D.
One a flat oval yellow jasper "magic gem" engraved on one side with a crab, an inscription in Greek around the bevelled edge including the letters, ARHIPVW, and an inscription on the reverse reading, AXPAB; a convex oval eye agate engraved with Serapis in profile, the bearded god with characteristic modius; a flat oval carnelian engraved with a bust of Mercury, the youthful god with curly hair, his caduceus in the field before him, an inscription in Greek behind him reading, AYKH; and a convex oval amethyst deeply engraved with a profile bearded male bust, wearing a mantle and a wreath of laurel
Amethyst: in. (1.9 cm.) long (4)

Provenance
London Art Market, 1980s.

More From

Ancient Jewelry