Lot Content
Global notice
COVID-19 Important notice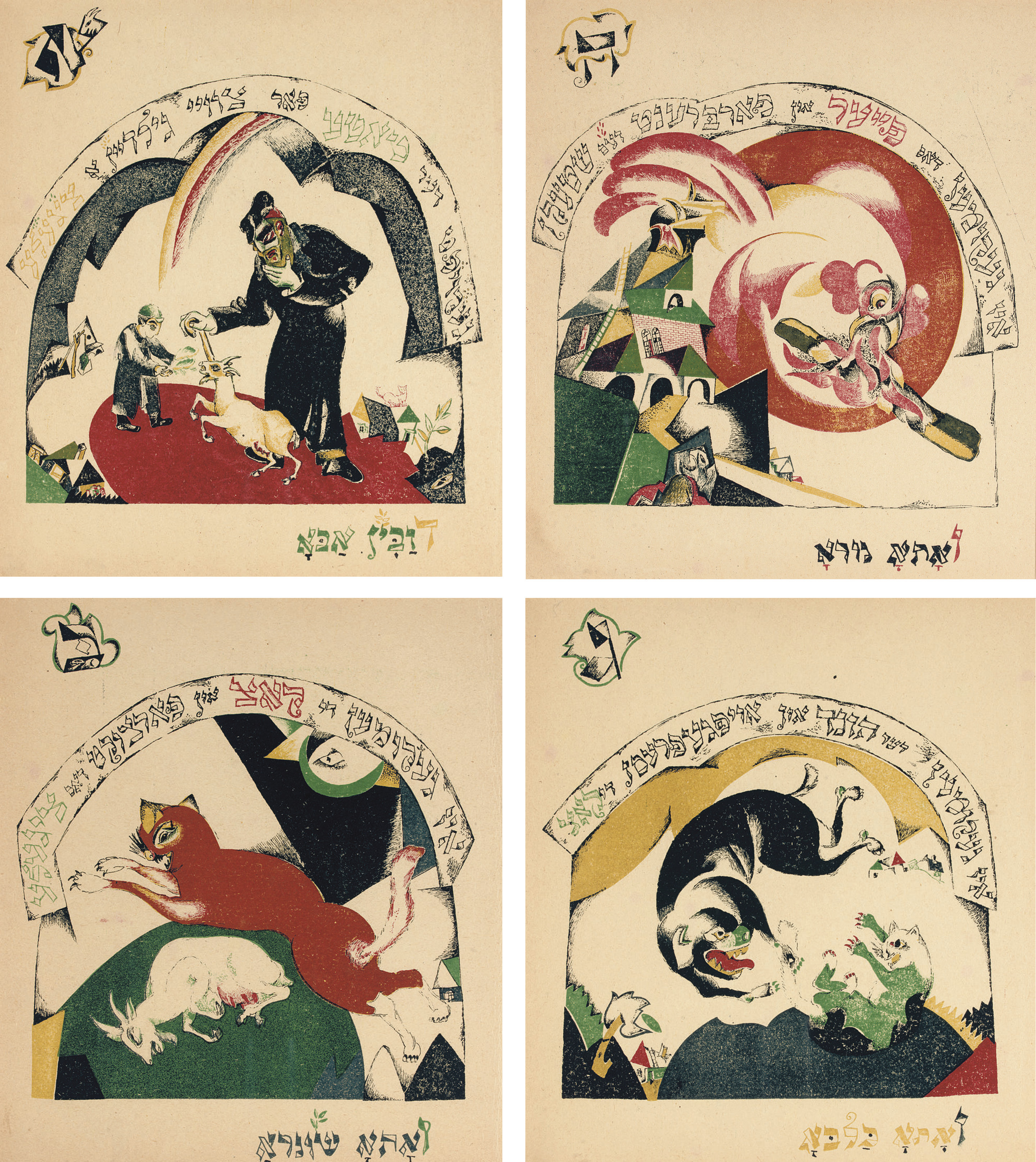 Buyers from within the EU: VAT payable at 17.5% o… Read more
LISSITZKY, Lazar Markovich, 'El' (1890-1941). Chad Gadya. [The Tale of a Goat.] Kiev: Kultur Lige, 1919.
Details
LISSITZKY, Lazar Markovich, 'El' (1890-1941). Chad Gadya. [The Tale of a Goat.] Kiev: Kultur Lige, 1919.

The set of eleven lithographs in colours, and the printed dedication, c.270 x c.250mm, on thick cream wove paper, from the edition of 75, the colours fresh, the paper tone slightly and evenly darkened, occasional short tears and soft creases at the sheet edges, one tear just touching the image, two plates with soft creases in one corner, one of these plates also lightly soiled in the margin, otherwise in very good condition, mounted on linen, matted, framed and glazed (not examined outside of the frames), overall 407 x 368mm.

LISSITZKY'S VERY RARE EARLY MASTERPIECE. ONE OF ONLY 75 SETS, many of which were destroyed: Chad Gadya was among the first Russian avant-garde works to be condemned and destroyed during the Stalin era. The preparatory set of gouaches is now held by the Tel Aviv Museum, but this differs greatly in style from the printed version: the 'cubiform lithographs seem to foreshadow the basic turnabout toward geometric abstract art which would take place in Lissitzky's work during that same year' (El Lissitzky, p.15). 'Lissitzky's restless, innovative art reached its peak in this poem' (Apter-Gabriel).

In 1919 Lissitzky became Professor of Architecture and Graphic Arts at the Vitebsk Popular Art Institute, which was then under the directorship of Marc Chagall, and subsequently Kasimir Malevich. Lissitzky, officially a student of architecture, gravitated towards book illustration -- beginning a journey that would ultimately see him radically reconstruct the appearance of printed books. Initially he was particularly drawn to the circle of Marc Chagall and other Jewish graphic artist-illustrators whose works were primarily published for the large Jewish community in Kiev. From the start of his career as a book designer Lissitzky showed a propensity for both an extreme delicacy of line and powerful geometric patterns. In Chad Gadya Lissitzky daringly combines traditional iconography and Hebraic lettering with his own emerging avant-garde style. Apter-Gabriel (ed.), Tradition and Revolution, The Jewish Renaissance in Russian Avant-Garde Art, Jerusalem, 1987; El Lissitzky, Eindhoven et al., 1990; El Lissitzky, 1890-1941, Harvard, 1987, pl.1-12; Rowell & Wye, The Russian Avant-Garde Book 1910-1934, pp. 138-140. (12)

Special Notice

Buyers from within the EU: VAT payable at 17.5% on just the buyer's premium (NOT the hammer price) Buyers from outside the EU: VAT payable at 17.5% on hammer price and buyer's premium. If a buyer, having registered under a non-EU address, decides that an item is not to be exported from the EU, then he/she should advise Christie's to this effect immediately.
More from

Valuable Russian Books and Manuscripts