Browse Lots
Global notice
COVID-19 Important notice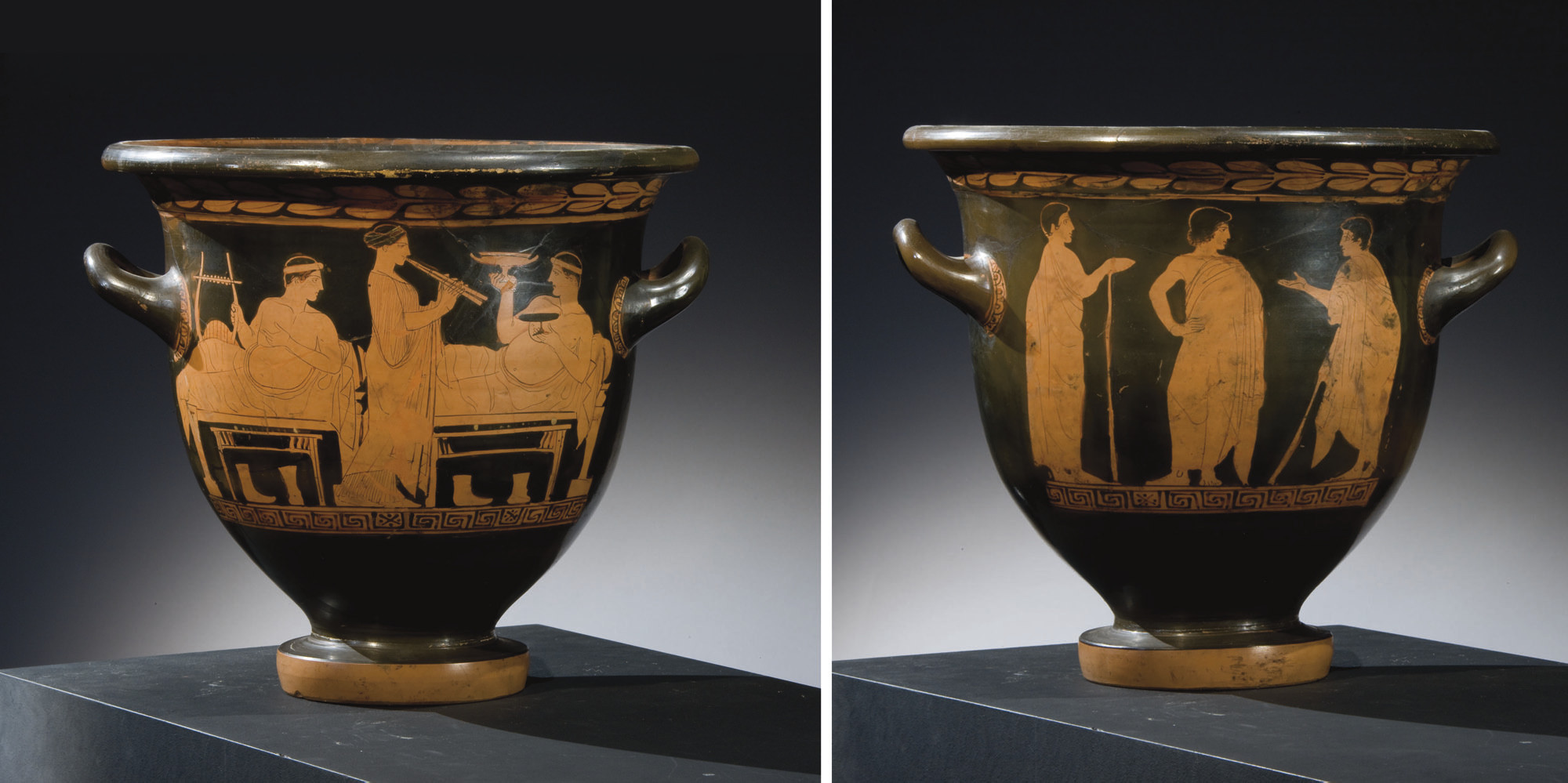 No VAT will be charged on the hammer price, but VA… Read more
CRATERE EN CLOCHE ATTIQUE A FIGURES ROUGES
ATTRIBUE AU PEINTRE DE LA CENTAUROMACHIE DU LOUVRE, VERS 450 AVANT J.C.
Details
CRATERE EN CLOCHE ATTIQUE A FIGURES ROUGES
ATTRIBUE AU PEINTRE DE LA CENTAUROMACHIE DU LOUVRE, VERS 450 AVANT J.C.
L'avers représentant une scène de banquet: Deux jeunes gens allongés sur des coussins, torses nus et vêtus de l'himation, les cheveux ceints d'un large ruban, celui de droite tient un kylix dans chaque main; celui de gauche, la tête tournée, tient une lyre; entre eux une femme, vêtue d'un chiton et d'un himation, joue de la flûte double, les cheveux retenus par un ruban, une table dressée devant chaque banqueteur, la nourriture est soulignée de rehauts blanc; au revers trois jeunes gens drapés dont deux tenant un bâton; la partie supérieure ornée d'une frise de feuilles de laurier, le pied d'une frise de grecques
Hauteur : 34.9 cm. (13¾ in.)

Provenance
Woodyat Collection (Catalogue de la vente de l'ancienne collection Woodyat), Jandolo & Tavazzi, Rome, 15-19 avril 1912, lot 60.
Feuardent, Paris.
Galerie Krimitsas, Paris, vers 1970-1980.

Literature
J.D. Beazley, Attic Red-Figure Vase-Painters, Oxford, 1963, no. 1091.61.

Special Notice

No VAT will be charged on the hammer price, but VAT payable at 19.6% (5.5% for books) will be added to the buyer's premium which is invoiced on a VAT inclusive basis
Post Lot Text
AN ATTIC RED-FIGURED BELL-KRATER
ATTRIBUTED TO THE PAINTER OF THE LOUVRE CENTAUROMACHY
CIRCA 450 B.C.
The obverse with a symposiom scene, with two reclining youths leaning on pillows, each wrapped in a himation, their upper torsos bare, with a broad fillet in their hair, the youth to the right holding the foot of a kylix in each hand, one red, one black, the youth to the left holding a lyre, his head turned back, a standing woman between them playing the double aulos, wearing a chiton and himation, her hair bound in a fillet, a table set before each symposiast, with the food in added white, their boots below; the reverse with three draped youths, two with staffs; bands of meander with dotted crossed squares belows the scenes, a band of laurel below the rim, ovolo framing the handle roots
Condition Report
If you wish to view the condition report of this lot, please sign in to your account.
Sign in
View condition report
More from

Collection Yves Saint Laurent et Pierre Bergé