Lot Content
COVID-19 Important notice
Read more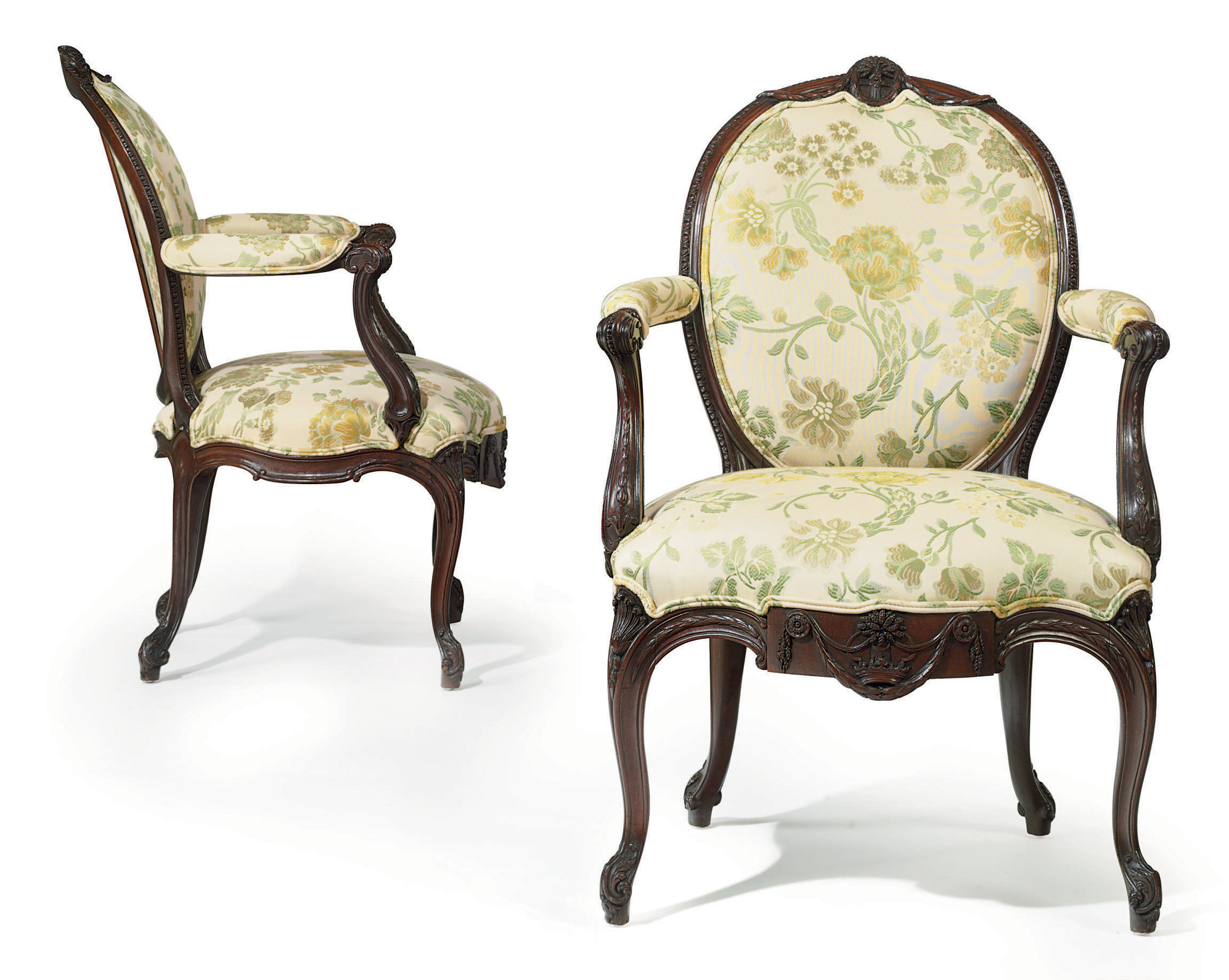 A PAIR OF GEORGE III SOLID MAHOGANY ARMCHAIRS
ATTRIBUTED TO THOMAS CHIPPENDALE, CIRCA 1775
Details
A PAIR OF GEORGE III SOLID MAHOGANY ARMCHAIRS
ATTRIBUTED TO THOMAS CHIPPENDALE, CIRCA 1775
En suite with the previous lot (2)

Provenance
Part of a larger suite comprising twelve armchairs, two settees and a pair of card tables that was almost certainly supplied to John Peach Hungerford Esq. (d. 1809) for Dingley Hall, Northamptonshire and by descent in the Hungerford family.
Purchased with the house by Hugh Richard Dawnay, 8th Viscount Downe (d. 1924) in 1883.
Transferred to the Downe family seat at Wykeham Abbey, Yorkshire.

Literature
FOR THE SUITE:
M. Jourdain, 'Furniture at Wykeham Abbey - I', Apollo, vol. 46, October 1947, p. 79, fig. 1.
Y. Hackenbroch, English Furniture with some furniture from other countries in the Irwin Untermyer Collection, Cambridge, Massachusetts, 1958, plate 220, fig. 259 & pp. 53-54 (a card table).
G. Beard and J. Goodison, English Furniture 1500-1840, Oxford, 1987, p. 125, fig. 6 and p. 170, fig. 1 (the companion card table and a pair of chairs, respectively).

Exhibited
FOR THE SUITE:
London, The Luton Museum, 'In the Days of Queen Charlotte', 11 May - 11 June 1939, pl. VIII (with H. M. Lee & Son) (a pair of chairs).
London, Victoria & Albert Museum, 'The British Antique Dealers' Association Golden Jubilee Exhibition', May 1968, no. 159, pl. 121 (a pair of chairs).
The Metropolitan Museum of Art, New York (a card table).

Condition Report
If you wish to view the condition report of this lot, please sign in to your account.
Sign in
View Condition Report
Lot Essay
See note to previous lot.

More From

500 Years: Decorative Arts Europe, Including Oriental Carpets