Browse Lots
Global notice
COVID-19 Important notice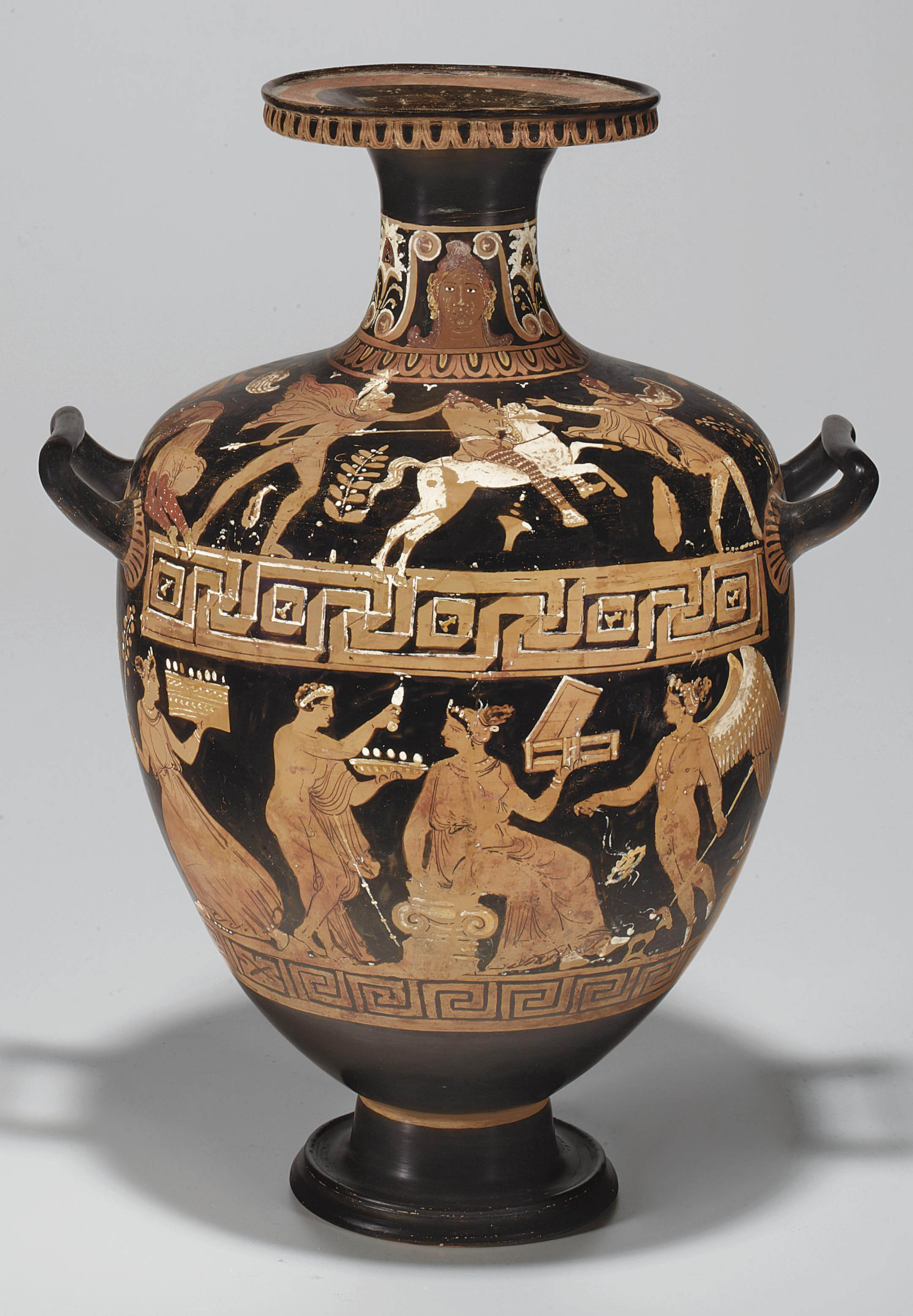 Property from a Private Family collection, New Jersey
AN APULIAN RED-FIGURED HYDRIA
ATTRIBUTED TO THE ARPI PAINTER, CIRCA 340-320 B.C.
Details
AN APULIAN RED-FIGURED HYDRIA
ATTRIBUTED TO THE ARPI PAINTER, CIRCA 340-320 B.C.
The body with a draped female seated on an Ionic column capital, an open larnax in her raised left hand, facing right but looking back at a nude youth, a filled patera in his left hand, an alabastron in his right, leaning on a staff, drapery flowing over his left arm, nude winged Eros alighting before her with a staff and a filleted wreath, a draped female at the far left, moving left and looking back, a filled basket in her raised left hand, a branch in her right; meander and saltire squares encircling below, swastika meander above; the shoulders with an Amazonomachy, an Amazon on horseback at the center, wearing striped pants, being speared from behind by a nude warrior wearing a Phrygian helmet, his mantle billowing, a fallen Amazon behind him, bleeding, her head fallen forward with her hair obscuring her face, her pelta shield above, to the far right an Amazon with a pelta shield fleeing to the right; the neck with a frontal-facing Amazon head between volutes and blossoms, ovolo at the base of the neck, incised ovolo on the rim, a large palmette complex (mostly lost) below the handle; details in added white, yellow and red
19 7/8 in. (50.5 cm.) high

Provenance
with Arctic Fine Art, New York, 1991.

Condition Report
If you wish to view the condition report of this lot, please sign in to your account.
Sign in
View condition report