Lot Content
Global notice
COVID-19 Important notice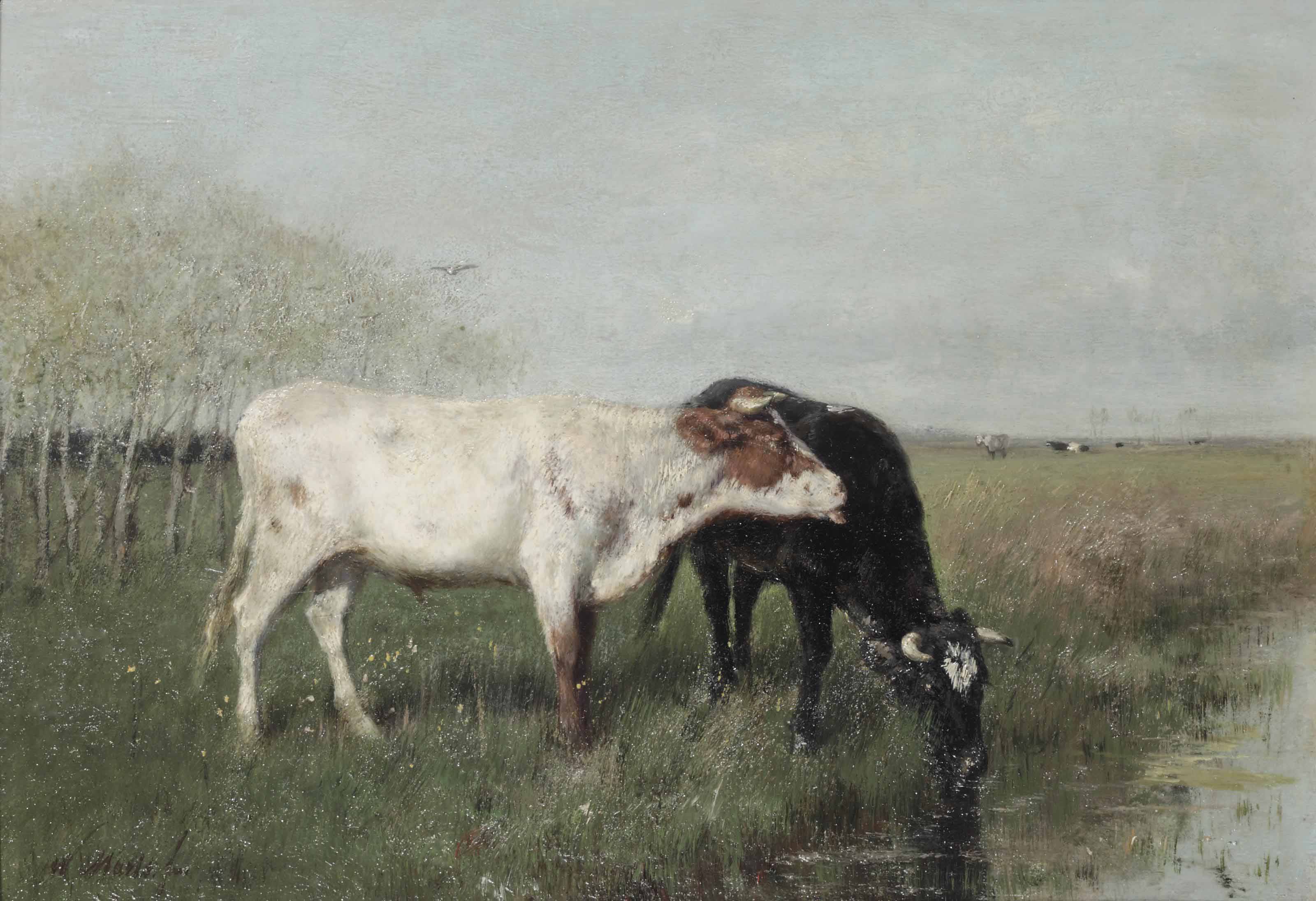 Willem Maris (The Hague 1844-1910)
Koeien in de weide: cows in a meadow
Details
Willem Maris (The Hague 1844-1910)
Koeien in de weide: cows in a meadow
signed 'W. Maris. f' (lower left)
oil on panel
21 x 28.8 cm.

Provenance
with Kunsthandel Frans Buffa & Zonen, Amsterdam.
Mr. Jan Michiel Pieter Glerum, Amsterdam; Mak van Waay, Amsterdam, 28 February 1933, lot 151.
Mr. B. de Geus van den Heuvel, Amsterdam/Nieuwersluis, by 1951.
with Kunstgalerij Albricht, Velp, 1996, where acquired by the present owner.

Exhibited
Schiedam, Stedelijk Museum, Schilderijen der Nederlandse- en Franse School uit de verzameling van B. de Geus van den Heuvel, December 1951 - January 1952, no. 42.
Bolsward, Stadhuis Bolsward, Het dier in de beeldende kunst, 27 June 1953 - 29 August 1953, no. 87.
Arnhem, Gemeentemuseum Arnhem, Schilders van de Veluwezoom, 3 June - 1 September 1954, no. 42.
Laren, Singer Museum, Meesters van de Haage School en enige tijdgenoten, 12 May 1957 - 15 July 1957, no. 169.
IJzendijke, Raadhuis, Het Boerenleven, 1957, no. 34.
Amsterdam, Stedelijk Museum, Van Romantiek tot Amsterdamse School, 1958, 7 July 1958 - 29 September 1958, no. C63.
Laren, Singer Museum, Keuze uit de collectie B. de Geus van den Heuvel, 9 April 1966 - 30 May 1966, no. 98.

Brought to you by
Check the condition report or get in touch for additional information about this
Condition Report
If you wish to view the condition report of this lot, please sign in to your account.
Sign in
View condition report
More from

Old Masters, 19th Century and Impressionist Art