Lot Content
Global notice
COVID-19 Important notice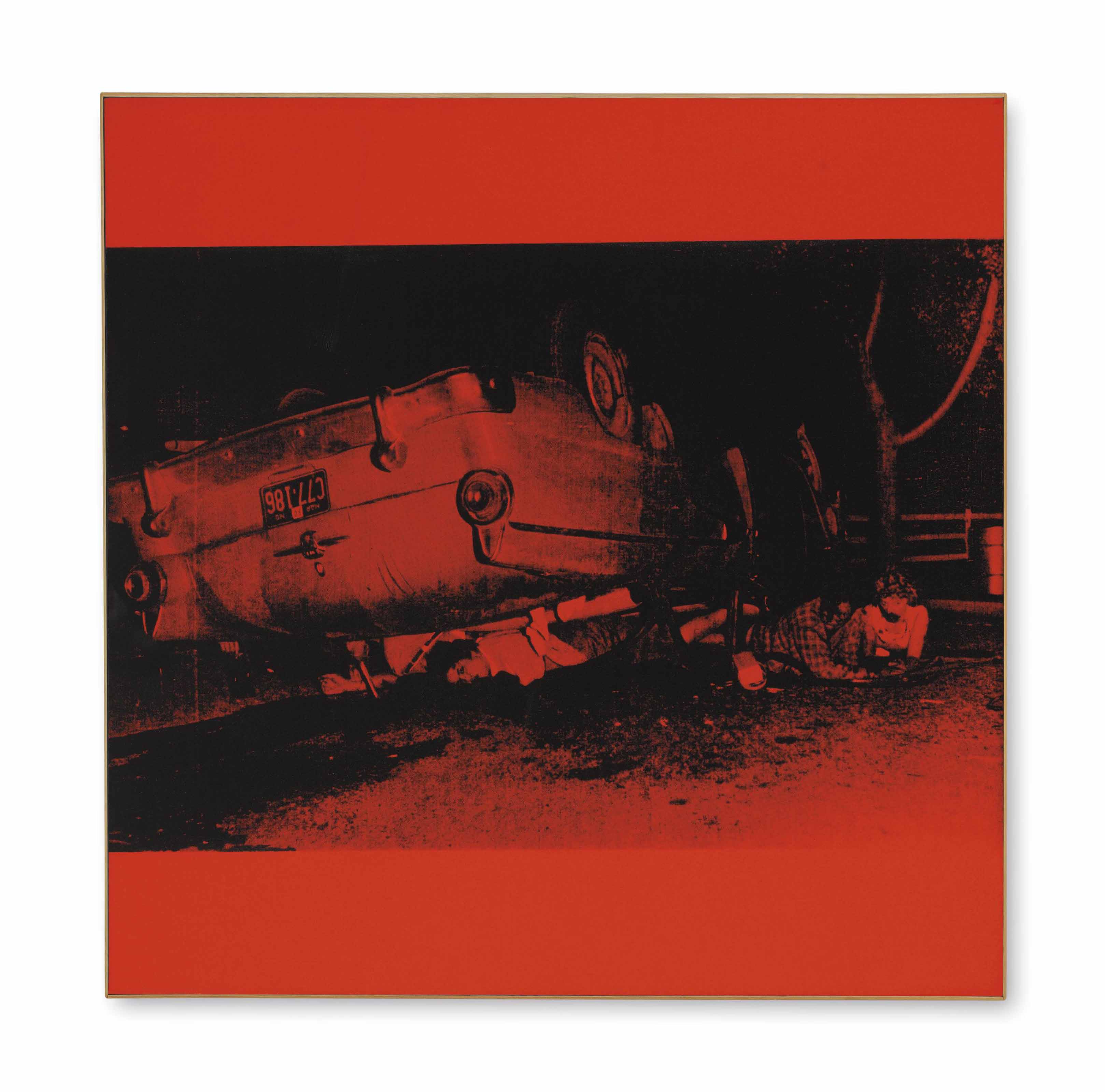 On occasion, Christie's has a direct financial int… Read more
Andy Warhol (1928-1987)
Five Deaths on Orange
Details
Andy Warhol (1928-1987)
Five Deaths on Orange
acrylic and silkscreen ink on linen
30 3/16 x 30 3/16 in. (76.6 x 76.6 cm.)
Painted in 1963.

Provenance
Stable Gallery, New York
Ileana and Michael Sonnabend, Paris
Gagosian Gallery, New York
Acquired from the above by the present owner
Literature
R. Crone, Andy Warhol, New York, 1970, pp. 185 and 299, no. 319 (illustrated).
R. Crone, Das Bildernerische Werk Andy Warhols, Berlin, 1976, no. 757.
G. Frei and N. Printz, eds., The Andy Warhol Catalogue Raisonné of Paintings and Sculpture 1961-1963, vol. 1, New York, 2002, pp. 442 and 445, no. 511 (illustrated in color).
Exhibited
Humlebæk, The Louisiana Museum of Modern Art, Andy Warhol, October-November 1978, no. 28 (as Orange Car Crash).
The Baltimore Museum of Art, February 1985-August 2005 (on loan).
Stockholm, Moderna Museet, Wounds: Between Democracy and Redemption in Contemporary Art, February-April 1998, p. 179.
New York, Stellan Holm Gallery, Andy Warhol: 5 Deaths, May 2002, p. 31, no. 1 (illustrated in color).
Minneapolis, Walker Art Center; Chicago, Museum of Contemporary Art; Toronto, Art Gallery of Ontario, Andy Warhol/Supernova: Stars, Deaths and Disasters, 1962-1964, November 2005-October 2006, pp. 58 and 106, no. 16 (illustrated in color).
New York, Gagosian Gallery, Warhol from the Sonnabend Collection, January-February 2009, pp. 62 and 132 (illustrated in color).
Special Notice

On occasion, Christie's has a direct financial interest in the outcome of the sale of certain lots consigned for sale. This will usually be where it has guaranteed to the Seller that whatever the outcome of the auction, the Seller will receive a minimum sale price for the work. This is known as a minimum price guarantee. This is such a lot.
Post Lot Text
One of Andy Warhol's most celebrated Death and Disaster paintings, Five Deaths on Orange shows the bloody aftermath of a fatal automobile accident, containing within its forthrightness the power and prurience of Warhol's use of imagery. Encapsulated in this canvas is Warhol's entire philosophy of art and life—a celebration of beauty, violence, modernity and the ever present Spector of death. These are timeless attributes that have been celebrated throughout art history, yet through Warhol's eyes they appear with the potency and significance that is unparalleled within modern painting. Once owned by the legendary gallerist Ileana Sonnabend, this painting has remained in the same private collection for the past thirty years, and despite half a century passing since its creation, the haunting nature of this single image has not relinquished any of its impact, and in today's media saturated world still has the power to induce a powerful visceral reaction in those who see it.

With its intense color and shocking imagery, Five Deaths on Orange becomes an authoritative essay on the power of the image in modern society. The image Warhol used pulls no punches in its gruesome depiction of the scene of an accident. The upturned vehicle, flipped over on a country road, entombs three of its victims inside its metal structure. In the center of the picture a female passenger lies in a pool of blood, her vacant gaze staring out at the viewer as if in a cry for help. Behind her, the twisted body of her male companion lies motionless, and to the left the anonymous hand of another victim hangs from the car's dark interior. Out of this mangle of metal and bodies however, two other figures emerge, bloodied and in obvious shock as they crawl away from their lifeless companions. Adding to the evocative nature of Five Deaths on Orange is the clarity of this particular canvas, which lays out the details of the scene in exacting detail from the expressions on the victim's faces to the pattern on the man's plaid shirt and even the individual leaves on the tree that blocks the car's path. This, together with the unscreened passages of vibrant color that run across the upper and lower edges of the painting, heightens the tension contained within the picture, almost forcing the viewer to lean in for a closer, more considered, examination of the gruesome scene that Warhol lays out before us.

The source image for Five Deaths on Orange was a news photograph of an automobile accident in Los Angeles and issued by the UPI wire service. A few brief lines of news copy that accompanied the photograph described the accident as having been caused when a truck hit the car carrying a group of youngsters out for the evening. Two of the survivors can be seen crawling from the wreckage, their bloodstained faces caught in the glare of the photographer's flashbulb, whilst a third survivor remains trapped inside the vehicle. The other victims of the crash, two sailors (according to the news copy) stationed aboard the USS Maddox in San Diego, lie dead within the wreckage—their anonymous bodies slumped in the back of the car with an outstretched arm being checked for a pulse by a first responder whose feet can be seen behind the trunk of the car.

The image itself was initially discovered by Warhol's assistant, Gerald Malanga who would spend hours going through old photographs looking for photographs that Warhol could work with. "I would do photo research, in a lot of instances" he claimed, "There was this old bookstore on 7th Avenue and 23rd Street where I would go and rummage through piles of old news agency photos, mostly car crashes, one kind of disaster or another. The one with the "5 Deaths" for instance, Andy and I would just play around with juxtapositions and how the images would fit on a piece of canvas that we'd already cut" He added, "We would return to this silkscreen again and again for several months; in effect, the first painting repeated many times over, this initiating Andy's serial imagery on separate identically shaped canvases and anticipating the Flower paintings to come" (G. Malanga, 'Photograph of a Painted Photograh: 5 Deaths,' Andy Warhol 5 Deaths, exh. Cat, Stellan Holm Gallery, New York, 2002, pp. 23 & 12).

Warhol often used pictures taken from newspapers and popular magazines as his source image, but in the case of Five Deaths on Orange, as Gerald Malanga recalls, the graphic nature of the image meant that Warhol had to search in a new area for inspiration"…images like this were never really used in newspapers like the Daily News or the New York Times. They were usually relegated to newspapers like the National Enquirer or scandal tabloid sheets. So in a sense these were really images censored out by the mainstream press, and so they ended up in these unmistakable scandal sheets" (Ibid., p. 25) .

The prurient detail which is displayed in this 1963 painting demonstrates Warhol's increasing interest during this period with mortality. Indeed, although his earlier paintings of Marilyn Monroe and Elizabeth Taylor were both trigged by the tragic experiences which happened to the actresses (Monroe's suicide in 1962 and Taylor's near fatal illness in 1961), it is only with these early Disaster paintings that his increasing interest in death becomes blatantly apparent. His curiosity had been sparked in 1962 when the curator Henry Galdzahler had suggested that Warhol paint the darker side of American life. His first foray into the subject was a work titled 129 Die in which he painted the front page of the New Mirror newspaper with the splash headline '129 DIE IN JET!.' The following year, around the time Five Deaths on Orange was painted, Warhol explained the origins of his fascination with death to Gene Swenson, "It was Labor Day," Warhol said, "and every time you turned on the radio, some said something like 'Four Million people are going to die.' That started it. But when you see an image over and over again, it doesn't really have any effect. The death series I did was divided into two parts: the first on famous deaths and the second on people who nobody had ever heard of and I thought that people should think about some time….It's not that I feel sorry for them and it doesn't really matter to them that someone unknown was killed, so I thought it would be nice for these unknown people to be remembered. (A. Warhol, interviewed by G. Swenson, "What is Pop Art?," Art News 62, November 1963, pp. 60-61).

In the post-war economic boom that swept much of the United States after World War Two, the automobile was celebrated as a thing of beauty—a symbol of the prosperity and social mobility that the American Dream promised. In cities like Los Angeles, the automobile had become the dominant cultural phenomenon around which much of the newly classified concept of leisure time was played out. By depicting the results of a momentary lapse in concentration when lives can be changed forever, Warhol also showed that the American dream can become a nightmare in the blink of an eye, a drama that was being played out with alarming monotony across the country. By choosing these unknown victims, Warhol brought home the fragility of life to a wider audience. That a few moments earlier all five occupants of the car were enjoying a night out is what makes this image all the more shocking, a tangible example of the fragility of life and how it can all turn on a dime. This sense of propinquity struck Warhol right from the very beginning, as Gerald Malanga remembers. "When we were making the 5 Deaths with the car upside down and the people underneath, Andy asked, 'Are they still alive?' as if the accident had actually occurred in front of us" (G. Malanga, Andy Warhol 5 Deaths, exh. cat., Stellan Holm Gallery, New York, 2002, p. 29). Although it is the physicality of the images that is immediately shocking, it is this sense of fragility that has the most poignant effect, as Malanga noted, "The faces now nameless. The situation of the death and disaster receding in time and memory. Mangled and wreckage. A midsummer night on a lonely road to nowhere. The characteristics traits of what we have called modernity" (G. Malanga, 'Photograph of a Painted Photograh: 5 Deaths,' Andy Warhol 5 Deaths, exh. Cat, Stellan Holm Gallery, New York, 2002, p. 12).

Five Deaths on Orange was acquired directly from the Stable Gallery by the renowned gallerist Ileana Sonnabend and has been on extended loan to the Baltimore Museum of Art since 1985. Sonnabend met Warhol as early as 1962 and became an early champion of his work, curating some of Warhol's most important early shows at her Paris gallery including Death and Disasters (1964), Flowers (1965), and Thirteen Most Wanted Men (1967). The pair became two of the central figures of the art world in the 1960s—each knew their strengths and played to them. Between them, they formed a powerful partnership; Sonnabend knew that knowledge was power and used her awareness of the art market to great effect, while Warhol—ever the gossip—loved knowing everything about everybody. "These two, Ileana and Andy, were consummate role players, and over time the roles they played became who they were. Shrewd and intellectually nimble, both exploited their pronounced stylistic eccentricities to constant advantage" (B. Richardson, 'Ileana & Andy: A Story in Counterpoint,' Warhol from the Sonnabend Collection, exh. cat., Gagosian Gallery, New York, 2009, p. 11).

The car crash became one of Warhol's central motifs, including his monumental masterpiece Green Car Crash (Green Burning Car I) also painted in 1963, and together they form the most varied and extensive group of pictures in his seminal series of Death and Disaster paintings. They encompass many of the themes that Warhol had become progressively fascinated with including mortality, voyeurism and the increasing consumption of mass-media. These horrific images might seem an unlikely subject matter for art, but with through Warhol's perceptive eye, Five Deaths on Orange remains amongst one of the most powerful, challenging and provocative paintings made by any artist in the post-war era.
Brought to you by
Kevie Yang
Associate Specialist
More from

Post-War & Contemporary Art Evening Sale