Browse Lots
COVID-19 Important notice
Read more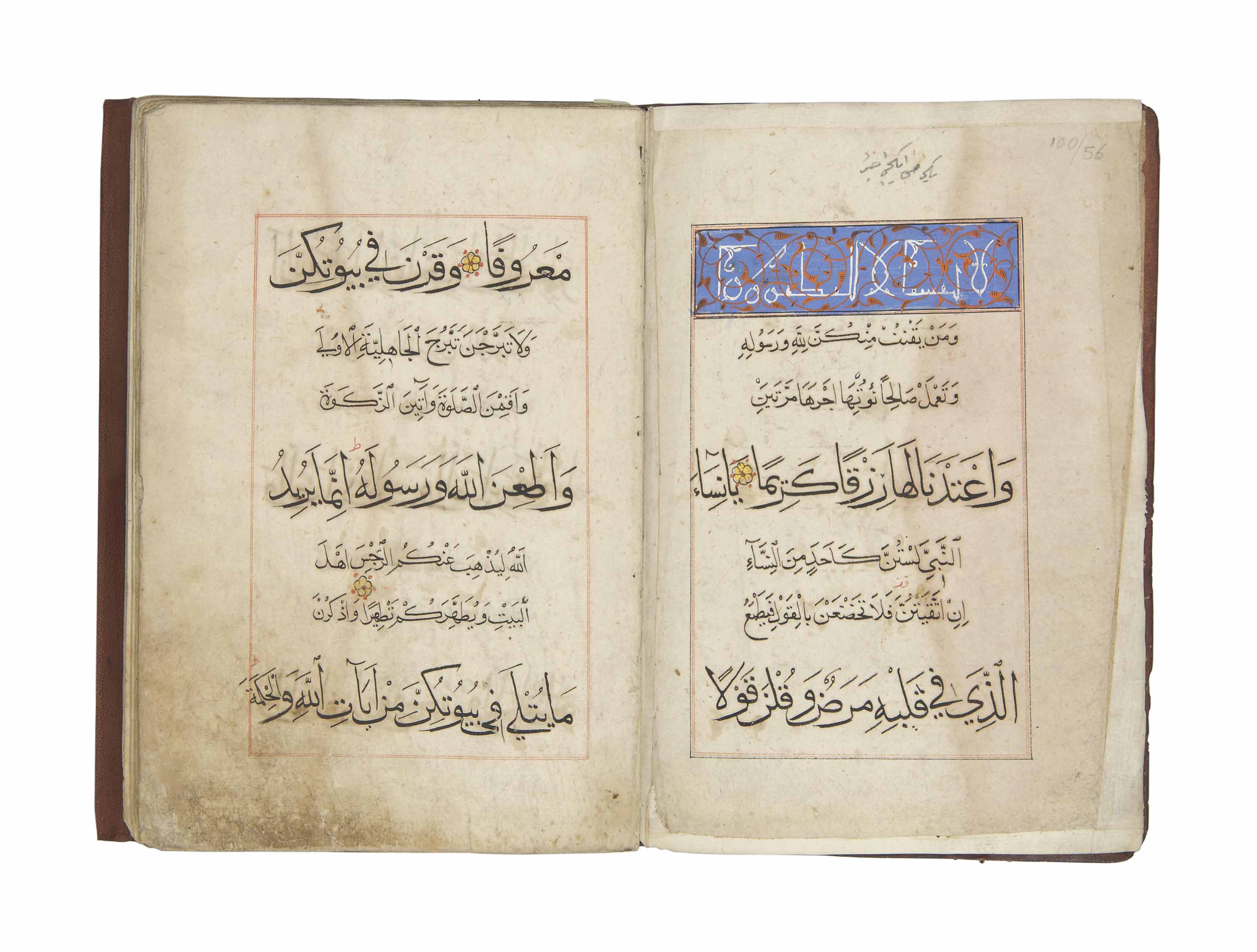 No VAT on hammer price or buyer's premium.
THE MOHAMED MAKIYA COLLECTION OF ISLAMIC MANUSCRIPTSMOHAMED SALEH MAKIYA (1914-2015)The collection of Islamic manuscripts gathered by Mohamed Saleh Makiya is one of a kind. These two-hundred-or-so manuscripts tell the collecting story of a man whose interest for Islamic culture was broad and wide reaching. This collection takes us to the roots of Islam and Islamic culture – it includes Qur'ans as well as Qur'anic commentaries and numerous rare works on hadith. Whilst the majority of the manuscripts in the collection are Arabic texts, it also includes Persian literature from Iran and India. The works on science and philosophy are fascinating, as are the many dictionaries and early works on Arabic grammar. Science, language, literature and religious exegesis form the core of the collection. Mohamed Makiya bought extensively at auction in the late 1970s and through into the 1980s. He was particularly active in the Hagop Kevorkian Fund sales at Sotheby's when a unique collection of Islamic paintings and manuscripts belonging to the Armenian dealer and collector was dispersed. Hagop Kevorkian was by far the most distinguished of the group of Armenian dealers active in the field of Islamic art in the first half of the 20th century and his collection was also the largest and most comprehensive assembled in this field. The Hagop Kevorkian provenance is carefully recorded in the present catalogue. Many of these bear Kevorkian's hand written notes and give us great insight into the collecting habit of a major Islamophile of the 20th century. Mohamed Saleh Makiya was born in Baghdad in 1914. In his professional life he grew to become one of the most successful Arab architects of his generation. A man of trans-cultural education, he obtained his PhD from King's College, Cambridge in 1946. The same year he married Margaret whom he had met whilst studying in Liverpool. They returned to Iraq where he established his architectural practice Makiya Associates. Living in Iraq until 1971, they moved to Bahrein, then Oman before settling in London in 1975.His first major public architecture project was the Khulafa mosque in Baghdad (1960-65) which was commissioned by the Iraqi Ministry of Awqaf. The mosque was constructed on the site of the Abbasid mosque of Caliph al-Muqtafi and the design incorporated the existent 13th century Suq al-Ghazl minaret. Makiya's work excelled in incorporating traditional forms into modern architecture, creating harmony between old and new.Mohamed Makiya had a prodigious career. He was commissioned to build a vast number of iconic buildings throughout the Arab World, including the Head Quarters of the League of Arab States in Tunis (1983), the Kuwait State Mosque (1977-1981), another mosque in Islamabad (1970), the Sheikh Mubarak Building in Bahrein (1973), the International Hilton Hotel in Dubai (1974) and other works in Doha and Muscat. He also designed plans for numerous universities such as The Theology College in Baghdad (1966) and the Al-Ain University in the UAE where he replicated the plan of the ancient city of Erbil adapted to contemporary purposes. Makiya won numerous international awards, including one for the Abu Bakr Al-Sadeeq State Mosque which was given to him personally by Sheikh Hamad bin Khalifa bin Hamad al-Thani, then Crown Prince of Qatar.Mohamed Makiya was an influential teacher and author. He founded the Architecture Department at the Baghdad University, which he headed until 1968; and published important works such as The Arab Village (1951), sponsored by UNESCO, and The Architecture of Baghdad (1969), with the assistance of the Gulbenkian Foundation. His work and ideas have been explored in many conferences and exhibitions, including during the recent international conference on Baghdadi Architectural heritage at the University of Baghdad in 2013. The Aga Khan Documentation Centre at MIT recently launched an archive of modern Arab and Islamic architecture using Makiya's work as a springboard. In the late 1980s, Mohamed Makiya established a charitable foundation, The Kufa Gallery, that grew to become a prominent haven for Middle Eastern Culture in Bayswater, London. Hosting discussions with intellectuals and art exhibitions, it was a well-known centre for the promotion of Arab and Islamic culture within a multi-cultural and multi-disciplinary framework. The Gallery was named in honour of the Iraqi city of Kufa, a bridge on trade routes and a leading cultural centre of the Islamic World. Mohamed Makiya passed away aged 101 in 2015 – his son Kanan Makiya recalls his father's wish of wanting to build 'a library for the ages, relating to those traditions he held so dearly'. It is clear from the breadth and scope of these manuscripts that Mohamed Makiya was committed to this ideal.Collections of Islamic manuscripts such as this rarely come to the market; which Christie's is honoured to be asked to offer for sale on the 18th of April 2016.
A QUR'AN SECTION (JUZ')
MAMLUK EGYPT, CIRCA 14TH CENTURY
Details
A QUR'AN SECTION (JUZ')
MAMLUK EGYPT, CIRCA 14TH CENTURY
Juz' XXII, Arabic manuscript on paper, 31ff., each folio with 7ll. of black muhaqqaq script, text panel outlined in red, sura headings in red, gold and polychrome rosette verse markers, the opening bifolio with a white kufic band against a light blue ground among red scrolls, in original Mamluk brown morocco binding with stamped medallions and gilt trefoils
Text panel 7 ½ x 4 5/8 in. (19 x 11.8cm.); folio 10 ½ x 7in. (26.5 x 17.8cm.)

Provenance
Christie's, London, 13 October 1982, lot 125
Special Notice

No VAT on hammer price or buyer's premium.
More From

Islamic Manuscripts Featuring The Mohamed Makiya Collection