Lot Content
COVID-19 Important notice
Read more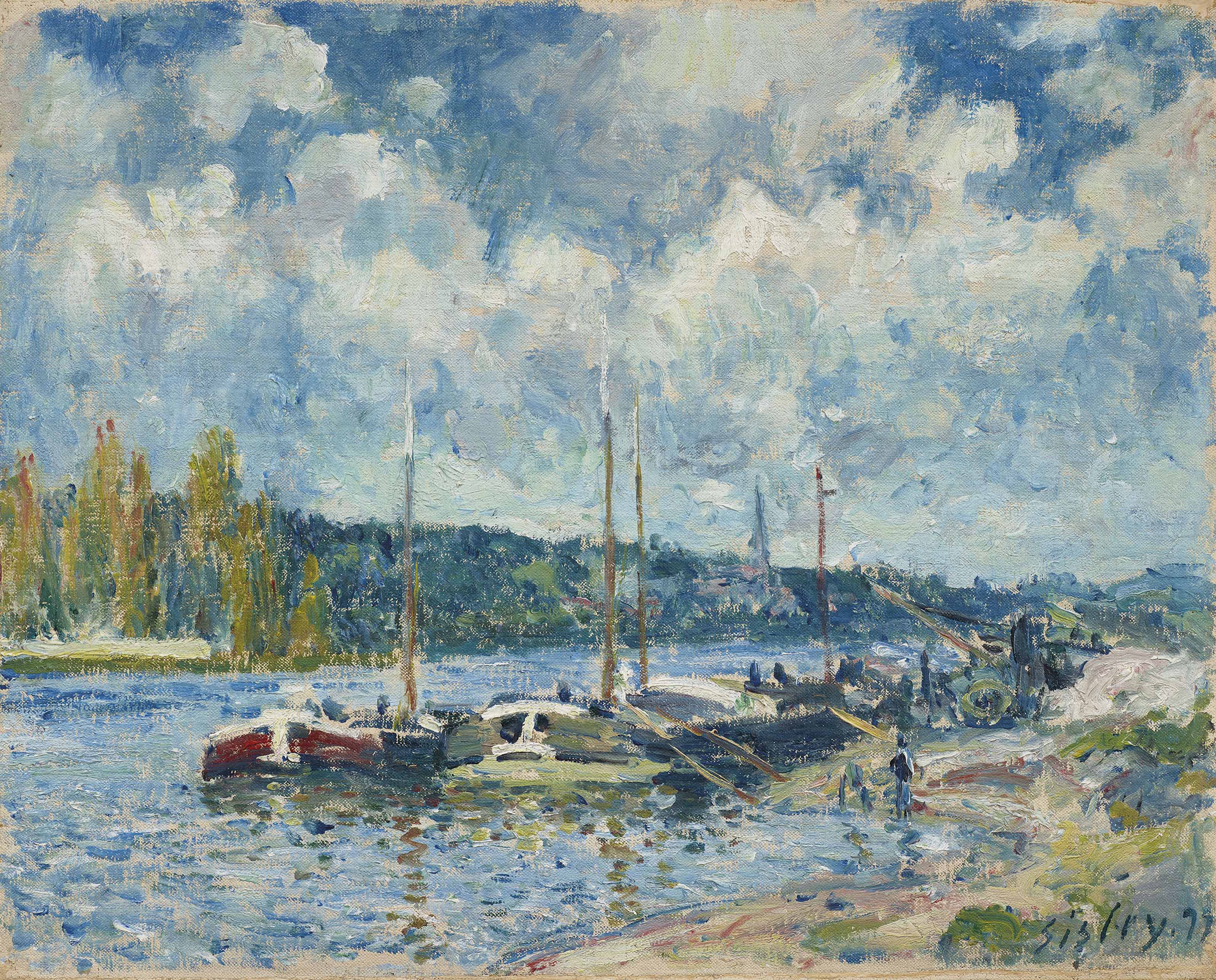 Ancienne collection Alfred Lindon, Paris
Alfred Sisley (1839-1899)
La Seine à Bougival
Details
Alfred Sisley (1839-1899)
La Seine à Bougival
signé et daté 'Sisley. 77' (en bas à droite)
huile sur toile
33.1 x 41.2 cm.
Peint en 1877

signed and dated 'Sisley. 77' (lower right)
oil on canvas
13 1/8 x 16 ¼ in.
Painted in 1877

Provenance
Galerie Durand-Ruel, Paris.
Paul Rosenberg, Paris (acquis auprès de celle-ci, le 26 avril 1922).
Paul Rosenberg & Co., New York.
Alfred Lindon, Paris.
Confisqué par le Einsatzstab Reichsleiter Rosenberg, Paris, le 10 décembre 1940 (ERR Li 51).
Sélectionné par Reichsmarschall Hermann Goering.
Gustav Rochlitz, Paris et Baden-Baden (acquis auprès de celui-ci; faisant partie de l'échange no. 3, le 17 mars 1941).
Retrouvé par Monuments, Fine Art et Archives Section, Munich Central Collecting Point (no. 8039), le 4 septembre 1945. 
Rapatrié en France, le 27 mars 1946. 
Restitué à Madame Alfred Lindon, New York (en 1959).
Puis par descendance au propriétaire actuel.

Literature
F. Daulte, Alfred Sisley, Catalogue raisonné de l'œuvre peint, Lausanne, 1959, no. 272 (illustré).
Exhibited
Paris, Galerie Durand-Ruel, Exposition de tableaux par Sisley, janvier-février 1922.
Post Lot Text
Bordant les rives de la Seine, la petite ville périurbaine de Bougival est devenue, à l'instar des villes voisines Louveciennes, Port-Marly et Chatou, une destination de loisirs populaire dans les années 1870 pour les parisiens cherchant à s'échapper de la métropole moderne. Située à seulement 17 kilomètres de la capitale et facilement accessible grâce à la nouvelle ligne de chemin de fer reliant la ville à la gare Saint-Lazare de Paris, Bougival (fig. 1), avec ses paysages idylliques et ses jeux de lumière infinis créés par les reflets de la Seine, offrait une vaste palette de thèmes aux impressionnistes. Ces derniers prônaient une peinture en plein-air, leur permettant de capter une lumière et une atmosphère spécifiques à un moment précis. De plus, Bougival était particulièrement réputée pour ses «guinguettes» disséminées le long des rives. Les Parisiens s'y retrouvaient ainsi le week-end pour participer au célèbre «Bal des Canotiers» (fig. 2) immortalisé par Auguste Renoir dans son chef-d'œuvre Le déjeuner des canotiers (1880-1881), conservé au musée The Philips Collection à Washington, et dans sa peinture emblématique des festivités de Bougival La Danse (1883), conservée au Musée d'Orsay à Paris.
D'autres raisons ont pourtant conduit Alfred Sisley à s'installer à Louveciennes près de Bougival en 1872. Sa famille était ruinée et le coût de la vie dans cette ville périurbaine était bien inférieur à celui de Paris. Par ailleurs, une petite communauté soudée d'artistes s'était établie à la fin des années 1860 dans la région, autour des amis proches de Sisley, notamment Pissarro, Monet, Renoir et un peu plus tard Morisot. Ils y passèrent du temps ensemble par intermittence et tissèrent des relations avec certains propriétaires de «guinguettes», comme celui de la Maison Fournaise ou de La Grenouillère, toutes deux situées dans la ville voisine de Chatou. Enfin, contrairement à ses camarades impressionnistes, Sisley était davantage intéressé par la retranscription des émotions et de l'atmosphère se dégageant de la nature que par la représentation de personnages. La nature intacte et les environs préservés de Bougival, çà et là parsemés de petites industries et d'îlots de constructions pittoresques le long des rives, offraient à l'artiste franco-britannique le cadre parfait.
La Seine à Bougival, datant de 1877, est l'une des nombreuses vues de la rivière magnifiquement saisie par les coups de pinceau spontanés et la palette éclatante de Sisley, résolument impressionniste dans la facture, le style et le sujet de sa composition. Consacrant au ciel plus de la moitié de la toile recouverte d'une teinte blanc rosé, dont la clarté perce la couche de peinture par endroits, Sisley s'est attaché à reproduire le mouvement constant des nuages dans un beau ciel bleu. Il crée ainsi un «dynamisme atmosphérique» contrastant avec les rives paisibles de la rivière et les voiliers immobiles sagement arrimés sous un ciel agité. Ce contraste entre le mouvement dynamique du ciel et la tranquillité idyllique du paysage apparaît également sur le pendant du présent tableau, Bateaux sur la Seine daté d'environ 1877 (Courtauld Gallery, Londres; fig. 3), bien que Sisley semble avoir été moins rigide concernant l'aspect structurel de ce dernier que dans La Seine à Bougival.
En effet, malgré les touches libres impressionnistes appliquées par Sisley pour composer son tableau, le chaos pictural apparent s'articule autour d'une certaine structure, composée de quelques lignes verticales discrètes, notamment le clocher estompé en arrière-plan, les mâts des voiliers, les personnages et les arbres de couleur vert-jaune clair à gauche, croisant les lignes horizontales des rives et les lignes diagonales des quais et des contours du paysage en arrière-plan. Selon Christopher Lloyd, qui s'est intéressé aux peintures des années 1870 de Sisley, cette «organisation picturale stricte» est précisément ce qui «rend ces peintures particulièrement modernes par rapport aux paysages des artistes de l'École de Barbizon. Sisley intègre une série presque continue de lignes horizontales, verticales et diagonales déployées comme des perspectives plongeantes et de larges bandes de divisions planaires (…)» (C. Lloyd, 'Alfred Sisley and the Purity of Vision' in Alfred Sisley, Londres, 1992, cat. exp., p. 14-15).
Ce magnifique tableau, véritable testament de la peinture impressionniste en plein air et exécutée par l'un des piliers de ce mouvement artistique, vient de l'ancienne collection prestigieuse d'Alfred Lindon (né Lindenbaum). Ce négociant en diamants et collectionneur d'art anglais vécut à Paris pendant les années précédant la Seconde Guerre Mondiale. Sa collection de peintures, allant des grands maîtres aux impressionnistes, a été perquisitionnée et dispersée par les autorités allemandes pendant l'Occupation. Lindon est décédé en 1948, et si son fils Jacques, marchand d'art, s'est attaché à réclamer les peintures, et n'y est parvenu qu'en partie. La Seine à Bougival a ainsi été restituée aux héritiers de Lindon.


The small suburban town of Bougival located along the banks of the river Seine, like several neighbouring cities such as Louveciennes, Port-Marly, and Chatou, had become a popular leisure destination by the 1870s for Parisians who sought to escape the modern metropolis. Situated just seventeen kilometres from the capital and easily accessible with the new train line from the Saint-Lazare station in Paris, Bougival (fig. 1) and its surroundings with its idyllic landscapes and endless light effects created by the Seine's reflection, provided a wide array of ideal subject matters for the Impressionists, who advocated plein-air painting in view of capturing a specific light and atmosphere at a precise moment in time. Furthermore, Bougival especially, became renowned for its "guinguette" or bar-restaurants scattered along the river banks and became a town to which Parisians flocked to over the weekend to attend the famous "Bal des Canotiers" (fig. 2) eternalised by Auguste Renoir in his masterpiece depicting the Luncheon of a boating party (1880-1881) housed in the Philips Collection, Washington DC, and in his painting La Danse (1883; Musée d'Orsay, Paris), an icon of Bougival's festivities.
Yet it was for other reasons that Alfred Sisley chose to settle close to Bougival, in Louveciennes in 1872, as his family was impoverished and the living costs in this suburban town were much lower than in Paris. Additionally, a small but tight community of artists had established itself in the late 1860s in the area with Sisley's close friends Pissarro, Monet, Renoir and slightly later Morisot, all spending time there intermittently and building a support network with some of the "guinguette" owners, such as that of the Maison Fournaise or of La Grenouillère both in nearby Chatou. Finally, Sisley, as opposed to his fellow Impressionist painters, was more interested in conveying his emotions and the atmosphere triggered by nature, than by depicting figures. The untouched nature and preserved surroundings of Bougival, occasionally dotted with small-scale industries and picturesque clusters of buildings along its banks, offered the Franco-British artist the perfect setting.
La Seine à Bougival of 1877 is one of several views of the river beautifully captured by Sisley's spontaneous brushstrokes and vibrant palette, quintessentially Impressionist in its compositional procedure, style, and subject matter. Devoting the sky more than half of the primed canvas coated with a pinkish-white colour tone, the brightness of which pierces through the layer of paint in places, Sisley focused on grasping the clouds' constant movement in a fresh blue sky. He hence creates an "atmospheric dynamism", emphasised by the contrast with the peaceful river banks and still sailboats quietly docked below the agitated sky. This contrast between the sky's dynamic flux and the land's idyllic tranquillity is again apparent in the present lot's pendant, Bateaux sur la Seine of circa 1877 (Courtauld Gallery, London; fig.3), although Sisley seems to have been less rigid with the structural aspect of the latter's composition than in La Seine à Bougival.
In fact, despite the typically loose Impressionist touches used by Sisley to build up his scene, the apparent painterly chaos is regimented by a certain structure, composed of a few discrete vertical lines, with the church tower fading away in the background, the sailboats' masts, the figures and the bright yellow-green trees on the left, crossing the horizontal lines of the river banks and the diagonals of the docking lines and of the landscape's outline in the background. According to Christopher Lloyd, reflecting on Sisley's 1870s paintings, this "strict pictorial organisation" is precisely what "makes these paintings, in comparison with landscapes by artists of the Barbizon School, specifically modern. Sisley incorporates an almost relentless array of horizontals, verticals and diagonals deployed as plunging perspectives and flat bands of planar divisions (…)" (C. Lloyd, 'Alfred Sisley and the Purity of Vision' in Alfred Sisley, London, 1992,exh. cat., p. 14-15).
This delightful painting, epitomising Impressionism's plein-air painting executed by one of the pillars of that art movement, comes from the prestigious collection of Alfred Lindon (born Lindenbaum). The latter was an English jewellery dealer and art collector who lived in Paris during the years prior to the Second World War. His collection of Old Master to Impressionist paintings was raided and dispersed by German authorities during the Occupation of Paris. Lindon died in 1948, and his son Jacques, an art dealer, continued efforts to reclaim the pictures, with only partial success, such as La Seine à Bougival, which was restituted to the Lindon heirs.
Brought to you by
Adélaïde Quéau
Impressionist and Modern Art
More From

Art Impressionniste et Moderne