Decoding the secrets of Casa Mollino
The legacy of the brilliant architect and designer Carlo Mollino includes a mysterious, shrine-like apartment in Turin. Lee Marshall meets the father and son who have spent years trying to understand this 'modern-day Egyptian Book of the Dead'
In the first floor of a late-19th-century villa in Turin, behind an unassuming wooden door, lies an enigma. It's a large apartment that belonged to a man who spent eight years furnishing and decorating it, but never, as far as we know, spent a single night there. A man who kept its existence a secret even from close friends — such as the artist Carol Rama, who lived right across the street.
Today, this riverside apartment on Via Napione has become a museum, in some ways a shrine, described by curator Fulvio Ferrari as a modern-day Egyptian Book of the Dead. Written not in ink but in 'tiles, rugs, mirrors and second-hand objects', it was designed, he believes, to prepare its maker's soul for the hereafter, and to act as a letter of introduction to its tutelary spirits.
The living/dining room, which can be divided into smaller spaces with curtains and screens. Photograph by Alberto Zanetti
Yet Casa Mollino is delightful. Neither pretentious nor lugubrious, it appears at first sight to be the bachelor pad of a wealthy aesthete with impeccable if eclectic taste. Which, in a way, it was. But although its owner and creator, Carlo Mollino, was an independently wealthy lover of beautiful things who never married, he was also one of Italy's most influential 20th-century architects and furniture designers.
An essay on Mollino by a younger Italian architect, Paolo Portoghesi, recognises that he was a trailblazer, but opens by acknowledging that he 'is today remembered above all for his erotic photos, and because the strange furniture he designed, with its bone-like forms, is sold… for stratospheric prices, as if they were paintings by Klee or Picasso'. He is not exaggerating: in 2005, a wood-and-glass table designed by Mollino in 1949 sold at Christie's New York for $3,824,000 — then a record for a single piece of 20th-century furniture.
As for those photos, they consist of around 2,000 Polaroids discovered in an antique cabinet by Mollino's executors after his untimely death in 1973, aged 68. They depict individual women, none particularly glamorous, some clothed, some partly disrobed, some entirely naked.
The poses are often provocative, but although we are occasionally reminded of the language and mannerisms of a Playboy photoshoot, something else seems to be going on. For a start, the props and backdrops — curtains, rattan screens, armchairs, chaises longues, animal skins — seem to interest the photographer as much as the subjects they frame. So do the clothes and accessories the women were asked to wear: raincoats, miniskirts, wide-brimmed hats, Barbarella boots, wigs, even wedding dresses — all of which Mollino would buy (with a female friend's help) in Turin or on trips abroad.
In the naked pictures — a minority — Mollino is at his most Edward Weston, interested above all in the form of the female body. The ergonomic connection between this and his furniture design is made explicit in a black-and-white photograph the architect took just before his 1962-73 Polaroid phase. It shows an unknown woman, naked except for one gloved arm, sitting with her knees up in a graceful 'N' shape on a wooden chair, inspired by traditional Alpine furniture, that Mollino designed in 1959 and would return to again and again. The chair back and the woman's spine trace a single sinuous curve.
It was typical of Mollino to infuse even his homemade erotica with the eye of a relentlessly curious architect, draughtsman and engineer — and typical, too, that he seemed compelled to create small narratives in each carefully composed shot. For Mollino's Polaroids are 'pornography' in the most literal, Greek sense of the word: writing about and around the lives of prostitutes.
We know very little about who these women were, but we do know that Mollino picked them up in his Porsche on the streets of Turin after midnight; and when they face the camera, we can read in their frank, sometimes defiant, sometimes amused gaze, a certain complicity between photographer and subject. As a result, the photographs have a quality not usually associated with pornography, in the modern sense of the word: they are more touching than arousing.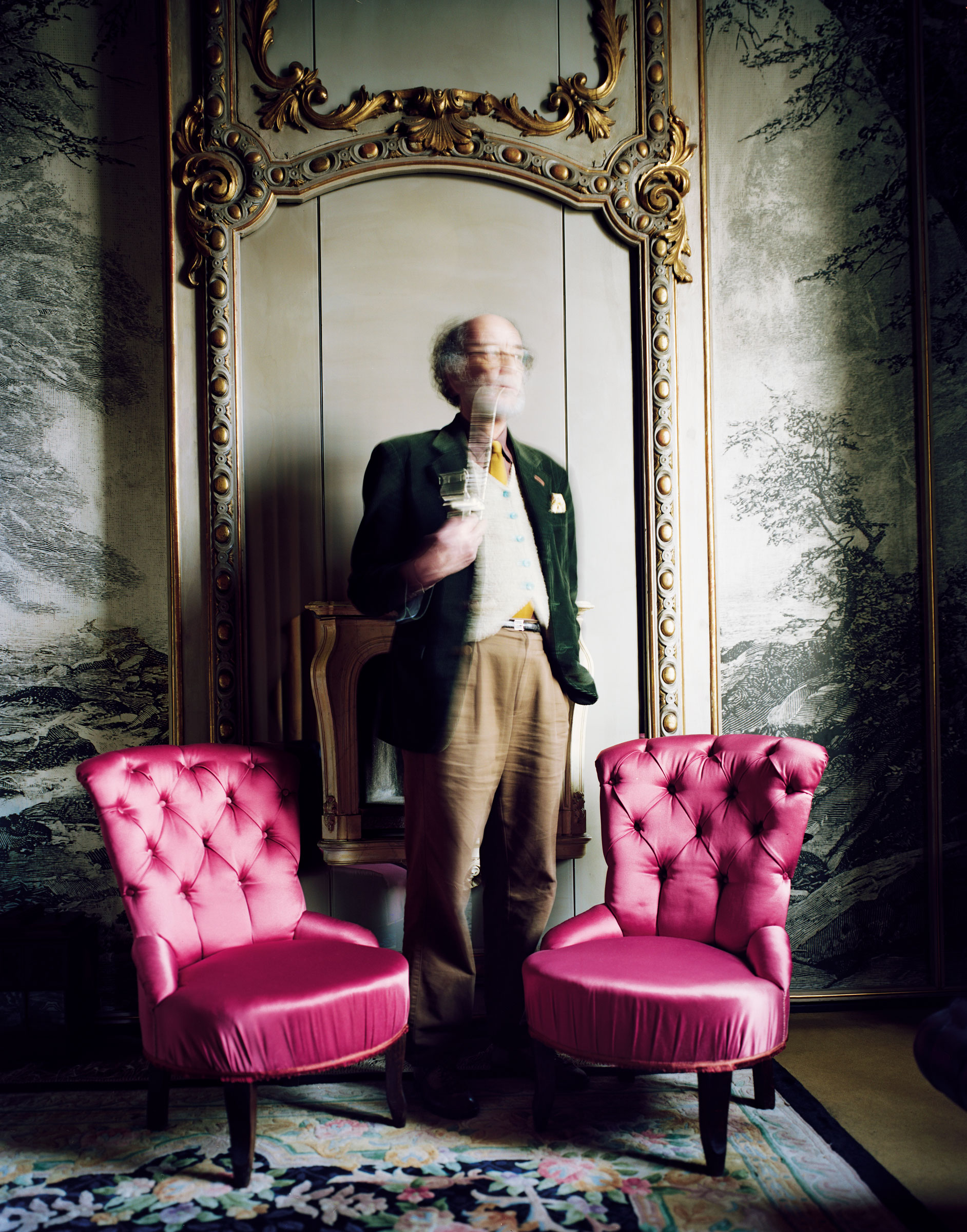 Curator Fulvio Ferrari in the living room 'forest'. Photograph by Alberto Zanetti
The nature of the medium — an instant photograph that gradually emerges from a ghostly background — must have appealed, too. It combined three of Mollino's main characteristics: a love of technology; an abiding fascination with hidden patterns and the spirit world; and a tendency to live life at 10 times the speed of ordinary mortals.
Mollino was an expert skier who, in 1950, published a manual on the subject, Introduzione al discesismo — then promptly lost interest in it. Always a fast driver, he soon turned his attention to cars, designing the aerodynamic fuselage of a revolutionary racing car in the shape of a double torpedo — hence its name, Bisiluro — that competed in the Le Mans 24-hour race in 1955. He was also a trained pilot, so skilled in acrobatic manoeuvres that he was asked to represent Italy at the World Aerobatic Championships in Budapest in 1962.
Even in his day job, Mollino operated on fast forward. Years after his death, an assistant recalled how he was always 'racing about like a young deer', and he was famous for his ability to draw with both hands at the same time — sometimes sketching two entirely different projects on separate pieces of paper.
The son of a leading Turinese civil engineer, Mollino managed to rush through childhood as well: in his first year at primary school, he drew a 3D town plan, in perfect perspective, inside an exercise book today conserved at Florence's Museo Alinari. So accomplished was the work that his teacher felt moved to scribble next to it: 'Little Carlo did this perspective drawing without any help.'
When, at 28, he wrote his autobiography, Vita di Oberon, he did so in the third person, pretending it was the biography of a young Turinese architect who had died tragically young. In one revealing passage, he writes of architecture as the ultimate shape-shifting art form, in which the architect is forced to be not only 'a poet and a mathematician' but also 'a mechanic, an accountant, a lawyer, a slob, a gentleman, a swallower of bitter pills, an old ladies' dancing partner, a snake charmer'.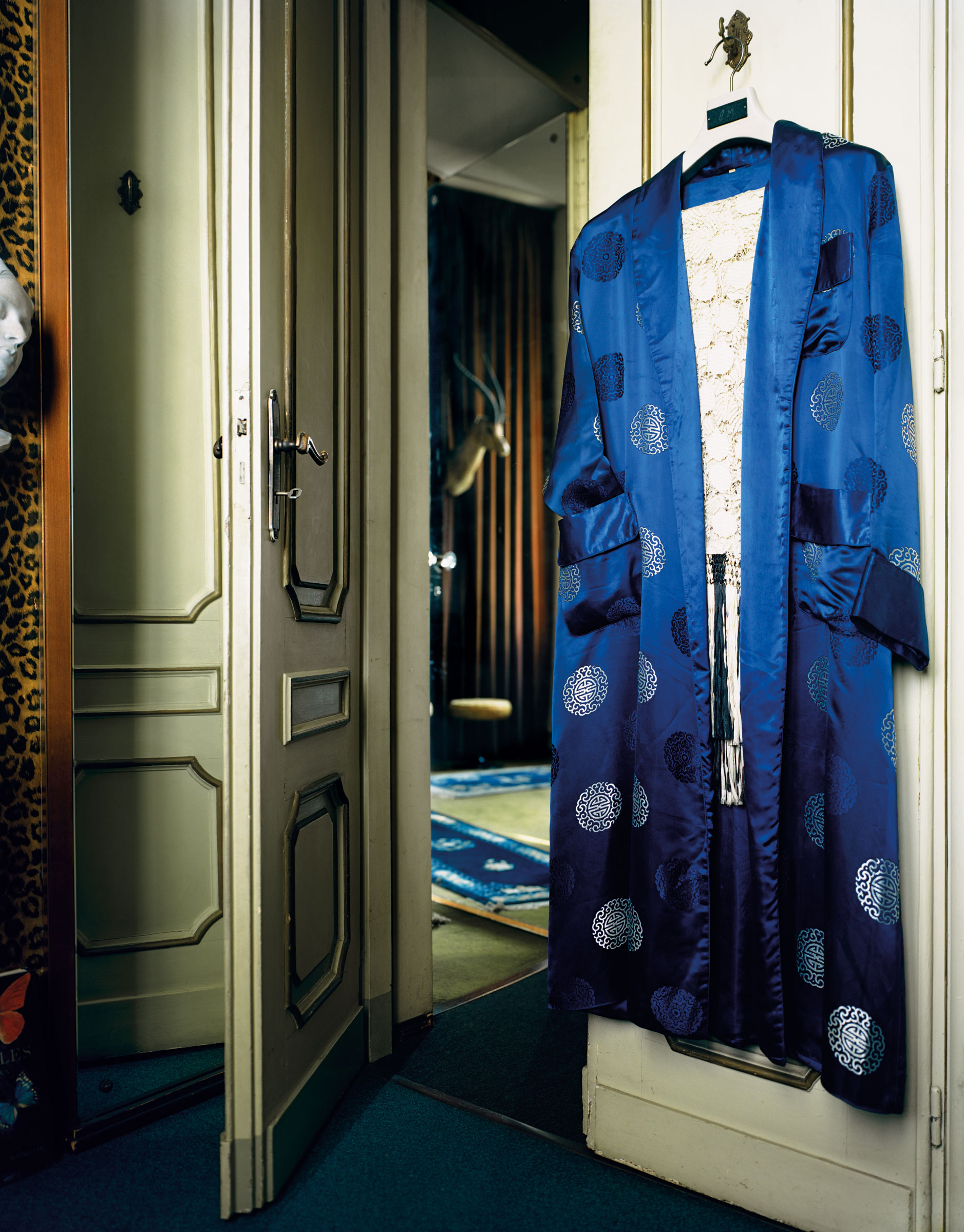 Mollino's dressing gown in the Butterfly room. Photograph by Alberto Zanetti
Fulvio Ferrari is a genial, energetic man and something of a dandy himself, with a penchant for red waistcoats, Futurist ties and pinstriped jackets set off by a scuffed pair of sneakers. Together with his son Napoleone, he has made it his life's work to conserve and protect what is now a visitable house-museum, La Casa di Mollino. He has also written several books about Mollino, five of them co-authored with Napoleone, and assembled an archive that documents the architect-designer's creativity in all its many forms.
He points out that even in the projects he carried out in and around his native city, Mollino displayed multiple architectural personalities: 'In one he was an orthodox rationalist, in another a mad Modernist, but he could also decorate houses for Turinese old ladies in pure retro-antique style… and the first interior he designed, Casa Miller, is out-and-out Surrealist.'

The bedroom, with its leopard-skin wall covering and collection of framed butterflies. Photograph by Alberto Zanetti
Among the buildings that Mollino is remembered for are the now-demolished equestrian club Società Ippica Torinese (1936-40), two Alpine projects — the Lago Nero cable-car station (1946-47) and the Casa del Sole residential tower block in Cervinia (1947-54) — and his final work, Turin's Teatro Regio opera house (1965-73), which was completed just before his death (he suffered a heart attack in the studio that had once belonged to his father).
His furniture designs, few of which were ever intended for serial reproduction, were meticulously engineered pieces. Mollino enjoyed devising innovative and audacious technical solutions for the creation of tables, chairs, lamps and coat hangers, but the result was the opposite of technical in appearance. The forms he preferred were organic; there's hardly a straight line in any of his pieces. He was also a stickler for detail.
Carlo Mollino (1905-1973), a rare and important dining suite executed by Ettore Canali, Brescia, for the Casa del Sole, Cervinia. Comprising a table and six chairs, oak, chestnut, brass bolts, table with laminate-veneered surface table: 31⅛ high x 62¾ long x 31¾ in wide (79 x 159.5 x 79.5 cm). Chairs: each 36½ in (93 cm.) high. Designed in 1953, this suite was executed circa 1954-1955. Sold for £668,750 on 3 October 2017 at Christie's in London
When asked to refit a historic Turin pharmacy in 1954, he selected for the counter a rare type of marble that was packed with little fossils, so that, according to the engineer friend of his who was site manager, 'the geological nature of the counter would reassure clients about the pharmacy's scientific credentials'.
After Mollino's death, the apartment belonged to an engineer who received his clients there. By the time the Ferraris bought it in 1999, several original items had been dispersed. However, the Ferraris had a precious document, what Fulvio describes as 'our bible': a scrupulous inventory drawn up by lawyers calculating Mollino's estate, which listed every single movable item in the house. Thus began the long and costly process of buying back or attempting to match anything that had been sold since the architect's demise — like the decadent purple sofa in the living room, which had ended up in Stockholm.
At the same time, Fulvio and Napoleone began attempting to decipher the thinking behind a strange domestic interior that was never designed for living in, convinced that a mind as restless, inquisitive and symbolically inclined as Mollino's, in a city as soaked in spiritualism as Turin, must have had a plan for it. It's not only the Turin Shroud that gives the Piedmontese capital this reputation. It has long been considered the Italian capital of the occult, its aura such that Federico Fellini would drive here regularly from Rome just to consult his favourite clairvoyant.
The Ferraris were undeterred by the fact that Mollino himself left little or no record of the what and why of his Via Napione refuge. After all, this was a man who once wrote: 'Someone has asked me to "explain" one of my works. I find the request embarrassing in that I am firmly convinced that the best explanation of one's work is the silent display of the same.'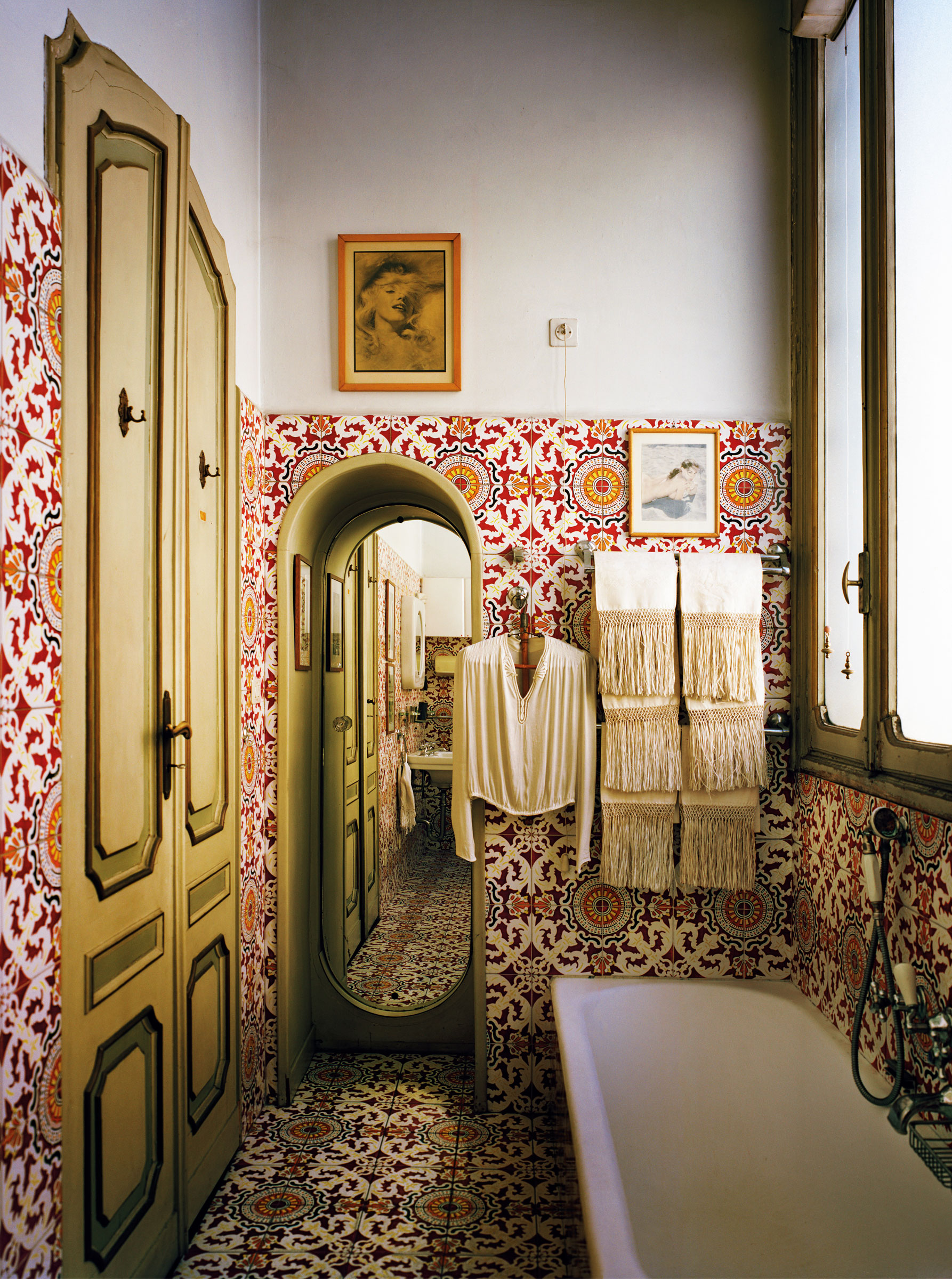 The 'Mediterranean' bathroom, covered in Vietri maiolica tiles. Photograph by Alberto Zanetti
It was the frontispiece of Message from the Darkroom, a collection of essays on photography published by Mollino in 1949, which, for Fulvio Ferrari, brought illumination. It depicts the smiling stone bust of the ancient Egyptian queen Tiye or Taia, wife of Amenhotep III, grandmother of Tutankhamun, the first true female co-regent in the New Kingdom. It has nothing to do with the contents of the book it introduces and is nowhere mentioned or glossed by the author.
What, Ferrari asked himself, if this were a message from a different kind of darkroom — the sort you might find in the inner recesses of a pyramid? And what if the apartment, whose embellishment began when Mollino was 55, was intended as his own, exquisitely tasteful burial chamber? In one of the few letters in which he mentions the apartment, he tells a friend: 'In the same way Chinese notables used to adorn their tombs while still alive, I've decided, in my late maturity, to set up a kind of Sunset Avenue in a corridor of my house, a sequence of photographs and memories of my life.'
The theory was lent weight when Ferrari invited the then director of Turin's celebrated Egyptian Museum to visit the apartment. A decorative detail caught the director's eye: in the deliciously decadent bedroom, with its leopard-skin wall covering and framed collection of butterflies, there was a cushion embroidered with a scene of the boat that ferried dead souls towards Abydos.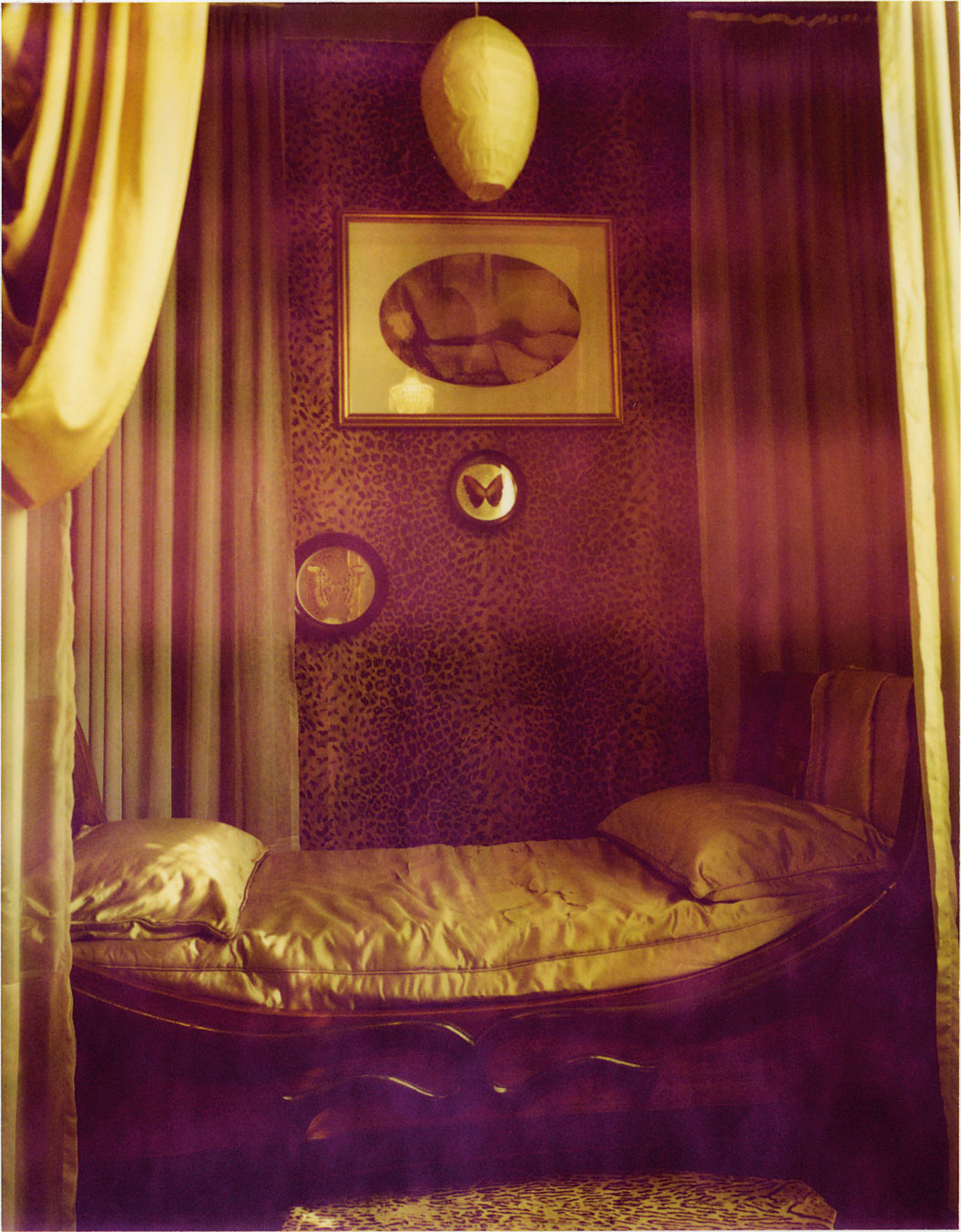 The sleigh bed perhaps intended for Mollino's journey into the afterlife. Photograph by Alberto Zanetti
For Ferrari, a whole symbolic construct followed from this one clue, much of it eminently credible. Those pinned butterflies, for example, could be seen as playboy bachelor Mollino's army of female shabtis — grave-goods figurines that were intended as servants in case the deceased was called upon to do any manual labour in the afterlife.
Even a touch that is perhaps surprising amidst all these Japanese lamps, classical busts, gilded mirrors and rich velvets — eight white fibreglass Tulip chairs designed by Eero Saarinen for Knoll, as famously used on the bridge of the starship Enterprise in the original TV Star Trek — becomes a part of the puzzle. Together, the chairs form a lotus flower around an oval dining table designed by Mollino that has an exact 3:1 proportion — that of the cartouche inside which the pharaoh's name would have been written.
There's no need to take the entire curatorial construct on board to find a visit to Casa Mollino a rich and fascinating experience. Whether or not the architect was preparing, as Fulvio Ferrari believes, 'an initiatory temple… a place to allow those who visit Via Napione to reach a state of superior consciousness', or simply playing games with future generations of keen exegetes, this hidden riverside apartment provides a wonderful introduction to the life, work and mindset of one of the 20th century's true Renaissance men.
Via Giovanni Francesco Napione 2, Turin. Visits by appointment only: call +39 011 812 9868
This article first appeared in Christie's Magazine in May 2016