'Bixie is a mythical beast thought to protect the living and ward off evil'
As items from the Qin and Han periods come to auction, Taiwan-born collector Chang Wei-Hwa talks to Christie's Ruben Lien about building his collection, and his passion for ancient art
In 1967, Chang Wei-Hwa was a student at the University of the Arts in Taipei when on a visit to the new National Palace Museum he was struck by a curious translucent marble carving: a kneeling humanoid with the head of a tiger, its hands clawed, its teeth bared, its arms, legs and hip incised with dragons.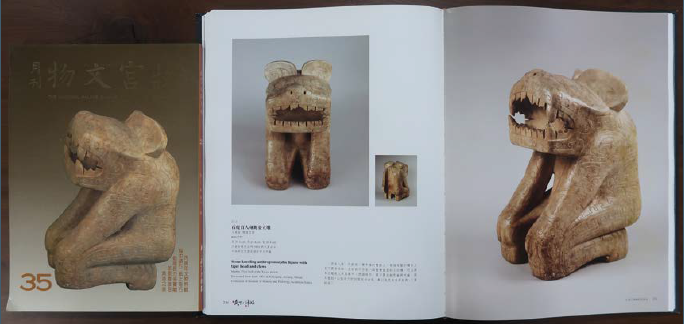 Photographs of the carved marble Shang Dynasty figure from Tomb 1001 at Yinxu, published in Issue 35 of The National Palace Museum's monthly magazine of Chinese Art, February 1986
One of the finest stone carvings excavated in the 1930s from Tomb 1001 at Yinxu, the 'Royal Cemetery' of the Shang Dynasty (1600-1046 BC) in Henan Province, the striking figure mesmerised him, inspiring a love affair with ancient Chinese art that continues to this day.
Fast-forward to 1986 when, now an ambitious young antiques dealer in Taiwan and a good friend of the Kau Chi Society of Chinese Art in Hong Kong, Chang was gifted a catalogue, Archaic Chinese Jades, by society member Tiu-Yin Cheung — producer of the popular Taiwanese martial arts film, Dragon Inn, starring Polly Ling-Feng Shang-Kuan.

The poster for the Taiwanese martial arts film Dragon Inn (1967), produced by Tiu-Yin Cheung for Union Films
Chinese reference sources on archaic jades were thin on the ground in Hong Kong at the time, so this catalogue, published in 1950 by the well-known antiques dealer C.T. Loo (1880-1957), was precious indeed.
'It was the equivalent of a book on the art of war and the secrets of martial arts for a kung fu student,' says Chang, in conversation with Ruben Lien, Christie's Specialist in Chinese Ceramics and Works of Art. 'They say knowledge is power. This was powerful knowledge!'

Chinese Archaic Jades, the catalogue published by C.T. Loo (1880-1957) in 1950
His imagination fired, Chang embarked on a journey of discovery, first to Japan, then to Europe and the US, visiting significant jade collections and learning as much as he could.
In Japan, for instance, he saw the exhibition Gold Dragons, Gold Horses and other Animals at the Osaka City Museum of Fine Arts — a display of treasures from Shaanxi Province, the location of no fewer than 13 Chinese dynastic capitals, starting with the Zhou (1046-256 BC).
In Europe and America, he viewed pieces such as the famous archaic jade bi disc with a dragon flange from the Warring States period (475-221 BC) at the Nelson-Atkins Museum of Art in Kansas City, as well as the collection at the Fogg Museum in Harvard, documented in the catalogue Ancient Chinese Jades.
Chang Wei-Hwa: expert and collector
Between 1990 and 2000, Chang was instrumental in advising on and forming several important private collections in Taiwan - The Chang Foundation; the Lantian Shanfang Collection (whose impressive archaic jades will soon be on view in a private museum in China); The Jinhuatang Collection; and The Yangdetang Collection, whose archaic jades were sold in Christie's for a combined total of HK$ 150,180,000 in 2017 and 2018. At the same time, he continued forming his own collection of archaic jades.
Neolithic jades (6200 to 2000 BC)
Among the most striking pieces in the Neolithic section of Chang's collection (auctioned at Christie's Hong Kong in 2019), is a rare three-tiered cong incised with mask motifs from the Liangzhu Culture, which developed circa 3300-2300 BC in the Yangtze River region.
When Chang bought the piece in Hong Kong in 1997, he had no idea how important it was.
'There were many cong in the Qing Court Collection of the Qianlong Emperor [in the 18th century], but they were all displayed upside-down,' he says.
Chang knew from experience that this cong was old. But he only discovered how old from the experts at China's Jiangnan Water Town Culture Museum and Liangzhu Culture Museum, now housed in a striking travertine building by David Chipperfield Architects on the outskirts of Hangzhou.
The meeting was of mutual benefit, it seems. 'When it comes to archaic jades,' says Chang, 'they say that my collection caught a lot of fiery enthusiasm from buyers and collectors and we have set the market ablaze!'
Shang Dynasty jades
The history of Chinese-led archaeological field work is relatively young, only dating back to 1926.
In 1928, Li Ji, the so-called 'father of Chinese archaeology' took charge of the world-famous excavations at Yinxu, where the discovery of Shang remnants — including the kneeling figure that had so impressed Chang as a student — proved the dynasty to be more than merely mythological.
Even with the advent of Li and fellow Chinese archaeologist Yuan Fuli, however, constant warfare and turbulence meant that items discovered continued to be dispersed to Western institutions or private collections until a second wave of Chinese excavations in the 1970s and '80s.
'Almost no artefacts could be seen in mainland China until the excavation of the Shang Dynasty tomb of Fu Hao at Yinxu around 1980,' says Chang.
Fu Hao was a Shang queen and female military general who is thought to have died circa 1200 BC. The excavation of her intact tomb and other Shang sites reinforced Chang's desire to collect jades from the Xia (c. 2070-1600 BC), Shang and Zhou dynasties — such as the astonishing turquoise-inlaid and jade-inset bronze axe weapon, or qi, which sold for HK$6,250,000 in the second auction of Chang's collection last November.
'These were possessions of the ruling class, so they're very important. Most of the finds from the Shang Dynasty are halberds, this is the only 'yue' (axe) I have seen.'
The Spring and Autumn and Warring States periods
The Spring and Autumn (770-476 BC) and Warring States periods were a chapter of conflict eventually resolved by the establishment of the Imperial Qin Dynasty (221 to 206 AD).
Christie's sold the Chang Wei-Hwa Collection of Archaic Jades Part III - Spring and Autumn & Warring States Periods in December 2021. A section in the auction entitled Contesting Dragons was devoted to the most popular motif of this period — the dragon — and included one of Chang's favourite examples.
'That dragon is similar to an important dragon accessory that was discovered later in the tombs of the Han Dynasty [202 BC-220 AD] in Xuzhou,' he explains. 'Both are standing upright, which gives them a very distinctive feel.
'It is made of especially high-quality jade,' adds Chang. 'The workmanship represents the pinnacle of artistry during the Warring States period.'
The bixie
Another highlight is an evocative jade carving of a bixie, exhibited at the National Palace Museum in Taipei in 1999.
'Bixies were trendy in the late Western Han [around the turn of the century]', explains Chang. 'They were used to protect the spirit and ward off evil. The shape of this bixie is particularly striking. It's dynamic, with its wings lifted skyward, as if it is looking at something evil and is about to pounce on it.'
'The greatest joy of my life has been joining this passion of mine with my work'
In November 2022, Christie's will stage a final auction of Chang's collection, offering pieces from the Qin-Han period. But that won't leave Chang empty-handed. The scope of his interests extends to 'just about all other types of antiques, too, from porcelains to bronzes to Chinese paintings and calligraphy,' he says.
Christie's Online Magazine delivers our best features, videos, and auction news to your inbox every week
'I've been studying literature, history and art since I was a child. Those are my interests, and I've made a career of buying and selling cultural relics. The greatest joy of my life has been joining this passion of mine with my work. I'm 75 now and just enjoying life!'
The auction of The Chang Wei-Hwa Collection of Archaic Jades Part IV: The Qin and Han Periods takes place at Christie's Hong Kong on 29 November 2022