Collecting power couple Don and Mera Rubell on their passion project — Rubell Museum DC
Don and Mera Rubell have been buying art for more than 50 years. In the summer of 2015, Jonathan Bastable went to meet them to talk about Chinese art, their own museum, and building one of the best contemporary art collections in the world

Mera and Donald Rubell with two works by Thomas Ruff, Portrait (Mrs Rubell), 1998 and Portrait (Mr Rubell), 1998. Artworks: © DACS 2020. All photographs by James Mollison unless stated
'We have two pieces of art in our house,' says Don Rubell, who, with his wife Mera and son Jason, owns one of the best collections of contemporary art in the world. 'Yes, two artworks and about 4,000 books.'
Sure enough, the breakfast table is piled with books — towers of them, crowded together and teetering on the table's edge. This ensemble looks like a model of lower Manhattan constructed from catalogues and monographs.
The two pieces of art that Don has in mind are in a little atrium by the stairs. One is a triptych of 'drinking paintings', the work of his daughter Jennifer: the three raw, blank canvases are actually square containers that hold gallons of coloured soda, accessible via a beautiful brass tap fixed on the bottom edge.
The other work is a fibreglass obelisk by Damián Ortega; it stands on a metal base with casters, and so can be wheeled around like an office chair. Contained in these works are the two primary concerns of the Rubell family: first, art that has a meaningful emotional connection to the collectors themselves; and second, art that can be moved, and so is accessible beyond the bounds of the family or the museum they have created.
As for that museum, it is not very far away. The Rubells' modest Miami home adjoins the Rubell Family Collection — which occupies a rather forbidding building that was once used by the Drug Enforcement Agency as a confiscated-goods warehouse.

Installation view of Keith Haring artworks including, clockwise from back, Untitled (Against All Odds), 1989 (detail); Elvis Presley, 1981; Statue of Liberty, 1982 (collaboration with LA II); Marilyn Monroe, 1981. The Rubells began collecting works by Haring in the early days of the artist's career, in 1981. Keith Haring artwork © Keith Haring Foundation
A small, anonymous door, tucked in one corner of the museum's impressive library, provides access between the two. And although, architecturally speaking, the home has been built onto the warehouse, the deeper truth of it is that the museum is an extension of the home: it is the outworking of one tight-knit family's 50-year obsession with contemporary art.
Don and Mera began collecting art in 1964, soon after they were married. Right from the start, their modus operandi was to visit young artists in their studios, forge some kind of personal connection, and then — if they felt it was right — to buy several works at once in the hope that the artist's stock would rise. That makes their approach sound calculating, as if it were all about playing the art market, but actually it is nothing of the sort.
For one thing, the Rubells have hardly ever sold a piece, so have never cashed in on their investment. For another, the studio-trawling was at first a financial necessity, the Rubells' way of starting a collection when they had little money to spare. It was only later that their method evolved into a kind of philosophy of acquisition.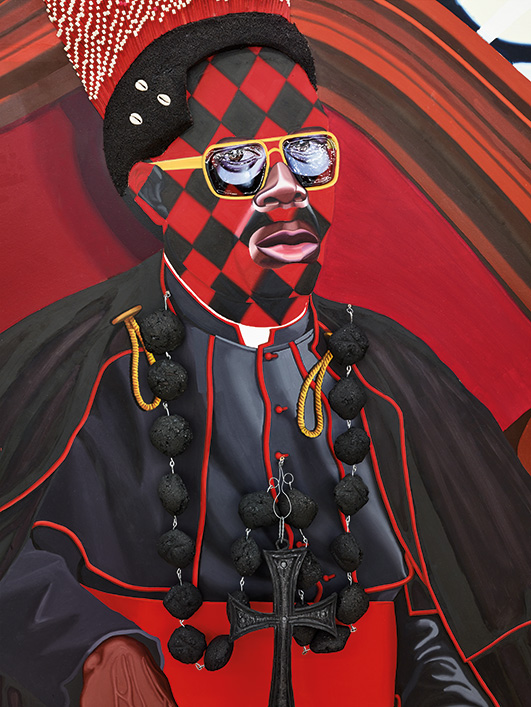 Jeff Sonhouse, Exhibit A: Cardinal Francis Arinze, 2005 (detail). Oil and mixed media on wooden panel. 78 x 61 in (198.1 x 154.9 cm). Artwork: © Jeff Sonhouse, courtesy of Tilton Gallery, New York
'When we buy an artist, we try to stay with them until they come to fruition,' says Don. 'We will go as far as we can go with an artist, and then one step further. We have been very lucky in choosing artists who have become representatives of their generation. Some artists do their best work late in their career, which is very rare; some do their best work early. But most artists peak somewhere around their fifth or sixth exhibition.
'Would you rather have a Jasper Johns encaustic flag, or one of the more decorative late pieces? We really want to get the piece that is the essence of the artist. We sometimes buy before the essence is clear, but we will continue to chase. Because there is no such thing as a great young artist; there are only artists with potential.'
Mera seems to have a slightly different perspective on the business of collecting. Don is coolly rational about artists' growth, like an experienced gardener lovingly but scientifically cultivating prize-winning tomatoes. For Mera, on the other hand, it seems to be more about instinct and attraction, about fostering satisfying relationships with the creative source.
'How do you know to say yes to someone who proposes marriage when you are 18 years old?' she asks. 'You have a hunch, an intuition. But you don't really know what is there. It is the same thing with the artists that we collect. You just have to trust that what you are seeing is important, that it is something you want to live with, and a story you want to tell.' It follows that when Mera or Don say they love an artist, it is impossible to know for sure whether they are speaking about the person or the work.
Installation view of Thomas Schütte, Grosse Geister#2 (Big Spirit #2), 2003 and Will Boone, STRIPPED, 2014. Artworks: © DACS; Courtesy of the artist and David Kordansky Gallery, Los Angeles
But you do know that the affection is shared three ways, because nothing is bought unless Mera, Don and now Jason all concur. 'I once bought an artist without the consent of everybody — just once,' says Don. 'It made my life so miserable that I actually returned it three days later.
'Since we buy so young, and usually with so little extraneous knowledge to fall back on, it strengthens the choice if all three of us agree. Sometimes only one member of the family likes a piece, and in those instances that person has to argue their case strongly enough to persuade the others. Sometimes it turns out that the artists who need that kind of advocacy are among the best. And having Jason means that the art has to appeal across the generational divide.'
The deep joy that the Rubells take in making discoveries is most evident when they are talking about new areas of exploration. The latest travelling show to be put together from their holdings is entitled 28 Chinese and features work they collected on numerous trips to China, beginning in 2001. They started with a blank slate — not knowing where to look or what they might find — and were glad of it.
'People kept asking: what are you looking for?' says Mera. 'And I would say: we don't know, and that's the whole idea.' They enlisted the guidance of the US-based performance artist Zhang Huan. (One of their first acquisitions was his performance piece 1/2 (Meat and Text), in which he wore a pig's raw ribcage draped over his right shoulder like a Prussian cavalryman in a red pelisse.)
Don's first longlist of 500 Chinese artists was whittled down over the course of his initial research, but on their field trips they still visited artists in their studios from dawn well into the night. 'If you are prepared to be open and intimate, cultural and language barriers don't really stand in the way,' says Mera of her Chinese expeditions. 'The humanity comes through. We laughed, spent time together — and of course it helped that we love Chinese food.'
Christie's Online Magazine delivers our best features, videos, and auction news to your inbox every week
If the artists in 28 Chinese weren't all of the same nationality, the show might easily have been called Transformations. Because many of the conceptual works involve some kind of metamorphic process, an act of reduction or a reconfiguring of the core material.
It begins, like so much Chinese contemporary art, with Ai Weiwei. He has two pieces in the exhibition. His Ton of Tea is exactly that: a black cube of tea leaves, precisely one metre along each edge. It is a piece, says Mera, that 'references Donald Judd and the other minimalists of Western art'.
But this abstract sculpture is also a bijou Kaaba: it has a spiritual force; and it is a quiet comment on China's past, its cultural reach and its ancient traditions. The second Ai Weiwei piece is a Qing-dynasty table that he has taken apart, then remodelled and reinvented as a strange and angular wooden arachnid. This, too, is a meditation on history, and it is sublimely beautiful.
Among the other works of variance and transmutation are Zhang Huan's Diary, for which the artist collected ash from temples, burnt prayers and wishes, and turned it into pigment which he used to depict a wistful Red Guard writing by lamplight.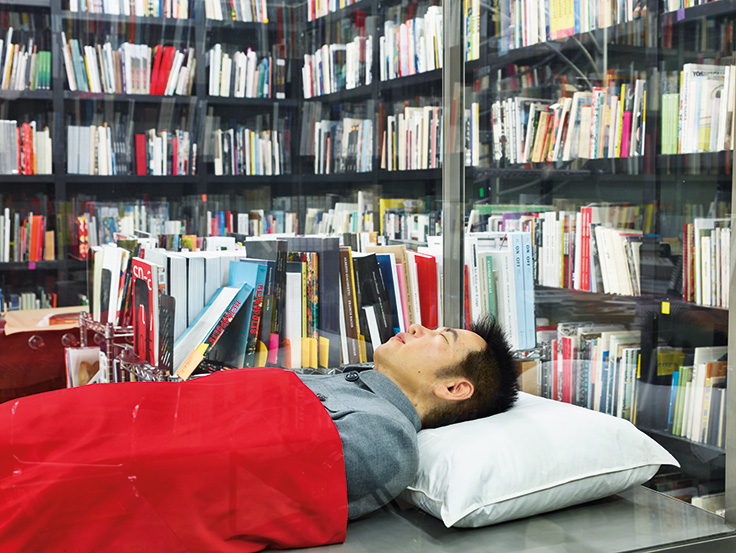 He Xiangyu, My Fantasy, 2012 (detail). Fibreglass, silicone, fabric, human hair, glass and metal, Ed.1/3. Artwork: © He Xiangyu, Courtesy of White Space, Beijing
Hu Xiangqian, from Guangdong, made a piece of video art in which he documented his attempt to grow dreadlocks and tan himself to the point where he appeared to be African — a project that would have very different overtones if a Western or European artist were to undertake it. He Xiangyu salvaged ancient wooden drainage pipes and turned them into gnarled chairs that then became the props in a dance.
In a separate project, He Xiangyu spent 18 months boiling down 127 tons of Coca-Cola to create a powdery residue, like Marie Curie extracting radium from bubbling vats of pitchblende. He then used some of the cola powder to make a brown ink, which he incorporates into landscapes drawn in the classical Chinese style.
Don and Mera speak with such enthusiasm about their Chinese pieces that you could be forgiven for assuming China was their lifelong specialism. This is a mistake that many people make, and oddly it is the very size of their collection, the myriad possibilites it contains, that fosters this false impression. 'Every time we do a show, people think that this is our specific field, the thing that we collect,' says Mera. 'But we go wherever our heart and soul takes us.'
And over the years, the Rubells' hearts and souls have made some very astute calls. They started collecting Cindy Sherman in 1978, Jeff Koons a year later (after he turned up on their doorstep and found himself invited in for dinner), Keith Haring and Richard Prince in 1981.

Since this profile was first published in 2015, The Rubell Family Collection has been renamed The Rubell Museum and moved to new Miami premises, above, at 1100 NW 23rd St. The space, which now includes 40 galleries, opened in December 2019. Photo: Nicholas Venezia, Courtesy of Selldorf Architects
In a sumptuous festschrift published to mark the Rubells' 50th year as collectors and as a married couple, Prince had this to say about the sharpness of their perception. He remembered 'seeing all the art from my generation on their walls. They were the first to do anything like that. Early 80s stuff. Up-to-date doesn't begin to describe it. I don't know how they got there, but they did. That was another thing that stood out — they were forward and fierce in their choices, but their decisions were tempered by four romantic eyes.'
Most collections are a kind of self-portrait of the colllector, a collage of one person's tastes and preoccupations. The Rubell Family Collection is something different — and that is not just because the Rubells operate as a committee rather than as an individual. Their collection is a living chronology of contemporary art as it has evolved over the past half-century — and it is also a tremendously absorbing hobby.
'Art for us is a childish fascination,' says Mera, 'and if it makes a difference in the world, then that gives us tremendous pleasure. People are curious about who a collector is. It seems to be such a mystery, though it is not a mystery to me. A collector is a person who falls passionately in love with art and can't get enough of it.'
Postscript: The Rubell Museum DC in Washington, a restoration of a historic school by architecture firm Beyer Blinder Belleis, opened to the public in October 2022