The art that captivated a film legend
The story behind the collection of Oscar-winning film director Claude Berri, the genius responsible for Jean de Florette and Manon des Sources — offered at Christie's Paris on 22 October

French producer Claude Berri and his son Thomas Langmann on the set of the film 'Deux Heures Moins le Quart avant Jesus-Christ' ('Quarter to Two Before Jesus Christ'). Photo by Etienne George/Sygma via Getty Images
By the mid-1960s, Claude Berri had firmly established a reputation as one of the most talented film directors and producers of his era. Already recognised for his skill as an actor, in 1966 he won the Oscar for Best Short Film for Le Poulet and went on to direct international hits including Jean de Florette (1986) and Manon des Sources (1986).
Berri first developed an interest in art and collecting in the 1970s when he bought a gouache by Magritte. That early acquisition would unlock a love of art that came to rival, and eventually surpass, his love of film. 'Art changes lives,' he later commented. 'It changed mine, to the point of taking precedence over cinema. Today, I have the feeling I'm better for paintings than for movies.'
From Magritte, Berri went on to discover the work of Tamara de Lempicka, before falling in love with the art of Robert Ryman. He became one of the world's most significant collectors of Ryman paintings, with one, Venue, sold for $9,349,000 last May at Christie's in New York. Over many years, he built an expansive collection, his interests evolving from post-war abstraction to contemporary works by the most celebrated artists of the 20th century.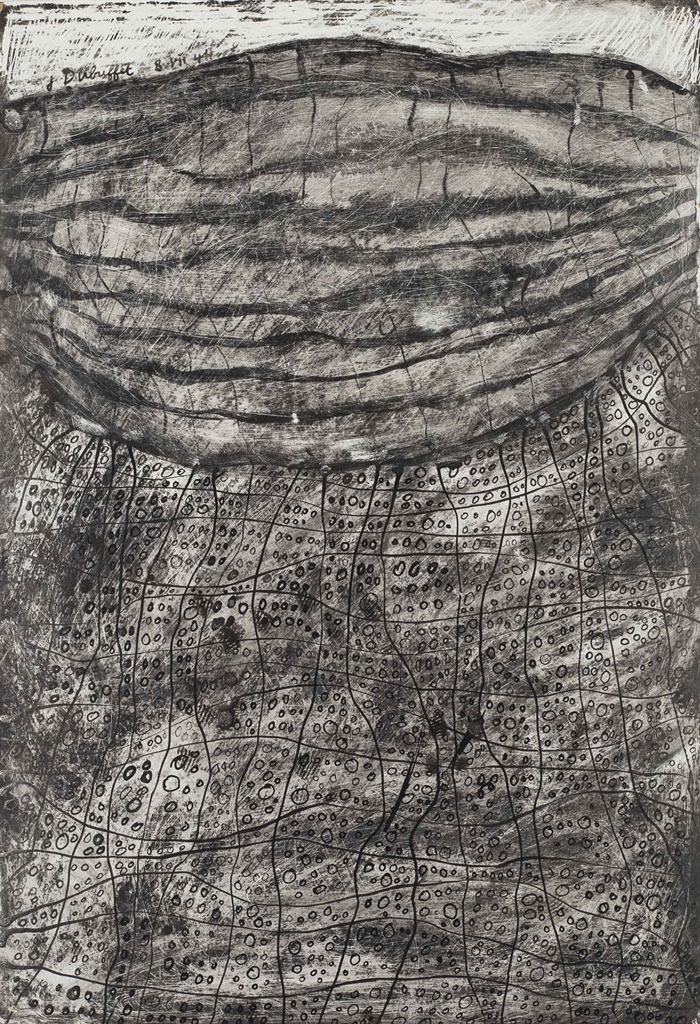 Jean Dubuffet (1901-1985), Plage de Galets Déserte, 1944. Encre de chine et grattage sur carton, 33 x 22.5 cm (13 x 8⅞ in). Estimate: €30,000-40,000. This lot is offered in Collection Claude Berri on 22 October 2016 at Christie's in Paris
Jean Dubuffet (1901-1985), Paysage, 1960. Encre de chine sur papier, 50 x 32.5 cm (19⅝ x 12¾ in). Estimate: €40,000-60,000. This lot is offered in Collection Claude Berri on 22 October 2016 at Christie's in Paris
Berri soon realised that he 'couldn't live without painting', which he enjoyed looking at 'by daylight or electric light, at any hour, in any season'. Certain artists would become the subject of obsession. 'I remember when I was absolutely crazy about Jean Dubuffet,' he recalled. 'I had about 20 drawings, ink and collages on paper. One night, I woke up to organise an exhibition at my place. I moved works, hung them on walls, put them against chairs and other furniture.'
Art, inevitably, became part of family life. Berri's son, the Oscar-winning director and producer Thomas Langmann, was at home for the late-night Dubuffet exhibition. Claude Berri described how Thomas 'came into the living room while I was busy in my imaginary gallery and said, "Come on Dad, what are you doing?".' Later, Langmann himself became an avid collector, recently admitting, 'My father used to say that he made films to buy works. That's somewhat the case with me now.'
Although he built a collection representing some of the greatest names of the 20th century, Berri came to art as a self-confessed amateur. Interviewed in 2008, he explained, 'What interests me about art, is learning.' He insisted that 'looking with the heart' was as important as considered study, and a key figure in Berri's art education was gallerist Leo Castelli, who became a lifelong friend following a chance encounter in New York.
'At the time, I knew nothing about American contemporary art,' said Berri, who visited Castelli's New York gallery as it hosted its 30th-anniversary exhibition, presenting major works by its principal artists alongside American masterpieces. While 'fascinated' by Castelli's character, the only artist who caught the collector's attention was Cy Twombly. Berri looked at the show 'like a rabbit in headlights', although he instantly recognised it as an opportunity to learn.
Together, the gallerist and the film director subsequently began a series of exchanges on art, immortalised in a 1988 television documentary and later, a book. These conversations taught Berri a great deal although they did little to shape his collection, which, he insisted, remained a reflection of personal taste rather than external influence. He had a strong sense of what he liked: minimalist and abstract works were among his favourites, and he said he could look at the white-on-white canvases of Robert Ryman for 'hours'.
'Berri had exquisite taste in modern and contemporary art,' confirms Laetitia Baudin, Head of Contemporary Art at Christie's Paris. She notes his skill for 'selecting works by talented artists who are now renowned and established on the market, such as Bruce Nauman, who was awarded the Golden Lion at the Venice Biennale in 2009, and Berlinde de Bruyckere, who represented Belgium in 2013. It's an honour to hold such an important auction at Christie's.'
Fernand Léger (1881-1955), Main Tenant un Cordage, 1932. Graphite et estompe sur papier vergé, 32.2 x 23.8 cm (12¾ x 9⅜ in). Estimate: €70,000-100,000. This lot is offered in Collection Claude Berri on 22 October 2016 at Christie's in Paris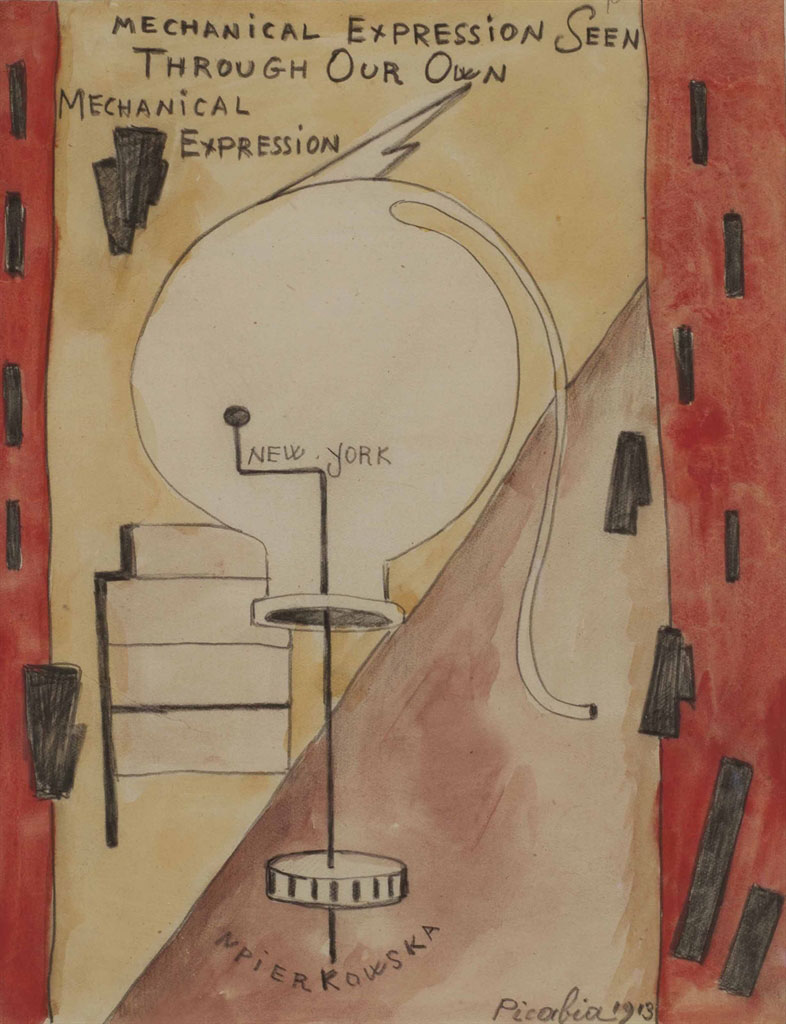 Francis Picabia (1879-1953), Mechanical Expression Seen through Our Own Mechanical Expression, 1913. Aquarelle et graphite sur papier, 20 x 15.9 cm (7⅞ x 6¼ in). Estimate: €200,000-300,000. This lot is offered in Collection Claude Berri on 22 October 2016 at Christie's in Paris
A key part of Berri's collection were Impressionist and Modern works by greats including Le Corbusier, André Masson, Fernand Léger and Roberto Matta. As a collector, he also had a talent for selecting works that were particularly rare, including a watercolour and graphite work by Francis Picabia, realised in 1913, and Yves Klein's Untitled Monogold (MG44), which leads the sale in Paris.
'In every era, art has been misunderstood in its own time, and that interests me, it inspires me. I want to share that passion,' Berri once said. As 400 works from the Oscar-winning director's personal collection come to auction in Paris, that desire to share appears to have been realised. 'I've been lucky with cinema,' he said of his twin passions. 'It's allowed me to buy works. They keep me alive. They keep me awake.'