Prints gifted by Warhol to the surgeon who saved his life
In 1968 Andy Warhol was gunned down at the entrance to his studio. All that saved him from certain death was the skill of surgeon Dr Giuseppe Rossi. Here, Rossi's widow and son talk about the family's relationship with Warhol and the complete sets of screenprints he sent as a mark of his gratitude
On 3 June 1968 a gunshot victim was wheeled into the Emergency Room at Columbus Hospital. Three bullets fired from a .32-calibre automatic had entered the man's chest and stomach and passed through his lungs, oesophagus, spleen, liver and abdomen. Bleeding profusely, he had no blood pressure or discernible heartbeat, and was pronounced clinically dead at 4.51pm.
Fortunately for the man, Italian-American surgeon Dr Giuseppe Rossi, the head of the medical team, was not quite ready to give up on his patient, whom he first suspected was a homeless person from Union Square. During a particularly difficult five-and-a-half hour surgery, Dr Rossi opened the victim's chest, massaged his heart to stimulate movement, removed his damaged spleen and the bottom part of his punctured right lung, and authorised a transfusion of no less than 12 units of blood.
Dr Giuseppe Rossi, photographed in 1969. Courtesy of Mrs Gemma Rossi
Although Dr Rossi did not know it at the time, the stricken figure on his operating table was none other than Andy Warhol, who earlier that day had been gunned down at his studio by Valerie Solanis, a radical feminist and playwright. Medical historians have stated emphatically that Dr Rossi overturned long odds to save the artist's life.
Solanas later pleaded guilty to assault and was sentenced to three years in prison before being later diagnosed with schizophrenia. Her attack would have a profound effect on Warhol's life and his art.
During his long and arduous recovery, the artist sent Dr Rossi a selection of prints, including a complete set of his Campbell's Soup II screenprints, by way of thanks. The Campbell's Soup II works are some of the most immediately recognisable images in Pop art, with their deadpan presentation of supermarket product as fine art subject. Christie's is offering the group of 10 screenprints in the 24-25 October Prints & Multiples auction in New York.
Here we speak to the surgeon's widow, Gemma, and his son, Roberto, about the incident in 1968, their subsequent relationship with Warhol, and how they came to live with and love the prints by Warhol that spoke of his deep appreciation for his surgeon's care.
What did your husband know of the man who turned out to be Andy Warhol when he arrived in his operating theatre in 1968?
Gemma Rossi: 'He didn't know anything about him, of Andy Warhol. The report [he got] was that "an old man" had been shot, so he went to the operation without knowing. The news came soon after.'
Roberto Rossi: 'My father was a chest and vascular surgeon. He was very much a go-to person for gunshot wounds. He often told me about how many victims there were in those days and the fact that this man [Warhol] who he had on the operating table was not known to him.'
GR: '[Andy Warhol] was just one of the many victims that came to the hospital at that time. I think [my husband] started treating him in the elevator on the way down to the operating theatre.'
So he really was responsible for saving Warhol's life?
GR: 'Yes, that's for sure.'
When did he learn that the patient was Andy Warhol?
GR: 'I think it was the following day or perhaps that night. People started gathering to find out about [Warhol's condition] and the operation.'
What did you know of Warhol at the time?
RR: 'I was only six years old at the time. So I didn't know anything about Andy Warhol.'
GR: 'I was not into very modern art, so I didn't know who he was. It was completely new to me.'
So your journey with Warhol and your appreciation of his art started in the most unlikely of circumstances?
GR: 'That's true. Some time after the operation he sent us [a full set of]... the Campbell's Soup [prints] and they went under the bed. For the longest time we didn't quite understand what these pictures were. They were in huge boxes and I thought they were posters. They stayed under my bed for many, many years.'
When did you get the prints out from under the bed?
GR: 'I think 1977, or 1978, when I started redecorating a little bit. I started putting things on the walls. Some of my friends knew and said, "Why don't you give me a poster? Why don't you give me a Campbell's Soup poster?" Fortunately I said no. For me, they were simple things and yes, I could have given them away. I don't why I said no, but it's a good thing that I did.'
Did you see Warhol at all after your husband treated him?
RR: 'I remember being around 11 or 12 years old in the early '70s and Warhol being enough of a celebrity that I wanted to interview him for my school newspaper. He would come to my father's office yearly for check-ups, and when my father asked him [to do the interview] he agreed. I interviewed him at the Factory. I went to his office on the corner of Union Square and Broadway with a friend. We were in our school uniforms and were shown in and we shook hands. His handshake wasn't the most vigorous. I have to say it wasn't the most revealing interview; it was very much the interview that a 12-year-old would give. He humoured us, and indulged me a bit. He was very gracious, though, and answered the questions. Then his staff, I guess, showed us the door and it was all over.'
The fact that he gave a 12-year-old boy an interview five or six years after your father treated him suggests he felt a huge gratitude to Dr Rossi.
GR: 'He always, always sent us a gift with a card and many thanks around Christmas time. It could have been flowers or champagne or liquor, but he never forgot us at Christmas. We met him occasionally, sometimes on the street or in the building where we lived. There were some interesting people living here, such as Truman Capote, who he was probably visiting. He was always very cordial.'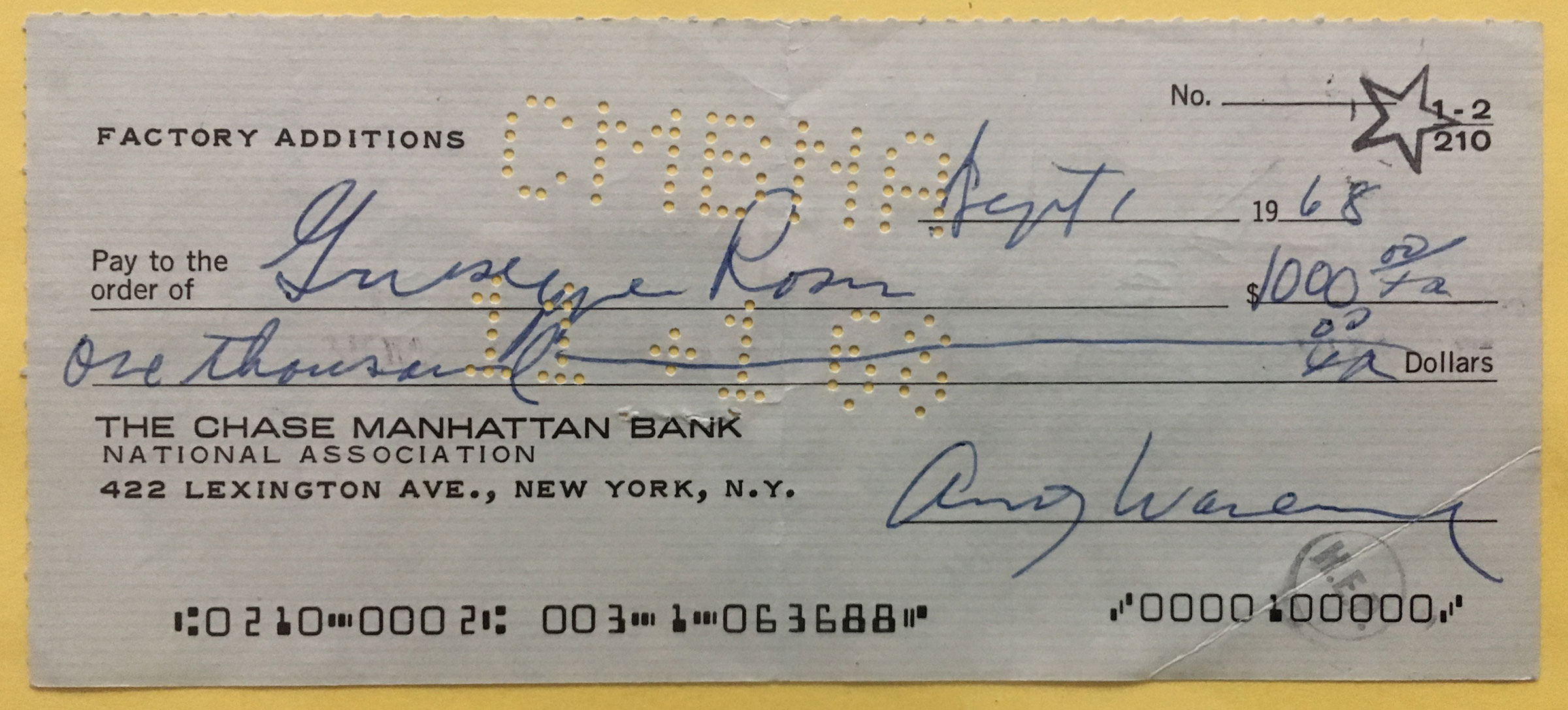 A cheque for $1,000 made to Dr Rossi and signed by Warhol in 1968, shortly after the operation that saved his life. The cheque bounced and was returned to the surgeon's office. It is now framed and hangs in the Rossi home
RR: 'I saw him again years later, possibly in 1984. I was at college and I just didn't know what I wanted to do so my mom said, "Why don't you go talk to Andy Warhol?" So I made an appointment, and put on a suit and tie, which looking back probably wasn't the best choice. Before getting to him this time I had to go through this front office where I met a very educated, well-dressed man with golden hair who I think was this handler, and who later became involved with the Andy Warhol Foundation…'
This sounds like it could have been Fred Hughes...
RR: 'Probably. Then I was led in and I spoke to Andy in a corner office. I didn't know what to tell him or what to ask him. I didn't know what I wanted from him. I just went there and chatted with him a little bit. I remember recognising [Jean-Michel] Basquiat in the corner. He was there in the office, minding his own business.'
GR: 'When [Warhol] went into hospital for the last operation before he died, he didn't feel well and he asked for my husband. I think we were away on vacation and by the time we came back he had already been operated on.'
And we understand that years later you found a cheque from Warhol made out to your husband?
GR: 'Yes. About 10 years ago, my husband was looking through some old papers and found a cheque signed by Warhol for $1,000 that had bounced. It had been returned by the bank to my husband's office. I have that cheque framed.'