10 things to know about Vincent van Gogh
The Dutch Post-Impressionist was revolutionary across media and remains one of today's most influential artists. Three remarkable works will be offered this November at Christie's in The Cox Collection: The Story of Impressionism
Van Gogh possessed a fervent propensity to write, particularly to his brother, Theo
Vincent van Gogh had five siblings, but arguably the most important person in his life was his younger brother, Theo, who supported him financially and emotionally. Throughout his career, Vincent exchanged letters with Theo where he shared his daily observations, personal struggles and desires, and frequently referenced his work.
Therefore, much of what historians know about Van Gogh, such as the specific months of his paintings, was derived from his correspondences. These letters have unlocked biographical details about the artist's life and have been the subject of exhibitions at the Royal Academy of Arts, London, and the Morgan Library & Museum, New York, which focused on his letters to Émile Bernard.
Theo's wife, Johanna van Gogh-Bonger, became one of Vincent's most important artistic champions
Johanna van Gogh-Bonger had only been married to Theo for about two years when he died in 1891. Upon his death, Theo had kept hundreds of the letters that Vincent wrote him, and it was Johanna who took it upon herself to read, preserve, and publish them, forever contributing to scholarship on the artist.
'Johanna came to know Vincent posthumously in a more intimate way through reading all of these letters exchanged with Theo. It was her ingenuity and strategy to present the work of Vincent together with the man,' explains Vanessa Fusco, Head of Evening Sale, Impressionist and Modern Art at Christie's in New York. Despite not having any training in art, Johanna prudently yet ambitiously sought to cement Vincent's legacy as an artist by placing the many works Theo possessed with top dealers and collectors.
'She also controlled the supply and was careful not to saturate his market. In gallery exhibitions she would make sure there was one really good work to anchor the show to elevate the rest of the material,' explains Fusco. 'That was a purposeful construct that she very smartly employed in order to promote his work — and she did this after being widowed with an infant son in 19th-century Paris. She has played such an instrumental role in the promotion and legacy of one of the most famous artists of all time. We all are incredibly indebted to her.'
Many of the artist's most significant works were created during his time in Provence
In 1888, Van Gogh left Paris and moved to the Provençal town of Arles for a 15-month period that proved to be amongst his most fruitful yet challenging. Whether wheat fields or sunflowers, Van Gogh's subjects explored a bolder, more colourful style, heavily influenced by the Japanese woodblock prints in his personal collection. Van Gogh ventured to the South of France in search of the warmer weather, light, and artistic harmony he believed was needed to achieve this eastern aesthetic.
From October to December 1888, Paul Gauguin lived and worked with Van Gogh in Arles, and following a bitter dispute with him, Vincent suffered severe hallucinations and heard loud noises and voices that drove him to cut off part of his left ear.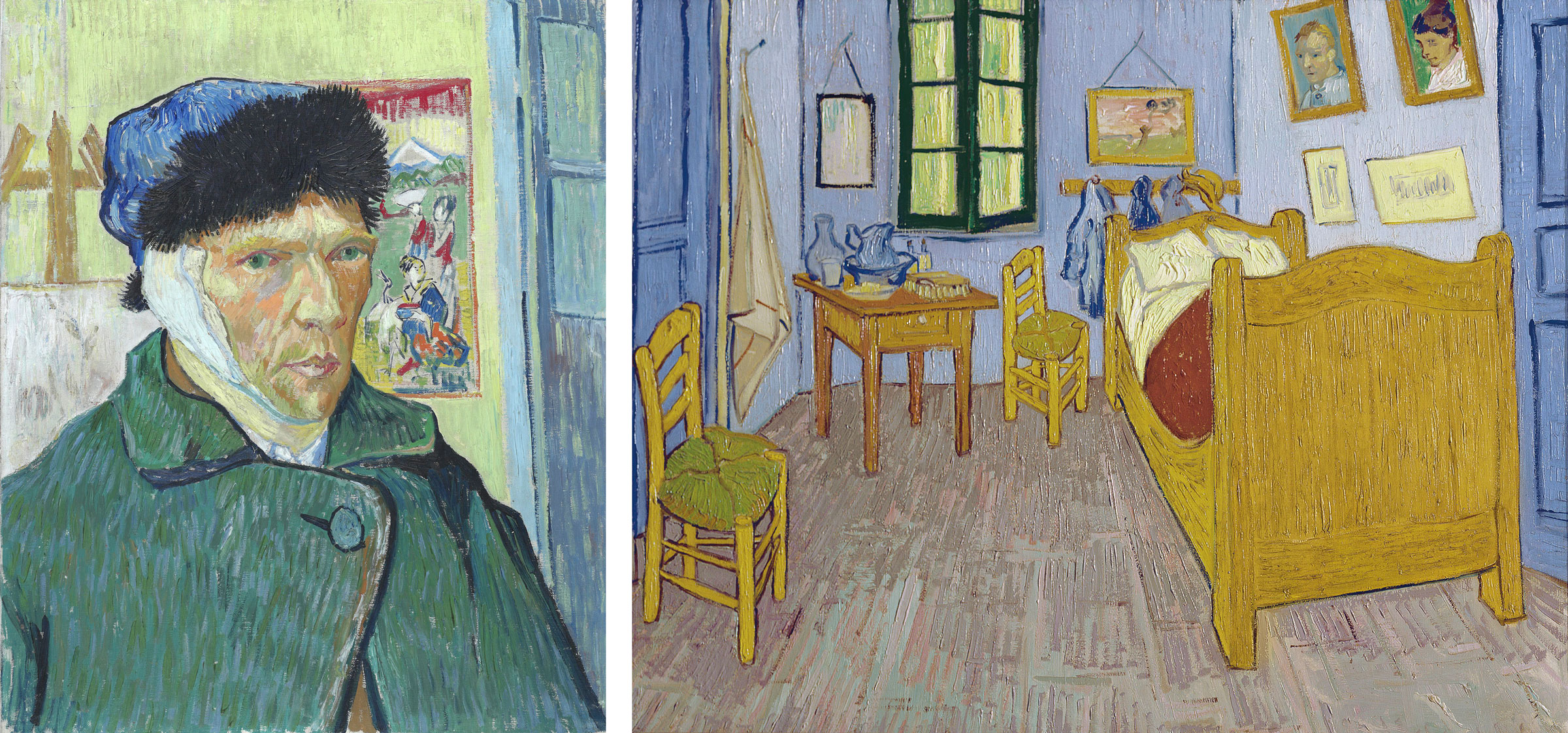 (Left) Vincent van Gogh, Self-Portrait with Bandaged Ear, 1889. Courtauld Gallery, London. Digital Image: Bridgeman Images (Right) Vincent van Gogh, Bedroom at Arles, 1889. Musée d'Orsay, Paris. Digital Image: Bridgeman Images
Following a second breakdown in February 1889, the artist travelled to Saint-Rémy, about 17 miles away where he voluntarily admitted himself to the Hôpital de Saint-Paul-de-Mausole. The artist found a tranquil home amongst the wheatfields, cypresses, and olive groves in Saint-Paul-de-Mausole, which was overlooked by the rugged mountains of the Alpilles, the lower, final chain of the Alps.
Van Gogh's work reached a climax of expression during his yearlong stay in Saint-Rémy, as he depicted the world around him with an even greater intensity. Sheltered in the seclusion of the asylum, he encountered spells of mental illness interspersed with periods of prolific production.
Nature provided an invaluable source of inspiration and calm for the artist
In December 1882 while staying in The Hague, Van Gogh wrote: 'Sometimes I long so much to do landscape, just as one would go for a long walk to refresh oneself, and in all of nature, in trees for instance, I see expression and a soul.' His passion for nature would only grow, as did the experimentation with which he depicted it.
'Nature was his solace,' says Annabel Matterson, Senior Writer for the Impressionist and Modern Art department. 'Like the ever-revolving seasons, nature carries on regardless, and that was really comforting to him, just as it is for many people today.'

Vincent van Gogh, Sunflowers, 1889. Van Gogh Museum, Amsterdam. Digital Image: Art Resource, New York
While in Saint-Rémy, Van Gogh was able to set off into the countryside to paint, and he became enamoured with the olive trees and cypresses that punctuated the Provençal landscape. He regarded them as alive with feeling, power, and symbolism, just as he did the sunflowers in Arles. 'The cypresses still preoccupy me,' he wrote in June 1889. 'I'd like to do something with them like the canvasses of the sunflowers because it astonishes me that no one has yet done them as I see them. It's beautiful as regards lines and proportions, like an Egyptian obelisk. And the green has such a distinguished quality... To do nature here, as everywhere, one must really be there for a long time.'
Auvers-sur-Oise is where his love of portraiture reached new heights
Van Gogh arrived in Auvers-sur-Oise at the end of May 1890. He had decided to leave the quiet sanctum that was the asylum in Saint-Rémy-de-Provence to be closer to his Paris-based brother, Theo, as well as to meet Dr. Paul-Ferdinand Gachet, a homeopathic specialist, collector, amateur artist, and friend to many of the Impressionists, whom Camille Pissarro had recommended.
The village had become something of an artistic centre. Having been 'discovered' by the Barbizon painter, Charles-François Daubigny, it had played host over the 1870s to Pissarro, Paul Cézanne, and Armand Guillaumin. Just as it had to those before him, Auvers provided Van Gogh with a quiet contentment as well as ample artistic inspiration.

Vincent van Gogh, Portrait of Dr. Gachet, 1890. Musée d'Orsay, Paris. Digital Image: Scala / Art Resource, NY
Over the last two months of his life, he worked at an astonishing pace, producing around 80 works, many of which were portraits, likely a result of transitioning from the isolation of the asylum to being reconnected with humans again. Subjects ranged from Dr. Gachet, who strongly encouraged Van Gogh to pursue portraiture, to peasants and children, whom Van Gogh regarded as the embodiment of a carefree, innocent, and optimistic life.
Van Gogh felt a connection to the 'ordinary man' and intended for his art to be appreciated by the masses
In terms of human subjects, Van Gogh frequently depicted labourers and everyday people in both portraits and pastoral scenes. His empathy and interest in the ordinary man extended from engaging him as a subject to also being his intended audience — 'He wanted to reach and inspire those who were not necessarily in the art world,' says Fusco.
Illustrating his interest in democratising fine art, Van Gogh once wrote: 'No result of my work would be more agreeable to me than that ordinary working men should hang such prints in their room or workplace.' This foresight anticipated artists, such as Andy Warhol, who embraced the interlinking of art, commerce, and mass culture nearly a century later.
Van Gogh was as radical with works on paper as he was with oils
Largely influenced by Japanese woodblock print, Van Gogh worked on paper throughout his career, however it was his first few months in Arles that he discovered the true potential of the medium. Worried about running out of his oils — far more costly than pen, ink, or watercolour — Van Gogh worked on paper with a distinct freedom and creative abandon. For this reason, 'You have a better sense of his evolving hand at this transitional period in the works on paper,' says Fusco.
Whereas many artists created works on paper as studies or preparatory projects for an oil, Van Gogh practiced both media in dialogue with one another, each informing the other. 'We always think of oil as being the ultimate realisation of an artist's idea, but for Van Gogh, that isn't always the case,' adds Matterson, who highlights the scale and diversity of mark making in Van Gogh's works on paper. 'He was painting and drawing simultaneously.'
'The brilliance of the works on paper is that you can really see the artist's process in a different way because you can't hide anything the way you can with oil,' says Fusco. 'You see him laying down the framework and outlines in ink and then the application of the pure colour on top of that.' In the June 1888 work, Meule de blé, for example, Van Gogh conveys the sun-drenched quality of the landscape with remarkable economy by using only four principal colours.
The last few years of his life were his most experimental
Beyond the fact that the final years of Van Gogh's life were amongst his most prolific, the works he created are also amongst his most personally revealing. 'It's a once-in-a-career opportunity to work with a collection that has three works that tell the story of Van Gogh's mature period in such a beautiful and profound way,' says Fusco on The Cox Collection: The Story of Impressionism being offered this November at Christie's.
She continues: 'The works represent three of the most important places in Van Gogh's career, and you can see the incredible development of the artist. Meules de blé from 1888 in Arles is very experimental but still naturalistically depicted and coloured, while in Cabanes de bois parmi les oliviers et cyprès from 1889 in Saint-Rémy, the artist is already significantly more expressionistic, and the brushstrokes are gestural and sweeping. By 1890 in Auvers-sur-Oise, where he painted Jeune homme au bleuet, there is this climax of creativity before he dies. There's this thick impasto, and if you view the details of this portrait up close, it is basically abstract. This is really the moment that his style crystallised as we know it today.'

Vincent van Gogh, The Starry Night, 1889. Museum of Modern Art, New York. Digital Image: Bridgeman Images
A 1905 exhibition at the Stedelijk Museum elevated his international status
15 years after his death, nearly 500 works by the artist were exhibited in Vincent van Gogh, a retrospective at the Stedelijk Museum, which was Amsterdam's premier institution for displaying modern art. Meules de blé, Cabanes de bois parmi les oliviers et cyprès, and Jeune homme au bleuet were all featured.
Johanna van Gogh-Bonger was deeply involved in mounting this major exhibition, which succeeded in cementing Van Gogh's legacy in the art world and bringing his works to many artists that would later cite Van Gogh as inspiration.
Van Gogh influenced generations of great artists and continues to do so today
Always keeping the most prominent dealers and collectors in mind, Johanna van Gogh-Bonger sold several of Van Gogh's works to Paul Cassirer who exhibited a lot of the pieces that he owned in Germany. This helped introduce his works to the German Expressionists, including Ernst Ludwig Kirchner.
In October 1933, Edvard Munch, whose many parallels with Van Gogh were explored in a 2015 exhibition at Amsterdam's famed Van Gogh Museum, wrote: 'During his short life, Van Gogh did not allow his flame to go out. Fire and embers were his brushes during the few years of his life, whilst he burned out for his art. I had thought and desired, like he, not to allow my flame to become extinguished and with burning brush to paint until the end.'
In France, Fauves, such as Henri Matisse, found inspiration in Van Gogh's heightened colour and bold explorations. Later, Pablo Picasso, who even created self-portraits in a straw hat, emulating Van Gogh's impassioned brushstrokes, and David Hockney, who mirrors Van Gogh's joy in nature, were among the titans of art history significantly influenced by the Dutch master.
Explore more from the Cox Collection