'We are meat, we are potential carcasses': Francis Bacon's search for the animal spirit in us all
Francis Bacon: Man and Beast — a new exhibition at the Royal Academy of Arts in London supported by Christie's — offers a compelling reappraisal of the artist's fascination with animals and their connection to our own primal instinct
Francis Bacon photographed in 1952. Photo: John Deakin / Vogue © The Condé Nast Publications Ltd
When the British broadcaster David Attenborough was asked in 2018 which animal scared him the most, he replied, 'a human being', recalling an incident with a man who didn't like the look of him. 'He had a gun in his hand and he had been drinking. That is a dangerous animal.'
Such a description would have resonated with the artist Francis Bacon (1909-1992), who sought to reflect in his haunting, unforgettable paintings the animalistic nature of man. 'We are meat, we are potential carcasses,' he once said. 'If I go into a butcher's shop I always think it is surprising that I wasn't there instead of the animal.'
On 29 January Francis Bacon: Man and Beast opens at the Royal Academy of Arts in London. According to the curator, and the artist's biographer, Michael Peppiatt, the central question of the exhibition is: 'How animal are we, and how much more dangerous do we become when we attempt to hide it beneath a veneer of civilisation?'
The show reveals that man and beast were inseparable in Bacon's vision. He studied animals intently in the firm belief that the more he observed them, the better he would understand humanity.
Francis Bacon, Head I, 1948. Oil and tempera on board, 100.3 x 74.9 cm. Lent by The Metropolitan Museum of Art, Bequest of Richard S. Zeisler, 2007 (2007.247.1). © The Estate of Francis Bacon. All rights reserved, DACS/Artimage 2021. Photo: Prudence Cuming Associates Ltd
Francis Bacon was born in Ireland to English parents. His father was a horse trainer, and the family house in County Kildare was surrounded by the trappings of country life — dogs, horses and hunting. Animals, however, triggered the young boy's asthma and much of Bacon's childhood was spent in sickly confinement. He described his father as 'narrow and unpleasant' and with a streak of sadism.
At the age of 16, Bacon was banished from home for wearing his mother's underwear. His parents sent him to Berlin in the hope that it would 'straighten him out'. It did not. In Weimar Germany, Bacon was introduced to every sexual proclivity known to man. 'Berlin is the bugger's daydream,' said the poet W.H. Auden, who was there at the time. 'There are 170 male brothels under police protection.' No sexual desire was taboo.
In 1928 Bacon moved to Paris, where he discovered Picasso. 'He is the reason why I paint,' he said to the critic David Sylvester. 'He is the father figure, who gave me the wish to paint.' By the early 1930s he was back in England and making a name for himself as an up-and-coming artist. He found inspiration for his paintings in the permissive darkness of Soho, a place he described as his 'sexual gymnasium'. There, amid the gangsters and rent boys of London's underworld, he was a predator in search of raw human nature.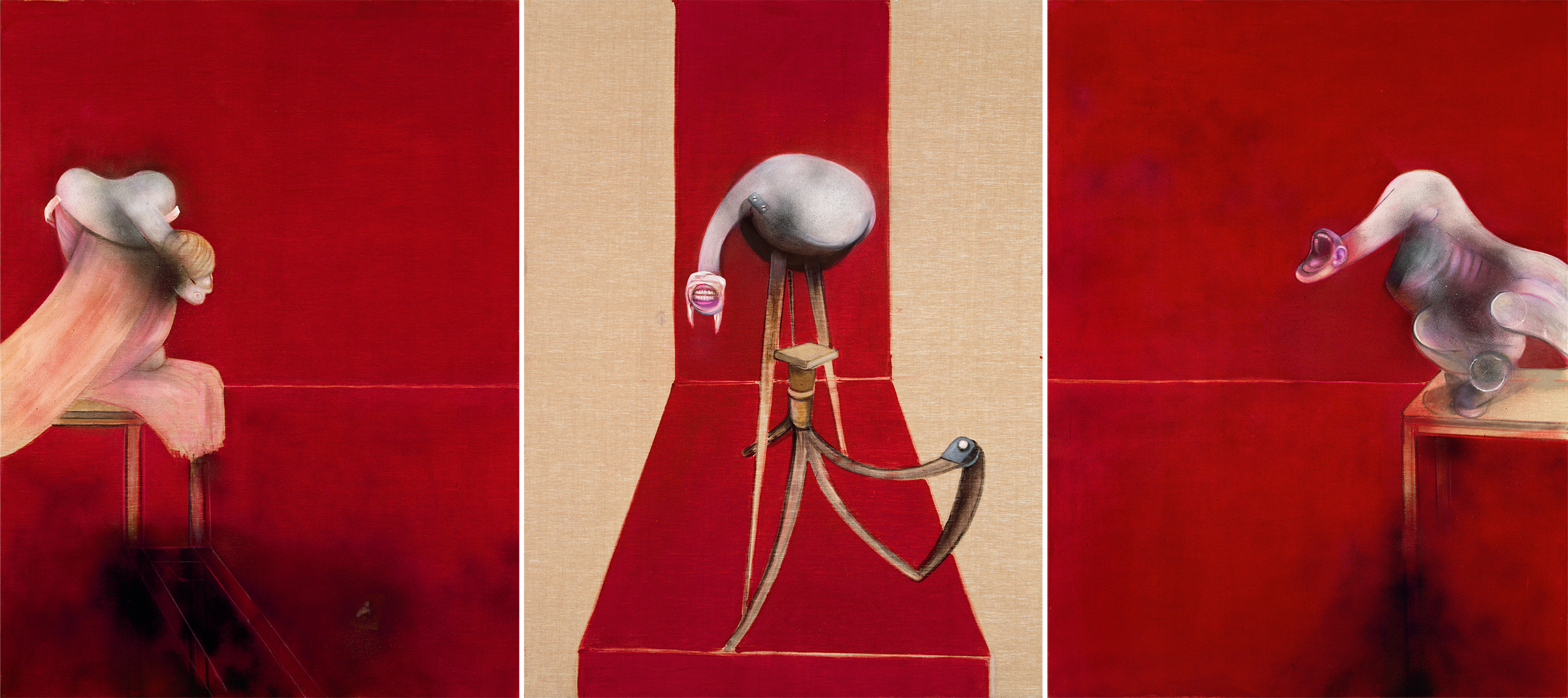 Francis Bacon, Second Version of Triptych 1944, 1988. Oil paint and acrylic paint on 3 canvases. 198 x 147.5 cm (each). Tate: Presented by the artist 1991. © The Estate of Francis Bacon. All rights reserved, DACS/Artimage 2021. Photo: Prudence Cuming Associates Ltd
It was not until 1944 that Bacon came to prominence, with the shocking triptych Three Studies for Figures at the Base of a Crucifixion. The painting depicts three howling creatures that seem to have been subjected to some unspeakable act of violence. The figures are barely recognisable as people — more a collection of severed limbs and greying flesh, the colour of decomposition against a violent orange background.
The philosopher Gilles Deleuze suggested that Bacon's obsession with screaming mouths was perhaps 'the whole body's response to the immense pity that meat provokes', and certainly the artist often drew parallels between carcasses hanging in a slaughterhouse and Christ's Crucifixion.
In 1952, the artist was photographed by John Deakin for Vogue, stripped to the waist and holding two carcasses. The subtext was clear — humans and non-humans are more alike than different. Bacon's name, after all, was synonymous with meat.
Francis Bacon, Study for Chimpanzee, 1957. Oil and pastel on canvas. 152.4 x 117 cm. Peggy Guggenheim Collection, Venice Solomon R. Guggenheim Foundation, New York. Photo: David Heald (NYC). © The Estate of Francis Bacon. All rights reserved. DACS 2021
When not in Soho, Bacon liked to visit London Zoo, observing the chimpanzees and baboons and taking note of their sharp teeth and wide mouths, which would later appear as raging furies in his paintings. He discovered the photographs of animals in motion by Eadweard Muybridge (1830-1904) in the Victoria and Albert Museum, and used them as source material. In the 1950s he travelled to southern Africa to study big game and collected books on wildlife, becoming friends with the photographer Peter Beard.
Bacon was attracted to people with a fierce animal confidence, like his sadistic lover Peter Lacy or the artist Isabel Rawsthorne. He painted their portraits with smeary, simian faces, stripping away human respectability to reveal the animal spirit within. Like the work of the Belarussian painter Chaïm Soutine, whom he described as one of the 'very finest artists of our time', Bacon's portraits were often indistinguishable from his sinewy depictions of flayed meat and dead animals — a bloodied mass of blue and red paint.
Francis Bacon, Portrait of George Dyer Crouching, 1966. Oil on canvas. 198 x 147 cm. Private collection. © The Estate of Francis Bacon. All rights reserved, DACS/Artimage 2021. Photo: Prudence Cuming Associates Ltd
Cages were another obsession, often imprisoning his subjects behind lines of thick paint. The Royal Academy exhibition was delayed because of Covid-19, and no doubt Bacon would have enjoyed the irony. All his figures seem to be held in some form of lockdown, tortured by the awareness of their own mortality.
Christie's Online Magazine delivers our best features, videos, and auction news to your inbox every week
Albert Camus once said that culture was the cry of men in the face of their destiny. Bacon did not believe there was an easy escape from the darkness of the world, and he showed it by trapping his subjects, both human and animal, in helpless isolation.
Francis Bacon: Man and Beast runs from 29 January to 17 April 2022 at the Royal Academy of Arts, London. The exhibition is supported by Christie's