Zao Wou-Ki's monumental homage to Monet and Matisse
The second-largest painting by Zao Wou-Ki ever to appear at auction, Triptyque 1987-1988 sells for HK$178,000,000 in Hong Kong on 25 May

Zao Wou-Ki, Triptyque 1987-1988, 1987-88. Oil on canvas. Triptyque, each panel 200 x 162 cm (78¾ x 63¾ in); overall 200 x 486 cm (78¾ x 191⅜ in). Sold for HK$178,000,000 on 25 May at Christie's in Hong Kong
In 1987 the Chinese artist Zao Wou-Ki (1920-2013) embarked on a monumental oil painting spread across three canvases. The work would ultimately measure two metres high and almost five metres across.
Both the size and shape of Triptyque 1987-1988, which was completed the following year, reflect Zao's reverence for Claude Monet's Nymphea paintings, the largest of which are triptychs painted on a similarly grand scale.
In 1991, three years after finishing Triptyque 1987-1988, the artist spelled out his admiration for Monet emphatically in a work titled Homage to Claude Monet. The painting, much like this work, has detail teased out across the canvas in gestures that are reminiscent of Chinese calligraphy, and Monet's paintings of his lily pond at Giverny.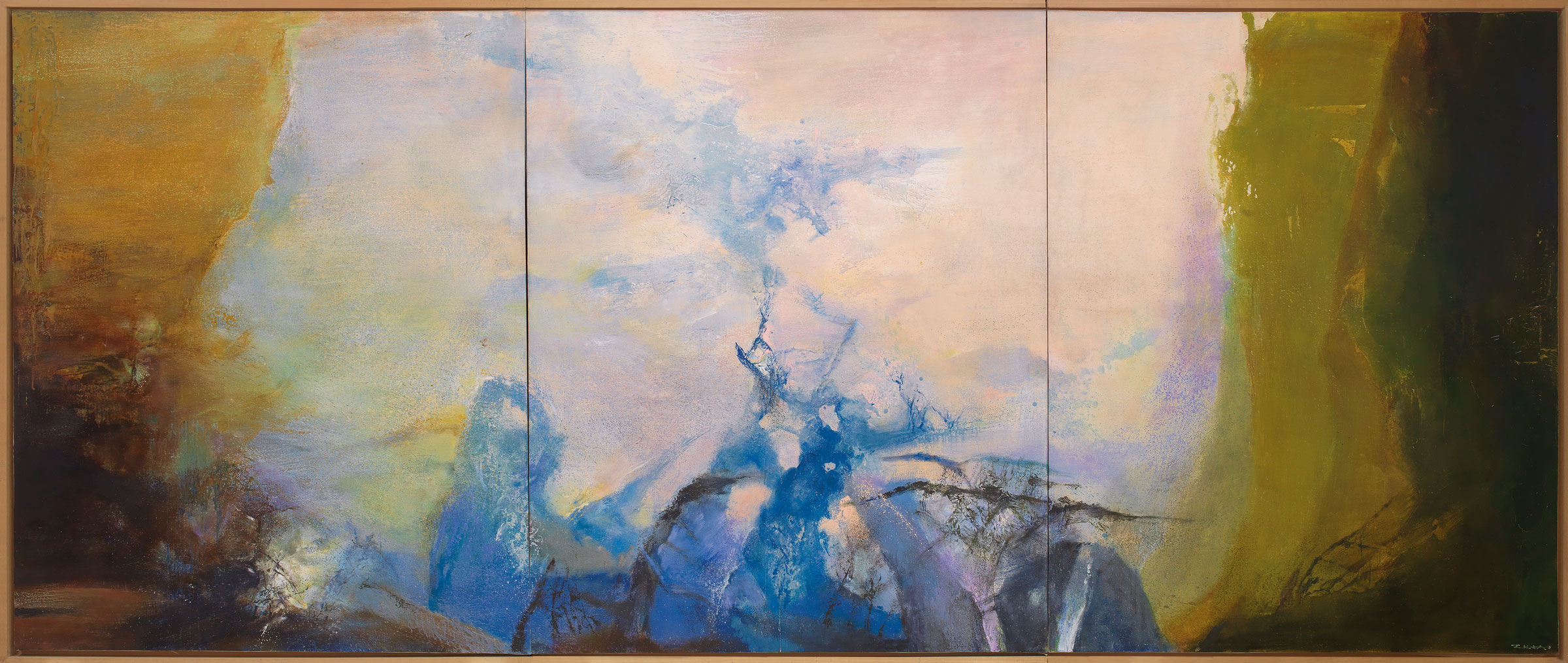 Zao Wou-Ki, Triptyque1987-1988, painted in 1987-88. Oil on canvas (triptych). Overall: 200 x 486 cm (78¾ x 191⅜ in). Sold for HK$178,000,000 on 25 May 2019 at Christie's in Hong Kong
And like Monet, Zao Wou-Ki would spend an important period in his later career preoccupied with semi-abstract examinations of light and nature.
Triptyque 1987-1988 is also indebted to another French master, Henri Matisse, the only artist to feature in the titles of two of Zao's 'homage' works, first in 1986, then again in 1993. For Zao, Matisse was the ultimate colourist, and as a child in China he had collected prints and posters of Matisse's work.
'Colour is everything, nothing else matters,' Zao wrote in 1992. 'One must be concise with colour, even stingy… this is what I learned from Matisse's Porte-fenêtre à Collioure. Recently I completed a piece in homage to that painting. I wanted to experiment with uniting the sky and the land.'

Zao Wou-Ki's Triptyque 1987-1988 being installed at Christie's ahead of its Hong Kong preview
Matisse painted Porte-fenêtre à Collioure in 1914 at the outbreak of the First World War. Its central void and sides shuttered with blocks of deep colour are said to represent his view of the external world.
Zao's triptych, with its similar composition of black-sided end panels, perhaps offers his own take on this composition. Yet the fact that he signed and dated each panel individually suggests that these three canvases may not necessarily have been intended to operate as a single piece.
Details of the left and central panels of Triptyque 1987-1988
Triptyque 1987-1988 is the second-largest painting by the artist ever to be offered at auction. It was acquired directly from Zao Wou-Ki by the present owner, and has remained in a private European collection since.
First exhibited in 1988 at Artcurial in Paris, it has subsequently been shown at the the Tapei Fine Arts Museum, the Fundación Cultural Televisa in Mexico, the Kaohsiung Museum of Fine Arts in Taiwan, the Hong Kong Museum of Fine Arts, the Guandong Museum of Art in China and the National Art Museum of China in Beijing.
Christie's Online Magazine delivers our best features, videos, and auction news to your inbox every week
As one of only 20 large-scale triptychs Zao Wou-Ki completed, Triptyque 1987-1988 is an important work that distils the artist's status as a pioneer in the fusion of both Eastern and Western art traditions. It is also an evocative realisation of the artist's name and ethos — the English translation of Wou-Ki is 'no limits'.