20/21 CENTURY New York
Event date

May 2022

Event location

New York
Christie's is honored to present The Collection of Anne H. Bass featuring a selection of 12 magnificent artworks by leading 19th and 20th century artists, including Degas, Monet and Rothko. The most important American collection to arrive on the market this season comes to Christie's directly from the interior of Mrs. Bass's impeccably designed New York City home. Presented as a dedicated single-owner evening sale, The Collection of Anne H. Bass will take place during Christie's Marquee Week of 20th and 21st Century Art sales at Rockefeller Plaza in New York City.
In Mrs. Bass's landmark New York City home on Fifth Avenue, she assembled a collection of masterpieces that was profoundly rigorous yet deeply personal, shaped by her remarkably informed eye and female perspective in a world dominated by male collectors. Guided by extensive knowledge and insight, Mrs. Bass acquired works and presented them in her home in a manner that established provocative dialogues across artistic periods – a poetic call and response spanning two centuries.
Contact
Max Carter
mcarter@christies.com
+1 212 636 2091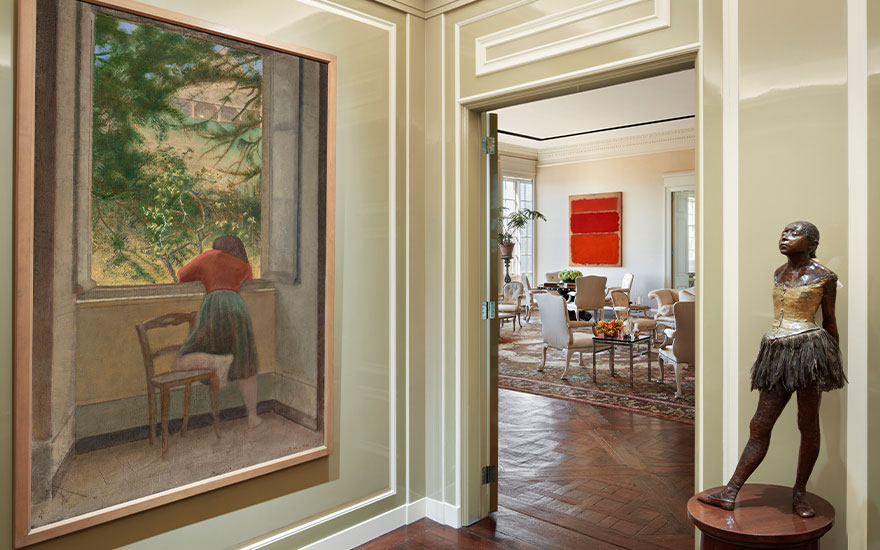 Special publication
The Collection of Anne H. Bass
The Collection of Anne H. Bass catalogue is available online now.

Image credits:
Installation view, Balthus (1908-2001), Jeune fille à la fenêtre, 1955; Mark Rothko (1903-1970), Untitled (Shades of Red), 1961; and Edgar Degas (1834-1917), Petite danseuse de quatorze ans, conceived c. 1879-1881, in Mrs. Bass's New York apartment. All works offered in The Collection of Anne H. Bass in May 2022 at Christie's in New York. Photograph © Steve Freihon