Lot Content
COVID-19 Important notice
Read More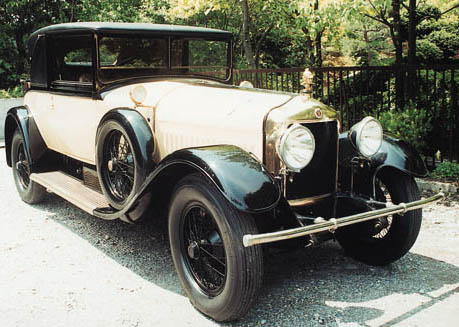 VAT rate of 5% is payable on hammer price plus buyer's premium.
1924 MINERVA MODEL WW 30hp FAUX CABRIOLET
Details
1924 MINERVA MODEL WW 30hp FAUX CABRIOLET Registration No. Not UK registered Chassis No. 53363 Engine No. 53335 Black over cream, with fabric roof and brown vinyl interior Engine: six cylinder, double sleeve-valve, monobloc, 5,355cc; Gearbox: four speed manual; Brakes: four wheel by Perrot shaft, handbrake on transmission; Suspension: semi-elliptic front, cantilever rear. Right hand drive. Perhaps the best known of all Belgian car manufacturers Minerva, like so many other pioneer car manufacturers was born out of a smaller, bicycle manufacturing business. Starting with bicycles in 1897, Sylvain de Jong advanced first to motorcycles and then later cars. By 1904 a full production series voiturette was offered, named the Minervette, but it was not until 1908 when de Jong was granted a licence to produce Knight sleeve-valve engines that the company developed. Within two years, all Minervas had Knight engines, as de Jong began to focus on the luxury car market, for which the company would become best known. The model WW, was one of the earlier, larger capacity Minervas, of approximately 5.3 litres, and was in production only in 1924 and 1925, these models benefitted from having four wheel brakes. The car on offer, is a well-proportioned Faux Cabriolet, which has seating for four persons, as well as a dickey seat, and may well have been built by the manufacturer themselves at their Mortsel coachworks. The bodywork features three piece opening windscreen, oval rear screen, dummy 'pram irons' and is equipped with later scuttle-mounted side lights and 'Supralux' headlights by Willocq Bottin, of Brussels, and Minerva Centurion's head mascot. A fold-down luggage grid and twin side-mounted spare wheels complete the specification. It is understood that the Minerva was purchased in America - this would no doubt account for the style of bumpers fitted which must be a later addition - where it must also have undergone some restoration. This work has certainly been carried out to a high standard cosmetically and the paintwork scheme suits the car, although the interior is somewhat unsympathetic being in brown vinyl upholstery and fawn velvet headlining with red carpets, and could benefit from attention. However, in essence this is a very complete and rare example, which following a period of storage has been recently prepared and is sold in running order. order.
Special Notice

VAT rate of 5% is payable on hammer price plus buyer's premium.
Sale Room Notice
Please note that the correct chassis number is 53362.

;
More From

EXCEPTIONAL MOTOR CARS & AUTOMOBILIA