Lot Content
COVID-19 Important notice
Read more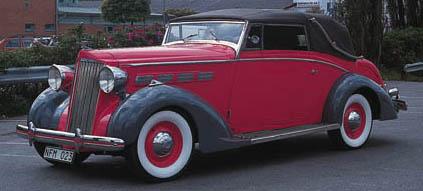 No VAT will be charged on the hammer price, but VA… Read more
1937 PACKARD 8 TYPE 120-C 3-POSITION DROPHEAD COUPÉ
Details
1937 PACKARD 8 TYPE 120-C 3-POSITION DROPHEAD COUPÉ
COACHWORK BY CHAPRON

Registration No. EU registered in Sweden
Chassis No. 120-C1037
Engine No. X111476
Pink with grey wings and with matching grey upholstery and trim

Engine: Eight cylinders in-line, side valves, 4.6 litres (282 cu inch) 120bhp at 3800 rpm; Gearbox: manual three-speed with synchromesh; Suspension: front independent with coil-springs, live rear axle; Brakes: four wheel hydraulically operated drum. Left-hand drive.

Beset by the Great Depression of the early 1930s, America's prestige car builders watched with alarm as sales of their patrician automobiles melted away. Packard was not excluded despite the magnificence of its straight-eight and vee-twelve models. When a first attempt to push down into the medium price market with a Light Eight failed within a year, Packard chief Alvan Macauley head-hunted some of GM's best talent, notably quantity production expert George T. Christopher, to create an entirely new mid-range Packard. The result was the 120 model of 1935, modernised with independent suspension and hydraulic brakes, before the more expensive models had them, powered by Christopher's smooth, durable, new straight-eight. With refinements such as automatic radiator shutters and offering sharp styling, it was in every respect a "real" Packard, but production-line reorganisation meant it could profitably be sold for about half the price of previous Packard models.

Although it was no lightweight, the 120 in sedan or convertible form could touch 85 mph and accelerate from a start to 60 mph in under 20secs. It was a triumph, sales soared and with them, increased profits. The 120, superbly built, equipped, powerful, and tremendous value for money, found a ready market in Europe, sometimes supplied as a chassis to leading coachbuilders. One such was Henri Chapron of Paris, who he was admired not merely for wonderfully crafted formal coachwork, but for elegant and stylish open touring and drophead creations.

This car is certainly no exception, and in fact Chapron was clearly in his most flamboyant element here when he designed and produced this stylish 2-door bodywork with outrageous colour scheme. Decked-out in shocking pink with grey wings and lining, this dramatic creation has chrome-plated running-boards and originally was presented with chromium-plated bonnet top as well. However this proved just too much, for the subsequent dazzling reflections overpowered both driver and on-looker alike! The bonnet is now painted in matching pink. The interior compliments this display, having grey leather upholstery with matching pink piped edging.

Most recently used in earnest on the retrospective Rallye de Monte Carlo challenge, starting from London, the car successfully completed the long trip and was awarded the Coupe des Dames in the Concours D'Elegance in Monaco, with the trophy presented by H.S.H Prince Rainier. Little used since, it is currently in good running order, previously fitted with an alternator for the rally event, this being the only departure from original specification.

A rare body style in an equally rare style and decor, it should be an eye-catching attraction in many concours or show events in the future. Some minor recommissioning may be advisable, whilst for road use in the UK, with duties paid, however it will require registration with the DVLA in Swansea.

Special Notice

No VAT will be charged on the hammer price, but VAT at 17.5% will be added to the buyer's premium which is invoiced on a VAT inclusive basis.
;
More From

EXCEPTIONAL MOTOR CARS & AUTOMOBILIA