Lot Content
COVID-19 Important notice
Read More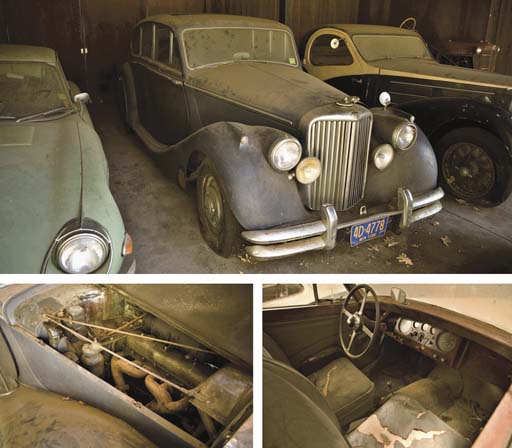 This lot is offered without reserve.
PROPERTY FROM THE COLLECTION OF MR. JOHN W. STRAUS
1949 JAGUAR MARK V FOUR-DOOR SALOON
Details
1949 JAGUAR MARK V FOUR-DOOR SALOON Chassis No 627032 Cotswold blue with grey leather interior Engine: 125 hp pushrod overhead valve inline six-cylinder, 3,485cc, dual SU carburetors; Gearbox: 4-speed manual; Suspension: front, independent with torsion bars, rear, live axle with semi-elliptical leaf springs; Brakes: four-wheel hydraulically actuated drums. Left hand drive. The Jaguar Mark V enjoys the distinction of being the first new model to bear the "Jaguar" name exclusively. Introduced in the fall of 1948 as a 1949 model the Jaguar Mark V represented an important evolution from prewar designs. The Mark V's new coachwork featured headlights faired into the front fenders, a more gracefully raked windshield and smaller wheels. Under the skin was Jaguar's first independent front suspension. Combining long and short control arms, springing was provided by longitudinal torsion bars that complemented Jaguar's inline engines. Typical Jaguar value touches abounded such as a full tool set built into the trunk lid. Produced as both four-door saloons and later as drophead coupis, the Mark V was refined and elegant. At the same time it proved to be highly competitive in international rallying competition, finishing third in 1951 and fifth in 1953 in the Monte Carlo Rally with Cecil Vard. The rapid pace of Jaguar new product development meant the Mark V was in production for only three years but 10,466 were built. The majority (6,090) were export models with only 4,376 built for domestic use in the UK. The example on offer here is a 1949 righthand drive UK-model four-door saloon with the larger 3 1/2 liter engine, one of only 3,124 built to this specification. With 125 brake horsepower compared with the 102 bhp of the 2 1/2 liter six, it is much more desirable and satisfying driver than the smaller-engined Mark V and is nearly as good a performer as the later, but heavier, MK VI saloon with the more powerful XK engine. Rare and very desirable, this Jaguar Mark V saloon has been stored for many years. Largely complete and sound, it is a potentially rewarding restoration project. When completed it will preserve an example of a rarely seen and important interim Jaguar model that laid the groundwork both technically and aesthetically for the resounding success of the Jaguar XK 120 and MK VI. WITHOUT RESERVE
Special Notice

This lot is offered without reserve.
Sale Room Notice
Please note that this car is a left hand drive model, not a right drive model as stated within the catalogue description

;
More From

Exceptional Motor Cars At The Greenwich Concours d' Elegance