Lot Content
COVID-19 Important notice
Read More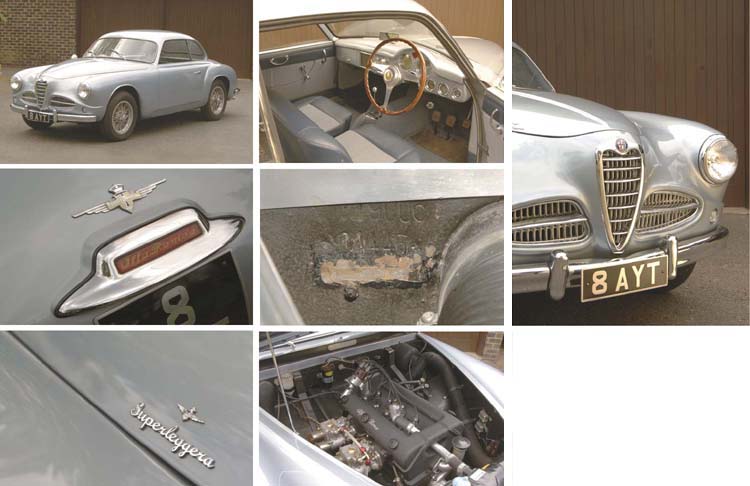 No VAT will be charged on the hammer price, but VAT at 15% will be added to the buyer's premium which is invoiced on a VAT inclusive basis.
1953 ALFA ROMEO 1900 SPRINT COUPE
Details
1953 ALFA ROMEO 1900 SPRINT COUPE COACHWORK 'SUPERLEGGERA' BY TOURING Registration No. 8 AYT Chassis No. 1900C-01445 Engine No. AR 1308 00682 (See text) Pewter with blue and grey cloth interior Engine: four-cylinder in-line, alloy cylinder head, twin overhead camshafts, originally 1,884cc 100hp at 5,500rpm, currently 1,975cc, 115bhp at 5,500rpm; Gearbox: five speed all synchromesh; Suspension: front, double A arm wishbones, sway bars, rear, solid axle with two longitudinal radius arms; Brakes: Alfin four-wheel hydraulic drum. Right hand drive. In 1950 Alfa Romeo announced a superb new four-cylinder twin overhead camshaft engine installed in a modern all-steel saloon monocoque bodyshell. The next year there appeared a short-wheelbase version, based on a modified saloon sheet-steel platform chassis. It was a period of great vitality in the Italian automobile industry, when body shops such as Touring, Vignale, Pinin Farina and Bertone created a stream of memorable designs that set the pattern for other makers across the world. Available in stages of tune up to full race, the four-cylinder Alfa Romeo was seized on by great stylists. With its slender windscreen pillars, airy cabin and balanced proportions, this Touring Coupé is about as close to sculptural perfection as an automobile can be, decoration pared down to a minimum, every panel blending into the next with subtlety. The Sprint Coupé was designed to provide a family size sporting two-door coupe with adequate interior space. The heart-shaped vertical front grille with similar sized horizontal air intakes was to become the trademark of future models. The engine capacity was 1,884cc providing a healthy 110bhp and with its alloy bodywork the excellent power to weight ratio provided brisk acceleration and a top speed of 115mph. This model was campaigned with considerable success in rallies and road-racing events. According to the old buff log book with the car, this example was imported into the UK in August 1960 and was owned at that time by Henry John White. In 1969 in somewhat dilapidated order, but already having acquired the distinctive registration number "8 AYT", it was acquired by Kent-based enthusiast Anthony Cazalet. Mr Cazalet hastily had the car repainted in its original red livery and used the car for a few years before selling it to the current owner. At the time of acquisition it is understood that the original engine in the car was not usable, it was therefore replaced with a contemporary 1306 series 1900 unit (number 50201). Later at the instruction of the present owner this was replaced with a slightly later and larger 1,975cc unit, which remains in the car and is fitted with twin double choke 45 DCOE 68 Weber carburettors to pep up its performance a little. The previously fitted engine is mounted on a stand and goes with the car. Over the course of the last 30 years of ownership the car was restored by Church Green Engineering of East Knowle, to the present and more understated pewter livery with blue and grey interior, a scheme that suits the car well. Copies of bills for all of the work undertaken in the present hands, are offered with the car. The Alfa Romeo has remained on the road until a few years ago when advancing years have rendered it no longer possible to be enjoyed. This is not to imply that maintenance was neglected, however, and the car enjoyed regular servicing throughout. Indeed we are informed that the most recent service and MoT test were carried out just a couple of months before the sale. Today the Alfa should provide its new owner with exhilarating motoring which belies its age, and would be a competitive entrant in many of the well-known Retro long distance events such as the Mille Miglia and Coppa d'Italia.
Special Notice

No VAT will be charged on the hammer price, but VAT at 15% will be added to the buyer's premium which is invoiced on a VAT inclusive basis.
;
More From

Exceptional Motor Cars and Automobilia at The Jack Barclay Showroom, Nine Elms Lane, London SW8