Lot Content
COVID-19 Important notice
Read More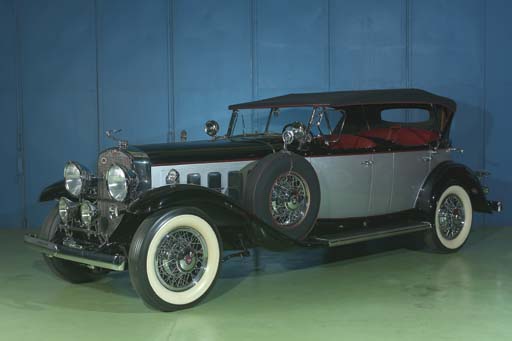 This lot is offered without reserve.
CADILLAC V16 SERIES 452
Details
CADILLAC V16 SERIES 452 Year 1930 Chassis No. 702425 Engine No. 702425 European taxes paid Engine: V16, 456.6ci., 165bhp at 3,400rpm; Gearbox: three speed manual; Suspension: semi-elliptic leaf springs with hydraulic dampers front and rear; Brakes: four wheel drum; Left hand drive. Coachwork by Fleetwood, sport phaeton, black over silver with red leather interior. Model History (see also lots 21 and 27) As the 1920s drew to a close, Cadillac's dilemma was how to overcome their rivals. A V8 would not do. Cadillac had pioneered the V8 and it already lived up to the firm's slogan 'Standard of the World' by being the smoothest, most refined V8 in production anywhere. Likewise, Cadillac would not introduce a V12 that would merely flatter Packard by imitation. Therefore, chief engineer Ernest Seaholm and designer Owen Nacker were left with little choice but to go for a V16. This new engine set a standard of refinement unequalled by any manufacturer in the world. Its silence in operation has never been matched and its synchromesh transmission, vacuum-assisted servo brakes and the powerful engine gave it performance that could be equalled only by the noisy, comparatively rough and more expensive Duesenberg. By 1930 Cadillac had reached a pinnacle of automotive styling. There were a large number of body styles available and they included customer specified designs carried out by the prestigious American coachbuilders, Fleetwood and Fisher. General Motors employed an Art and Color styling department led by one of the most famous automotive designers, Harley J. Earl. An automotive engineer, Earl was hired in 1926 to make the most of DuPont's newly developed synthetic paints, and made such a success of the LaSalle in 1929 that he was put in charge of the newest and grandest Cadillac. Earl worked his magic on the V16 and it was one of the most ravishing classics ever. Even the engine compartment was highly stylized. Owen Nacker's engine had been designed to have almost no visible extraneous components, so all wiring was almost completely hidden from view and its overall appearance was finished in truly elegant fashion with a polished aluminum block. Specific history of this car Mr. Lüscher's stunning V16 Cadillac is without argument one of the most impressive automobiles from his collection. There are probably around 18 original sport phaetons in existence and, as a result of their limited number, impressive engineering and sleek bodies, they are one of the most desirable models available. According to its build sheet, this car was first sold on July 22nd 1930 in New York City. We are told that the car was featured in Motor Trend magazine in 1958, although we have not seen a copy. At around this time the owner was Russell Strauch from Toledo, Ohio and by the 1960s it was in the ownership of Clarence Stalts. In around 1977 Richard G. Gold of Minnesota acquired the V16 and in all probability at this time the car underwent a meticulous restoration. In 1978 the car won a National First Prize from the Antique Automobile Club of America. The following year at the Classic Car Club of America meeting in Boca Raton, Florida it became a senior winner (no. 0873) with a perfect score of 100 points. It was featured in the March 1980 issue of The Classic Car, the club's magazine. Richard Gold was later to become the President of the Classic Car Club of America (1988-89). In the late 1980s the V16 sport phaeton was sold (as a pair with the V16 roadster, see Lot 27 in this catalogue) to another noted collector, Fred Weber from Missouri and in its last showing in the USA at the annual meeting of the CCCA in January 1990 at Palm Beach Gardens in Florida, it won its senior division with a score of 99 points. Later the same year both V16s were again sold as a pair and joined the Lüscher Collection. Condition As described above this car is a former Concours d'Elegance winner and despite being an older restoration it has held up remarkably well. There are only a few minor blemishes in condition that we noticed including some minor chips to the top of the doors and some slight tarnishing to the chrome on the Auto Vac in the engine bay. With attention to the aforementioned areas, this superbly presented Sport Phaeton would still be a worthy contender for top honours in any concours field. WITHOUT RESERVE Année: 1930 Numéro de châssis: 702425 Numéro du moteur: 702425 Taxes d'importation européenne payées. Moteur: V16, 7420 cm3, 165 ch à 3400 t/min; Transmission: boîte manuelle à 3 rapports; Suspension, AV et AR: ressorts semi-elliptiques avec amortisseurs hydrauliques; Freins: à tambour sur les 4 roues; Volant à gauche. Carrosserie Fleetwood, torpédo, noir et gris argent métallisé avec intérieur en cuir rouge. Histoire du modèle (voir aussi lots 21 et 27) A la fin des années 20, le dilemme pour Cadillac résidait dans la manière de battre la concurrence. Un V8 ne suffirait pas. Cadillac était le pionnier du V8 et leur moteur était à la hauteur de leur slogan 'La Référence du Monde', étant le plus souple et raffiné de tous les V8 de la planète. De même, Cadillac ne voulait pas sortir un V12 pour flatter Packard en les copiant. C'est pour cela que l'ingénieur en chef Ernest Seaholm et le technicien Owen Nacker n'avaient guère le choix que de se lancer dans la production d'un V16. Ce nouveau moteur définissait un niveau de raffinement inégalé par les autres constructeurs. Son silence de fonctionnement était unique et sa boîte synchronisée, ses freins assistés par dépression et son moteur puissant lui procuraient des performances qui ne pouvaient être atteintes que par la Duesenberg, un engin bruyant, relativement rude et plus cher. En 1930, Cadillac avez atteint le sommet du style automobile. Il existait un large choix de carrosseries standard et des dessins sur commande pouvaient être exécutés en option par des carrossiers américains renommés tels Fleetwood et Fisher. General Motors avait un département 'Art and Color' avec à sa tête l'un des plus talentueux dessinateurs automobiles, Harley J. Earl. Ingénieur de formation, il fut engagé en 1926 pour tirer le meilleur parti des nouvelles peintures synthétiques développées par DuPont. Sa LaSalle connut un tel succès en 1929 qu'il se vit confier la dernière et la plus grande des Cadillac. Earl fit des merveilles avec la V16 et elle devint l'un des plus extraordinaires classiques de tous les temps. Même le compartiment moteur était hautement stylisé: il avait été conçu pour n'avoir presque aucun élément extérieur, jusqu'au faisceau électrique qui était dissimulé, et l'ensemble était d'une grande élégance avec un bloc en aluminium poli. Histoire spécifique de la voiture Le torpédo V16 de Monsieur Lüscher est sans conteste l'une des pièces majeures de sa collection. Il n'existe probablement pas plus de 18 'torpédos sport phaeton' d'origine et, compte tenu de leur nombre réduit, de leur technique impressionnante et de leur carrosserie élancée, ils figurent parmi les modèles les plus recherchés. D'après sa fiche d'assemblage, ce torpédo fut vendu le 22 juillet 1930 à New York City. On nous dit qu'il figura dans la revue Motor Trend en 1958, mais nous n'avons pas pu en consulter un exemplaire. A cette époque, le propriétaire était Russell Strauch de Toledo dans l'Ohio et, dans les années 60, elle était aux mains de Clarence Stalts. Aux alentours de 1977, Richard G. Gold du Minnesota acquit l'automobile et il est probable qu'elle fut alors l'objet d'une restauration méticuleuse. En 1978, elle remporta un premier prix national décerné par l'Antique Automobile Club of America. L'année suivante, elle devint un vainqueur senior (no. 0873), avec un score parfait de 100 points, au concours du Classic Car Club of America à Boca Raton en Floride et fut le sujet d'un article dans l'édition du mois de mars 1980 du journal du club, The Classic Car. Richard Gold devint par la suite président du Classic Car Club of America (1988-1989). A la fin des années 80, la Cadillac fut vendue (avec le roadster V16 lot 27 de ce catalogue) à un autre collectionneur de renom, Fred Weber du Missouri, et lors de sa dernière participation à un concours, à la réunion annuelle du Classic Car Club of America à Palm Beach Gardens en Floride en janvier 1990, elle gagna encore sa catégorie senior avec un score de 99 points. Plus tard cette même année, les deux V16 furent à nouveau vendues en tant que paire et rejoignirent la collection Lüscher. Etat Comme décrit ci-dessus, le torpédo offert remporta par le passé plusieurs concours et, compte tenu de l'ancienneté de sa restauration, il est toujours dans un état remarquable. Tout juste peut-on observer de très petites imperfections dans la peinture du haut des portes et sur les chromes du système Autovac dans le compartiment moteur. Avec un minimum d'attention portée à ces points, il sera à nouveau un candidat sérieux aux plus hautes récompenses dans les concours. SANS RESERVE
Special Notice

This lot is offered without reserve.
;
More From

AUTOMOBILES DE COLLECTION