Lot Content
COVID-19 Important notice
Read More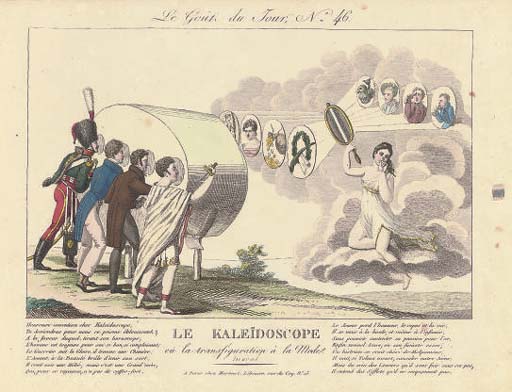 VAT rate of 5% is payable on hammer price and at 15% on the buyer's premium
Le Kaleïdoscope
Details
Le Kaleïdoscope Martinet Libraire, Paris; hand coloured engraving titled Le Kaleïdoscope ou la transfiguration à la Mode, Le Goût du Jour No. 46, showing a soldier, a lover, a gambler and a classical figure with visions of their ideals and their transfigured realities provided by a type of peepbox, with explanatory verse in French, 332 x 253mm.
Special Notice

VAT rate of 5% is payable on hammer price and at 15% on the buyer's premium
Condition Report
If you wish to view the condition report of this lot, please sign in to your account.
Sign in
View Condition Report
;
More From

The Ganz Collection of Magic Lanterns, Optical Toys & Pre-Cinema