Lot Content
COVID-19 Important notice
Read More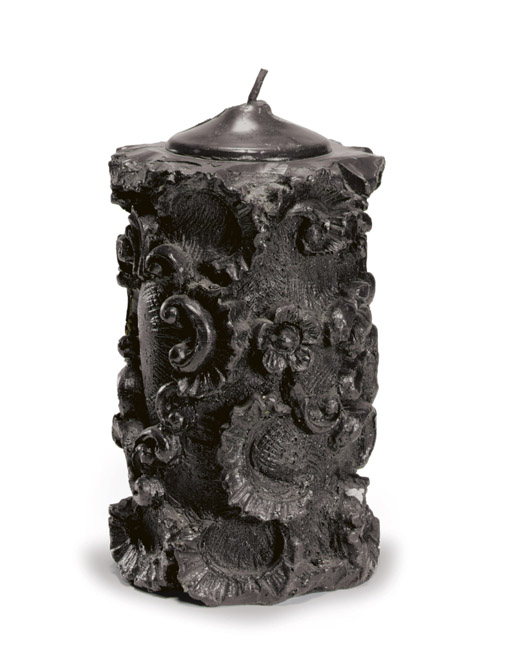 PETER FISCHLI & DAVID WEISS (b. 1946 & b. 1952)
Kerze (Swiss Candle)
Details
PETER FISCHLI & DAVID WEISS (b. 1946 & b. 1952) Kerze (Swiss Candle) inscribed 'F/W' in blue crayon (on the underside) cast rubber 11¼ x 6½ x 6½ in. (28.6 x 16.5 x 15.5 cm.) Executed in 1986-1987. This work is number one from an edition of six.
Provenance
Galerie Monika Spruth, Cologne
Vera List, New York
The Estate of Vera List, Sotheby's New York, 12 February 2004, lot 249
Acquired at the above sale by the present owner

Literature
L. Bovier, ed., Across/Art/Suisse/1975-2000, Geneva, 2000, no. 13 (illustrated). A.M. Charbonneaux, ed., Les Vanités dans l'art contemporain, Paris, 2005, p. 132 (illustrated).

Exhibited
Kunsthaus Zurich, Stiller Nachmittag: Aspekte Junger Schweizer Kunst, September-November 1987, p. 65 (illustrated; another example exhibited).
Frankfurt, Portikus, Peter Fischli/David Weiss: Objekte aus der Gummi-Serie, September-October 1988.
Nîmes, Le Carré d'Art; Paris, Centre Georges Pompidou, Musée National d'Art Moderne, Sculpture de Derain à Sechas; Collection du Centre Pompidou, Musée National d'art moderne, May-August 2003, p. 103 (illustrated; another from the edition exhibited).
Lausanne, Musée Cantonal des Beaux Arts, Private View 1980-2000: Collection Pierre Huber, June-September 2005, p. 149 (illustrated).

;
More From

Beyond Selections From the Collection of Pierre Huber