Lot Content
Global notice
COVID-19 Important notice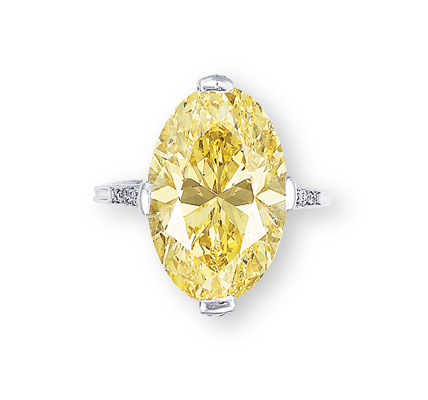 A SUPERB COLOURED DIAMOND AND DIAMOND RING, BY TIFFANY & CO.
Details
A SUPERB COLOURED DIAMOND AND DIAMOND RING, BY TIFFANY & CO.
Set with an oval-shaped fancy vivid yellow diamond weighing 12.02 carats, to the pavé-set diamond gallery and quarter-hoop, mounted in platinum, ring size 6¾

Accompanied by report no. 2125243074 dated 9 June 2010 from the Gemological Institute of America stating that the 12.02 carat diamond is fancy vivid yellow, natural colour, internally flawless clarity

Also accompanied by a supplemental letter from the Gemological Institute of America describing that the colour of the 12.02 carat oval modified brilliant is an exceptional example of a yellow diamond in the Fancy Vivid range. GIA's fancy colour grades describe the combined effect of tone (lightness to darkness) and saturation (weakness to strength or, intensity). In yellow diamonds, the term Fancy Vivid is used to describe a medium to light toned colour in the strongest saturation range. While the yellow hue is more common among coloured diamonds, depths of colour corresponding to the Fancy Vivid range are not. From past studies, no more than 5 of the yellow diamonds submitted to GIA are Fancy Vivid. The cutting accomplishment for colour was further enhanced in this diamond by attaining a clarity grade of Internally Flawless. The combination of such high colour and clarity grades makes this 12.02 carat oval a very rare diamond


Condition Report
If you wish to view the condition report of this lot, please sign in to your account.
Sign in
View condition report
Lot Essay
Jewellery Department on tel. +852 2521 5396, emailUS$1,250,000-1,900,000

More from

Jewels: The Hong Kong Sale