Lot Content
COVID-19 Important notice
Read More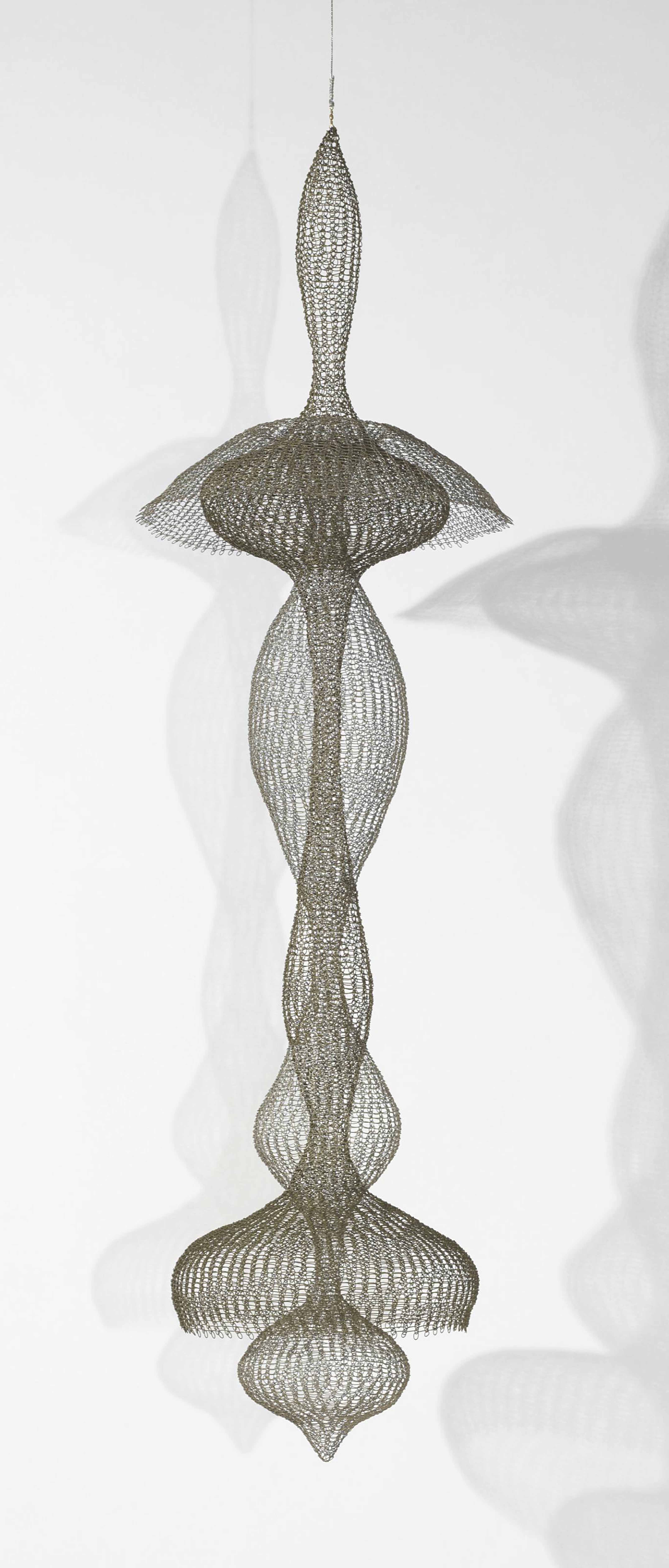 Property from the Estate of Merry Renk and Earle Curtis "I have searched for beauty, designing structures of timeless lyrical dimensions. I have sought to combine strength and delicacy in this miniature world. I wouldn't have given up my time at my workbench to anyone. I enjoyed the whole process: using the saw to take my designs from paper to metal, seeing the beauty of the torch as it fuses one piece of metal to another, and focusing on the intimate details, like small gems. What a treasure it has been to make my living as a goldsmith." -Mary Renk, 1994 (as quoted in J. Shaykett, Remembering: Merry Renk, American Craft Council, www.craftcouncil.org) Merry Renk was a celebrated and prolific artist living and working for most of her career in California. She was an integral part of the artistic fabric of the San Francisco Bay Area and for many years was friend and neighbor to Albert Lanier and Ruth Asawa. Merry came to the Bay Area by way of Chicago where she owned and operated a gallery on Dearborn Street called 750 Studio with two others including Mary Jo Slick, a Black Mountain College student who was responsible for introducing Renk to Ruth Asawa in 1949. Chicago proved to be an important stop for Renk who while attending the Institute of Design, also met and befriended fabric artist Lenore Tawney with whom she traveled through Spain and Morocco. Both Renk and Asawa sustained their artistic pursuits even as they juggled the responsibilities of motherhood; to ensure additional time in their respective studios they would take turns watching the children, giving one another the necessary time and space to create. The friendship between Renk, her husband, Asawa and her husband embodied a uniquely communitarian way of life; a rare and special bond of like- minded spirits that amplified the creative energies of each. By the mid-1950's Merry Renk began creating intricate crowns, inspired by fairytales she read and games she played with her sister as a child. Her crowns embody a particularly optimistic form of beauty; more than mere ornamentation, Renks crown's bestow an aura of wholesome purity on the wearer and transforms the routine trappings of everyday existence with a delicate force. Merry Renk's Butterfly Tree is a prime example of her most transformative work. A tantalizing mixture of silver and gold inhabited by 32 fluttering butterfly forms on silver pines, this crown inspired by the wintering of Monarch Butterflies on Monterey Bay is an incredible example. Renk's work was recently included in the Pacific Standard Time exhibition held in various locations throughout Los Angeles and an exhibition of her Memory Paintings will be held in 2013 at the Craft Museum of Los Angeles. The Los Angeles County Museum of Art has also recently acquired two of Merry Renk's crowns for the collection. Renk's friend Ruth Asawa has lead a life, that like her art, was shaped by social and political impositions, unfair restrictions on her liberties and supposed inalienable rights. As a teenager in the early 1940's, Asawa and her family were sent by Executive Order to an internment camp by order of the FBI to be displaced along with approximately 120,000 fellow Japanese-Americans during World War II. Under the tutelage of professional artists who were also interned in the camps, Asawa exercised freedom through her art while her physical civil liberties were sadly limited by her own government. Though the forced internment was much more than a simple imposition, Asawa exhibited great humility and harbors little resentment as is apparent nearly fifty years later in the following statement: "I hold no hostilities for what happened; I blame no one. Sometimes good comes through adversity. I would not be who I am today had it not been for the Internment, and I like who I am." By 1946 Asawa had been recruited by fellow student Ray Johnson to attend Black Mountain College where, for the next three years, she was mentored by such notables as Josef and Anni Albers, Ilya Bolotowsky, Merce Cunningham and Buckminster Fuller. From the teachings of these instructors and legendary artist's, Asawa absorbed fundamental lessons regarding a "Less is More" approach to art making.
Ruth Asawa (b. 1926)
Untitled (S.093, Hanging Seven-Lobed, Two Part Interlocking Continuous Form within a Form)
Details
Ruth Asawa (b. 1926) Untitled (S.093, Hanging Seven-Lobed, Two Part Interlocking Continuous Form within a Form) hanging sculpture--brass and tinned copper wire 77 x 23 x 23 in. (195.5 x 58.4 x 58.4 cm.) Executed circa 1955.
Provenance
Gift of the artist to the present owner

Brought to you by
More From

Post-War & Contemporary Art Morning Session