Browse Lots
COVID-19 Important notice
Read More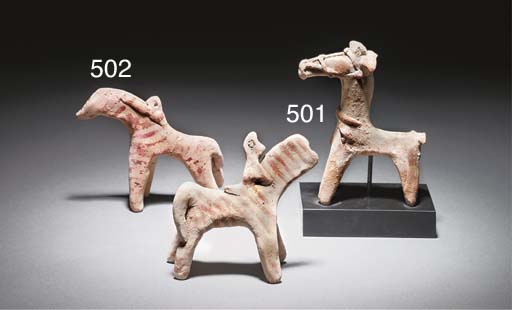 VAT rate of 5% is payable on hammer price plus buyer's premium
A BOEOTIAN TERRACOTTA MODEL OF A HORSE AND RIDER
EARLY 6TH CENTURY B.C.
Details
A BOEOTIAN TERRACOTTA MODEL OF A HORSE AND RIDER EARLY 6TH CENTURY B.C. The stylized rider with arms outstretched up the sides of the horse's neck, his eyes and mouth painted, both horse and rider painted with orange linear decoration, repaired 3¼ in. (8.2 cm.) high
Provenance
Acquired in 1973.

Special Notice

VAT rate of 5% is payable on hammer price plus buyer's premium
Lot Essay
PUBLISHED:
Antike Kunst, Galerie Heidi Vollmoeller, Zurich, 1975, no. 30.

;
More From

THE HEIDI VOLLMOELLER COLLECTION