Lot Content
COVID-19 Important notice
Read More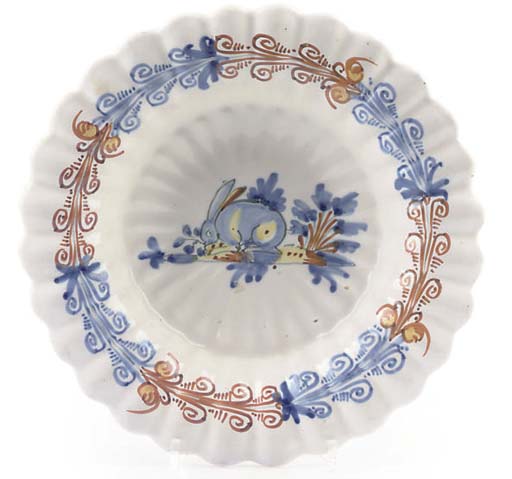 This lot is offered without reserve.
No VAT will be charged on the hammer price, but VAT at 15% will be added to the buyer's premium which is invoiced on a VAT inclusive basis.
This lot is subject to storage and collection charges. **For Furniture and Decorative Objects, storage charges commence 7 days from sale. Please contact department for further details.**
A FAIENCE FLUTED DISH
18TH CENTURY, PROBABLY FRENCH LE CROISIC
Details
A FAIENCE FLUTED DISH 18TH CENTURY, PROBABLY FRENCH LE CROISIC Painted to the centre with a crouching hare amongst shrubs, the border with stylised foliage and fruit Carew-Shaw Collection, no.612 11½ in. (29.2 cm. ) diam.
Special Notice

This lot is offered without reserve.
No VAT will be charged on the hammer price, but VAT at 15% will be added to the buyer's premium which is invoiced on a VAT inclusive basis.
This lot is subject to storage and collection charges. **For Furniture and Decorative Objects, storage charges commence 7 days from sale. Please contact department for further details.**
Condition Report
If you wish to view the condition report of this lot, please sign in to your account.
Sign in
View Condition Report
More From

The Sunday Sale- The Edward and Millicent Carew- Shaw bequest, to benefit Medical Research at the Hebrew University of Jerusalem