Lot Content
Global notice
COVID-19 Important notice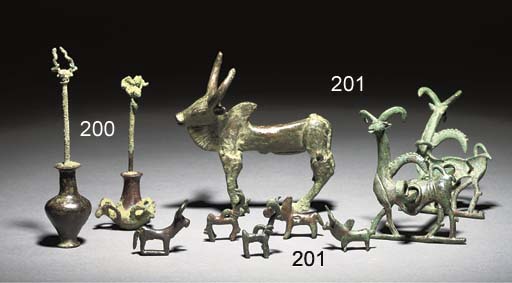 No VAT will be charged on the hammer price, but VA… Read more
A GROUP OF WESTERN ASIATIC BRONZE VESSELS AND ANIMALS
MAINLY 2ND-1ST MILLENNIUM B.C.
Details
A GROUP OF WESTERN ASIATIC BRONZE VESSELS AND ANIMALS
MAINLY 2ND-1ST MILLENNIUM B.C.
Including two Bactrian bronze ointment jars with pins, one jar with three ibex head protomes, the pin with horned animal head finial, the other jar with pin surmounted by two recumbent ibex, first half of 2nd millennium B.C., 7 1/8 in. (18.1 cm.) high max.; a large zebu with curved horns and lentoid-shaped forelock, heavy dewlap, 5 7/8 in. (15 cm.) high; six miniature bronze zebu, mouflon and a bull, 2 in. (5 cm.) high max.; a bronze fibula of 'arm-and-hand' type, 8th-7th Century B.C., 2 1/8 in. (5.5 cm.) long; and a South Arabian alabaster male head, mounted, circa 1st Century B.C./A.D., 4 3/8 in. (11 cm.) high (15)

Provenance
From a private collection formed during the 1960s-1970s.

Special Notice

No VAT will be charged on the hammer price, but VAT at 17.5% will be added to the buyer's premium, which is invoiced on a VAT inclusive basis.
;
More from

Fine Antiquities & Important Antiquities from Capesthorne