Lot Content
COVID-19 Important notice
Read More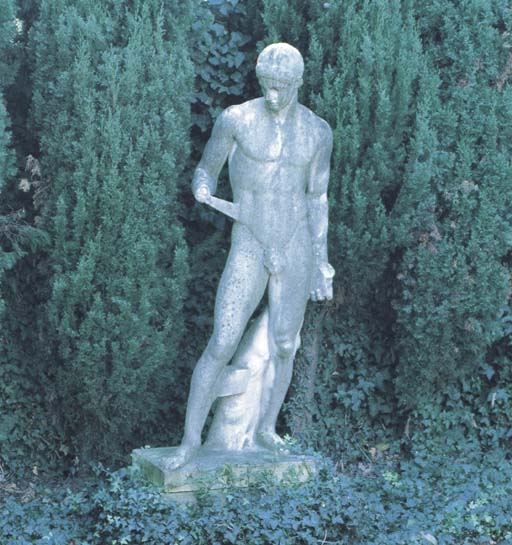 A 10% Goods and Services tax (G.S.T) will be charged on the Buyer's Premium in all lots in this sale
A MARBLE SCULPTURE AFTER THE ANTIQUE OF THE DISCOBOLOS
BY CHARLES FRANCIS SUMMERS, ROME 1884, THE ORIGINAL ATTRIBUTED TO NAUKYDES OF ARGOS
Details
A MARBLE SCULPTURE AFTER THE ANTIQUE OF THE DISCOBOLOS By Charles Francis Summers, Rome 1884, the original attributed to Naukydes of Argos The classical athlete holding the discus in the left hand, the right arm bent at the elbow, standing with his weight on the right leg, the left leg joined to a tree stump on a rectangular base, signed Charles Summers Roma 1884 175 cm (69 in.) high See illustration and front cover
Provenance
Eastern Entrance (Nicholson Street) Royal Exhibition Building, Melbourne, 1888-1950s.
Purchased from the Melbourne City Council for 500 pounds and subsequently purchased in the 1960s by the present vendor for $ 200

This scultpure of the Discobolos by Charles Francis Summers (1858-1945) is one from a series of statues that were displayed outside the Eastern Entrance of the Royal Exhibtion Building for the opening of the International Centennial Exhibition of 1888. The statues, all after the antique, including examples after Canova, surrounded the Hoctqurtel Fountain and were removed in the early 1950s.

Charles Francis Summers was born in Richmond Victoria, the son of Charles Summers, the sculptor, famous for his 1865 Burke and Wills Monument. Educated in Italy and a student of Professors Seitz and Chelli, Summers returned to Australia after the death of his father in 1878.

Visiting Sydney and Melbourne, Summers attempted to sell a variety of sculpture by his father and Italian sculptors Professor G.B. Lombardi, Giovita Lombardi and Professor GM Benzoni.

Sir Henry Parkes, Premier of New South Wales, purchased a selection of these sculptures which included the Apollo Belevedere, The Boxers after Canova, and Venus de Medici.

It has been suggested that the display of sculpture at the entrance to the Royal Exhibition Building was done in an effort to promote the ability and artistry of Summers. He was never paid for these copies after the antique by the Victorian Government. By 1901 the sculptures had been taken by a gentleman to whom Summers owed money:

[Age, Melbourne, 13/11/1901, p. 9. VICTORIAN PARLIAMENT. LEGISLATIVE ASSEMBLY, TUESDAY 12TH NOVEMBER. EXHIBITION STATUARY]
"On the motion for the adjournment,
Mr. Bromley said he understood that there was a probiblity of the statues in front of the Exhibition Building on the Nicholson Street side, being removed. The statues had been there for 14 years, and although offered to the Government at a ridiculously low price they had not been purchased. Now they had been foreclosed by a gentleman to whom the sculptor owed a sum of money, and these works of art were likely to be taken away from Melbourne. It would be a reflection upon the Government, after the statues had been practically public property for so long, to allow them to be removed.
The Premier said there was a phase of the matter which he was looking into. He would take the earliest opportunity of consulting his colleagues and making a statement to the House."

The statues remained in place until the 1950s and were removed by the Melbourne City Council.

Summers ceased to work as a sculptor after 1933, disillusioned by the lack of interest in sculpture in Australia. Summers worked as a librarian for the Masonic Club until 1940 and died in 1945.

Special Notice

A 10% Goods and Services tax (G.S.T) will be charged on the Buyer's Premium in all lots in this sale
;
More From

DECORATIVE ARTS