Lot Content
COVID-19 Important notice
Read More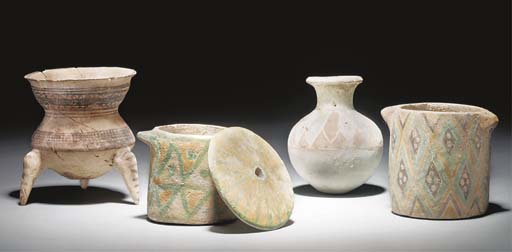 VAT rate of 5% is payable on hammer price plus buyer's premium
A NORTH-WEST PERSIAN POTTERY TRIPOD JAR
2ND MILLENNIUM B.C.
Details
A NORTH-WEST PERSIAN POTTERY TRIPOD JAR 2ND MILLENNIUM B.C. The buff-coloured jar with bulbous biconical body and tall outward-flared neck on three pointed and slightly splayed legs, black painted bands around the neck, some filled with triangles, the body with broad chequered band, horizontal brush strokes down each leg, repaired, 4½ in. (11 cm.) high; a buff-coloured piriform beaker narrowing to a point at the base with a small circular foot, the lip flared outwards, decorated with four brown painted bands around the body and a brown line around the rim, early 1st millennium B.C., 4¾ in. (12 cm.) high; a North-West Persian Ziwiye glazed pottery cylindrical jar with two pierced lug handles on the rim, decorated with connecting lozenges with dotted interiors, yellow, turquoise and black glaze; another vessel similar, decorated with zigzag and spots, 3½ in. (9 cm.) high max.; a disc lid pierced in the centre and decorated with yellow rays, 3 5/8 in. (9.2 cm.) diam.; and a jar with spherical body, short neck and flaring rim, lotus petals with traces of yellow, white and green glaze around the shoulder, 4¼ in. (10.8 cm.) high, all with some repair and restoration, all 9th Century B.C. (5)
Provenance
Acquired in 1989 (items three and four); and acquired in 1983, Kevorkian, Paris (item five).

Special Notice

VAT rate of 5% is payable on hammer price plus buyer's premium
Lot Essay
PUBLISHED:
Item five: Antiken aus dem östlichen Mittelmeerraum, Galerie Heidi Vollmoeller, Zurich, 1987, no. 14.

;
More From

THE HEIDI VOLLMOELLER COLLECTION