Lot Content
Global notice
COVID-19 Important notice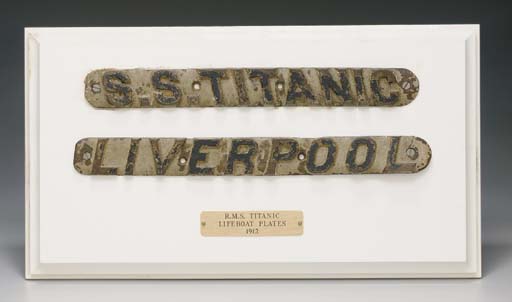 IT WAS SIMPLY UNIMAGINABLE TO ALL PARTIES INVOLVED IN THE LAUNCHING, THAT THERE WOULD EVER BE A DISASTER REQUIRING THE TOTAL EVACUATION OF ALL PASSENGERS ON BOARD THE TITANIC. DURING THE BRITISH INQUIRY INTO THE TRAGIC EVENTS, THOMAS SCANLON, REPRESENTING THE NATIONAL SAILORS UNION, NOTED THAT THE SHORTAGE OF LIFEBOATS WAS SIMPLY A COST-CUTTING PROCEDURE, AND BLAMED THE BOARD OF TRADE FOR ITS INSUFFICENT SAFETY STANDARDS. THE WELIN DAVITS INSTALLED ON THE TITANIC WERE EQUIPPED TO HANDLE UP TO FOUR LINES OF LIFEBOATS, BUT ONLY ONE LINE ON EACH SIDE WERE INSTALLED FOR A TOTAL OF SIXTEEN, WITH FOUR ADDITIONAL COLLAPSIBLE BOATS. ONLY HALF OF THE SHIP'S PASSENGERS COULD BE ACCOMODATED, AND WHEN DISASTER STRUCK, THE RESULTING PANIC, FEAR AND INADEQAUTE EVACUATING PROCEDURES MEANT THAT MANY OF THE LIFEBOATS DROPPED INTO THE SEA HALF-EMPTY. VARIOUS PROPERTIES
A PAINTED CAST BRONZE NAME BOARD AND PORT SIGN FROM A LIFEBOAT ON R.M.S. TITANIC
HARLAND & WOLF; BRITISH, CIRCA 1912
Details
A PAINTED CAST BRONZE NAME BOARD AND PORT SIGN FROM A LIFEBOAT ON R.M.S. TITANIC
HARLAND & WOLF; BRITISH, CIRCA 1912
THE FIRST SPELLING OUT "S.S. TITANIC" AND MEASURING 13 IN. (33 CM.) LONG; THE SECOND SPELLING OUT "LIVERPOOL" AND MEASURING 13¾ IN. (35 CM.) LONG, WITH TWO SCREW HOLES EACH FOR ATTACHMENT TO THE LIFE BOAT. DISPLAYED ON A WHITE PAINTED BOARD WITH A FINISHED EDGE AND A BRASS PLAQUE STATING "R.M.S. TITANIC/LIFEBOAT PLATES/1912".
10 X 18 IN. (25.4 X 45.7 CM.) DISPLAY BOARD.

;
More from

Ocean Liner Furnishings and Art